Wed., Nov. 19, 2014
What needs to change with 'Assassin's Creed'?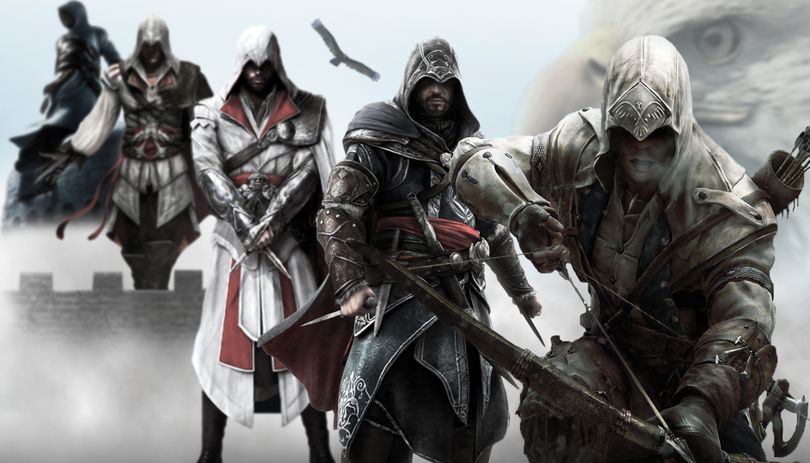 I'm a huge fan of the Assassin's Creed series. Ever since being roped in by the beautiful Assassin's Creed II (which remains one of my favorite games of all time), I've gone on to play each subsequent major entry in the franchise. Out of love for the series, I even went back and worked my way through the heavily dated first installment. And against all good judgment, I pre-ordered the latest entry, Assassin's Creed: Unity, out of trust in the brand to deliver what I was looking for.
But Unity faced a shockingly lukewarm reception upon its release, prompting widespread questions as to whether Ubisoft's annual release schedule had begun to impede upon the quality of its flagship franchise.
Prior to Unity, Ubisoft had already garnered significant flack for their annualization of the series, which began with the release of Assassin's Creed: Brotherhood in 2010. The schedule has shown no signs of slowing down - let alone stopping - since. From a financial perspective, who can blame Ubisoft for this move? Activision has the consistent success of industry juggernaut Call of Duty to rely on year after year. Electronic Arts has the competing Battlefield series, as well as a myriad of licensed sports franchises that rake in mounds of cash on an annual basis. The first Assassin's Creed was the game that brought Ubisoft out of limbo and into the status of a publishing giant. So it makes sense that they'd want to capitalize on that success as frequently as possible.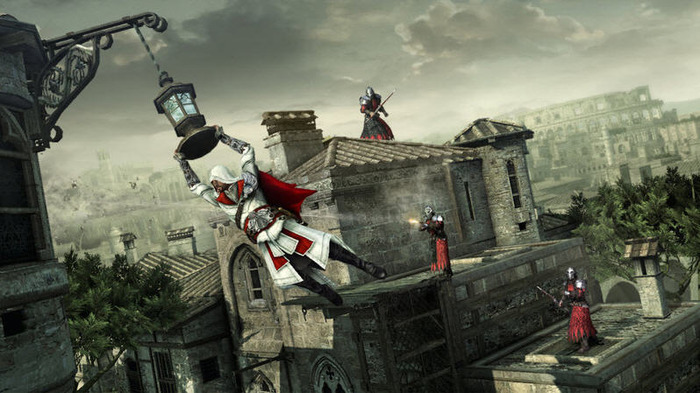 A screen from 'Assassin's Creed: Brotherhood,' the first annualized entry in the series.
Gamers are wary of annual releases for the lack of iteration often associated with them, but Ubisoft's Assassin's Creed franchise has remained unpredictable despite its yearly releases. It has taken us from the imposing beauty of 17th century Constantinople to the height of the American Revolution and into the waves of the Atlantic aboard fierce pirate vessels. It has continually refined its signature free-running mechanics, improved its once-clunky controls, grown exponentially prettier with each release, and introduced novel new concepts like naval combat, tower defense, complicated trade networks, and assassin disciples. Not all of these changes worked well, but one could hardly argue that the series has gone annual at the expense of its ingenuity or innovation.
As a result, arguments against Ubisoft's annualization of the series have, before now, failed to gain much traction; the games in the Assassin's Creed series were simply maintaining too high a quality standard to serve as legitimate evidence that a change in the publisher's behavior need occur.
Until now. The criticisms leveled at Ubisoft's latest blockbuster have been harsh and unrelenting -- and mostly not leveled at the game itself. Instead, the backlash has been centered on three things in particular: lack of polish, obnoxious social integration, and the presence of microtransactions.
The first of these issues has always been present in the Assassin's Creed series, though has proven more severe this time around. Reports of awful optimization, serious frame-rate drops, ugly texture pop-in, random crashes, freezes, faulty collision detection and more have run rampant since Unity's release. Ubisoft has pledged to work tirelessly on patches to mend the multitude of issues on-hand, but such promises aren't enough for many players, who feel they were cheated into purchasing an unfinished game. Taken on their own, the obvious solution to these technical issues would be to allot more development time to developer Ubisoft Montreal in order to ensure a more polished final product.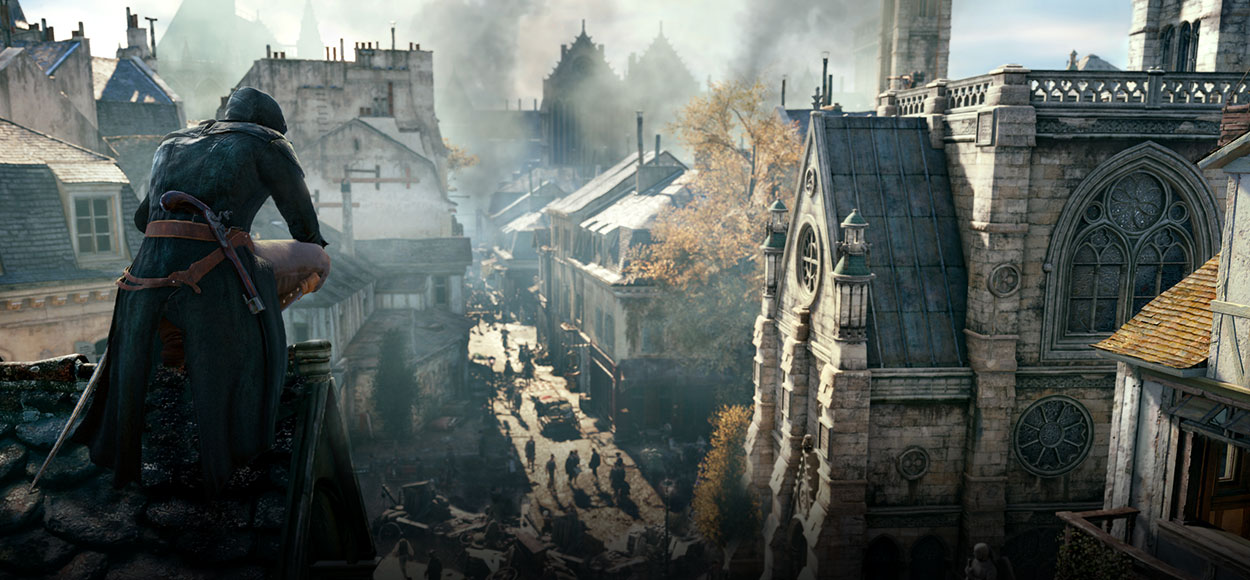 The visually marvelous 'Assassin's Creed: Unity' is marred by egregious technical issues.
But in tandem with Unity's other issues, Ubisoft has created a bigger problem that it now needs to solve. Unity has placed the Assassin's Creed brand in the midst of an identity crisis. Though it delivered upon its promised "back to basics" premise in terms of its gameplay design, its disparate elements come in other ways -- ways that make Unity players ask the question, "What is Assassin's Creed?" Is it a medium for social networking? Because the forced connection to Ubisoft's Initiates service in order to open certain chests would lead one to believe so. Is it a storefront? Because the option to purchase a huge load of in-game currency for $100 USD (on top of the $60 base game purchase, mind you) would lead one to believe so.
What Assassin's Creed should be, and, I'd wager, what almost all of its players want it to be, is an immersive historical playground that fills its sprawling map with engaging side-quests and addictive collectibles -- not currency chests that force me to download an app to my phone in order to open. Even as a player who was able to enjoy Unity for all that it got right with its core gameplay, examining the map to find clusters of blue "exclusive chests" of this variety annoyed me. Opening the upgrades menu to be told that I could pay real money to instantly acquire the game's best items made me feel like the hours I spent in-game to get these shiny prizes were wasted. Some argue that the presence of microtransactions is forgivable so long as they are entirely optional and do not lock out content. I argue the opposite; they're never permissible in a full-price product. They actively detract from the experience, even for players who choose not to use them. What satisfaction exists in saving up tens of thousands of francs to buy a gleaming warhammer when my friend can plop down a few real-world dollars and show off the exact same item without any of the effort having been put in to acquire it?
'Unity' offers optional microtransactions in various bundles, costing up to $100 each.
Unity is mechanically sound and visually beautiful, but it represents what could be a malignant turning point for the once-proud franchise. If Ubisoft stays on its current track, then Assassin's Creed will soon be a shadow of its former self: a soulless puppet through which the publisher can sell virtual goods and market other services. If Ubisoft hopes to retain the essence of Assassin's Creed, it must do more than give its developers an extra year before release. The publisher needs to go back to the drawing board in terms of its business model and realize what made millions of fans love Assassin's Creed so much in the first place.
I'll give you a hint, Ubisoft: It wasn't companion apps, it wasn't social integration, and it certainly wasn't microtransactions. Those inclusions might put the company more in the black for now. Looking further ahead, though, they threaten to derail one of the gaming industry's most popular, beloved franchises -- and to alienate the series' core fanbase, resulting in lost sales down the line. Hopefully Ubisoft soon sees that making those few extra dollars right now just isn't worth it. ~
A full review of 'Assassin's Creed: Unity' is on the way. Stay tuned.
---
---