Mon., Oct. 13, 2014
'Iron Banner' largely disappoints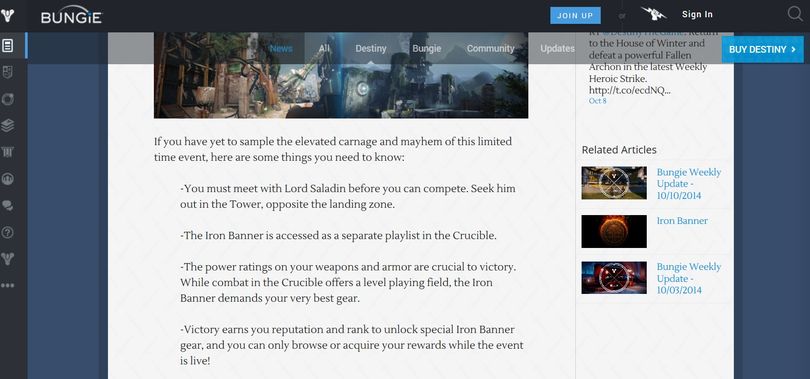 One of the most widespread complaints about the multiplayer in Destiny, Bungie's latest blockbuster title, was that it stripped players of the sought-after loot that made your character feel like a bad-ass.
That legendary sniper rifle it took you fifteen bouts with a Vex boss on Venus to obtain? Bungie nerfed it to even the playing field for level 5s and level 30s alike, rendering your machine of death to nothing more than a nice cosmetic blip on your vanquished enemies' kill screens.
Bungie promised to do away with that feeling of dissatisfaction in this week's ongoing event, the Iron Banner. Better loot would equal a supreme tactical advantage in Lord Saladin's war games challenge, the developers promised.
The truth? Skill still trumps gear, and while that's OK for the casual player, the game types offered and the way progression was rewarded kept the Iron Banner from being the truly great competitive multiplayer mode Destiny needs to lengthen its shelf life.
I won't pretend I'm a master FPS competitive gamer. My best fragging matches came with Call of Duty's Modern Warfare 2, when I become more comfortable with a SPAS shotgun than my own toothbrush. Bungie games have never really been my strength - not since the three-shot pistol of Halo:CE became a thing of the past.
But Destiny just feels rights in these well-worn shooter palms. The auto rifle is satisfying, and has just enough kick to land headshots rather easily if you know where on the neck to point your sights. I've had matches where my kill-to-death ratio was well over 4, in spite of myself.
The Iron Banner, however, is a different monster. And it's not for the advertised reason.
A playlist made exclusively of "Control" matches, which pit two teams of six players against each other vying for the same three zones that add multipliers to points for kills, comprises The Iron Banner. You earn reputation for the Iron Banner just as you would any other faction in the game's Tower overworld, and there are Crucible-specific Bounties which add to your progression.
The problem is that this progression only occurs when you emerge victorious from a match, which can make playing without a dedicated group of friends a bit of a slog. The community hasn't quite figured out exactly how to handle the "Control" play type, and most of the time I found myself without a team of dedicated players who knew the dynamic of the maps to maximize kill scores.
Losing would be fine. I anticipate losing when I play online shooters. But when there's no reputation incentive to stick around for a match that's lost, many players will simply jump ship when things look rough, leaving a few dedicated players to get slaughtered by an overwhelming adversary. Making this phenomenon worse is that Bungie doesn't seem to have figured out how to let players join open Iron Banner games until late in the week. Finally on Saturday and Sunday, I started seeing new players populate matches that weren't going my way.
The Iron Banner's second sin is that gear simply doesn't amount to a sizeable advantage in battle. My Level 24 Titan was defeated by rank 6 guardians and defeated rank 29 guardians with similar frequency. The Iron Banner should be a playlist that attracts only the most dedicated Crucible players. It should also deviate from the general pattern-based gameplay of normal Crucible matches: try to string kills to unlock your super ability and attain heavy weapon ammunition, lay waste to the opposing team and repeat.
But the Iron Banner felt far too much like normal Crucible matches, with normal Crucible rewards.
Bungie seems to be listening to criticism by its fan base and promises further tweaks to the game type in future updates. But for a game that's looking for an identity, or a singular game mode to establish an identity around, the Iron Banner simply isn't it.
---
---