Thu., Oct. 16, 2014
Holy moly, 'Guacamelee!' Looking back on Drinkbox's indie hit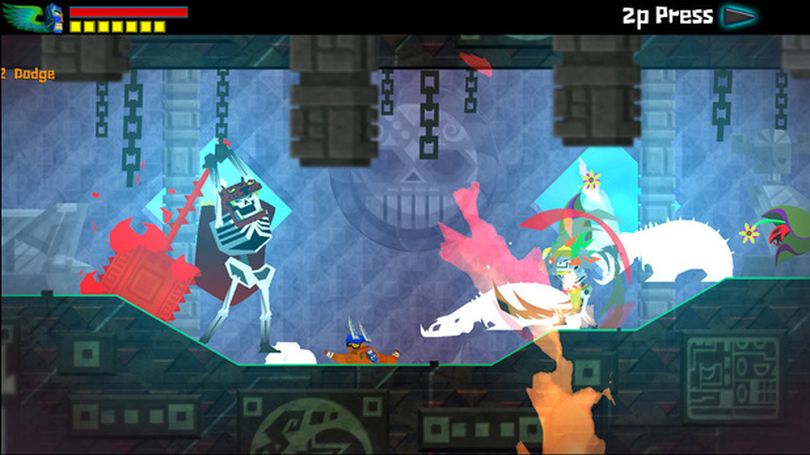 Title: Guacamelee!
Genre: Side-scrolling action/platformer
Platform Reviewed On: PC
Developer: Drinkbox Studios
Publisher: Drinkbox Studios
Release Date: April 9, 2013
Though touted as a metroidvania-style side-scroller upon its release, Drinkbox Studios' Guacamelee! can be more accurately described as an old school beat-em-up that ties in modern game art and design philosophies. It can be played as a relatively linear action/platformer, or as a metroid-lite adventure game with extra challenges to tackle and multiple routes for exploration. Though its mish-mash of ideas doesn't always result in a pristine game in a mechanical sense, Guacamelee! is so chock full of wonderful, whimsical personality that its flaws are easily overlooked.
The game tells the story of Juan, a lowly farmer who resides in a small Mexican village. After being promptly killed by an evil demon named Carlos Calaca, Juan is resurrected with the mystical abilities of a super-powered luchador and embarks on a quest to put a stop to Calaca's nefarious plot.
Guacamelee!'s ridiculousness does not stop with its premise -- the game is constantly ludicrous over the entirety of its five-to-six hour duration. During their journey, players will encounter such memorable characters as an irritable, transmogrifying goat-man and a constantly intoxicated, fiery outlaw, and will clash with a wide variety of stupendously strange enemies, from bomb-throwing cacti to vicious, sombrero-wearing skeletons and beyond.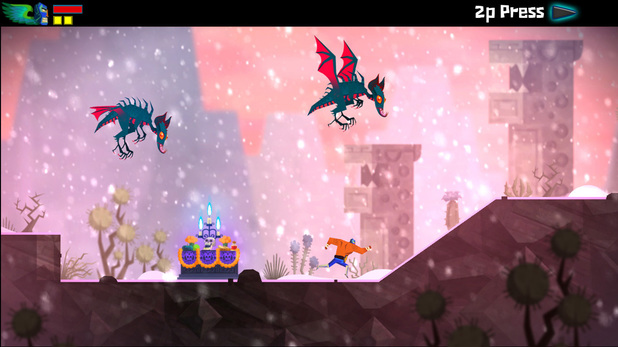 Guacamelee!'s world and characters are brought to life by some fantastic, uniquely jagged, hand-drawn art. A few especially impressive backdrops are present, but the colorful, energetic visuals ensure that Guacamelee! never looks anything less than great -- even if some of its animations are rather stilted.
Complementing the wonderful graphics is a punchy, neo-Mexican score that contains some of the more memorable tracks in recent gaming memory. Beating up Guacamelee's bad guys feels great on its own, but it's even more fun to do so to the tune of infectiously catchy trumpet, guitar and vocal loops.
Which brings us to the next element that builds towards Guacamelee!'s ultimate success: its entertaining, deeply satisfying combat system. The game's combat is simplistic in nature. There are no pre-determined, hugely complex combo sequences to memorize. Players are given a string of basic light attacks, an uppercut, a suite of four basic special moves (though all four are not unlocked until near the end of the game), and the ability to grapple enemies and toss them across the stage -- potentially into the faces of their cronies. The combat feels repetitive for the first hour or so of the experience, but once players begin to get the hang of the system, they are free to chain together their own creative combos on the fly.
What's wonderful about Guacamelee!'s combat is that no two enemy encounters play out in just the same way since players are constantly chaining their grapples, throws, and special moves in new ways to adapt to the myriad of battle scenarios that the game offers up. Mashing the ground pound and then following up with an uppercut might work when you're dealing with two burrowing enemies, but throw in a pair of flying bat creatures and a lunging, knife-wielding skeleton, and suddenly the player is forced to adapt and develop a new strategy. Spur-of-the-moment thinking is actively encouraged, keeping encounters diverse and unpredictable.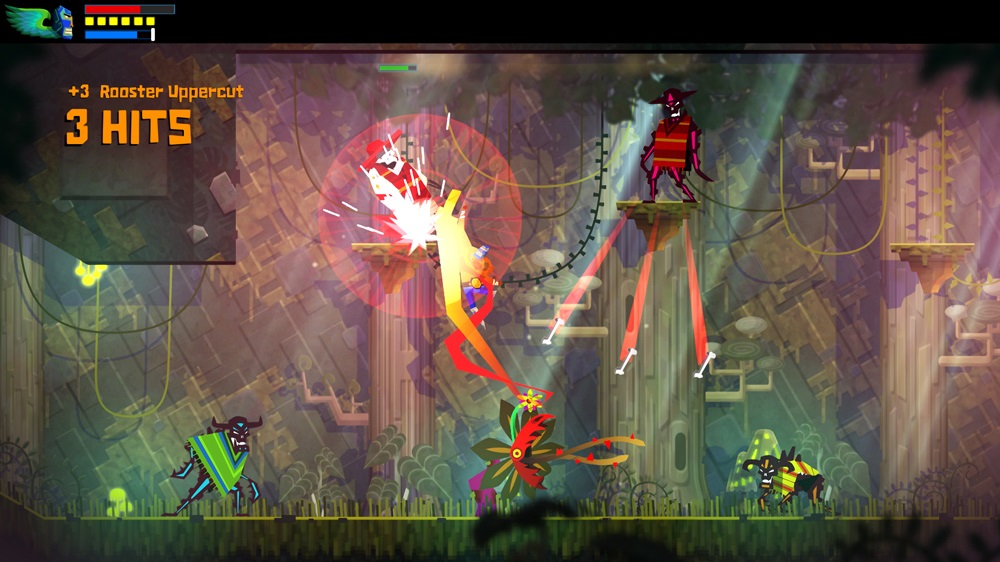 The handful of boss fights are a highlight of the combat experience. They, unlike some of the game's other sections, are perfect examples of a high difficulty level done wonderfully right. Each of these fights requires careful examination of patterns and well-timed attacks, and most of them, especially the hugely challenging final boss fight, are bound to take players multiple tries to best. But every time I fell to a boss, I felt inspired to try my hand again, as I knew I'd be able to put knowledge from my previous attempt into practice and get a little farther this time.
The curve-ball that Guacamelee! throws players is its dark-world/light-world system, which allows players to alternate between two states of being that have the potential to reveal new elements of the environment or allow players to hit enemies that happen to be in one world or the other. This mechanic proves to be one of Guacemelee!'s stumbling blocks. Though it seems mostly present in order to construct devious platforming challenges for players to overcome, players are sometimes forced to switch between the dark and light worlds in order to take on groups and enemies that exist, in different proportions, in both worlds. The catch is that enemies in the dark world are still able to damage Juan, even if he's in the light, and vice versa, but Juan is not capable of attacking dark- and light-world enemies simultaneously, leading to the feeling that Guacamelee! doesn't entirely play by its own rules. Some enemy encounters become downright aggravating when players are backed into a corner and forced to contend with a bombardment of melee and ranged assaults from enemies of both worlds. Thankfully, these are few and far between; Guacamelee! usually plays fair enough to convince players that death comes thanks to an error on their own part.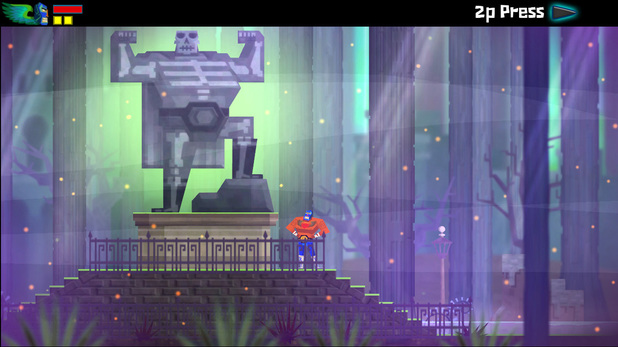 The light-world/dark-world mechanic is put to better use in Guacamelee!'s platforming challenges. The game's movement mechanics don't always feel tight enough to effectively execute the required actions with the necessary level of precision, but all of the challenges are do-able, and many are quite creative. Players are put in a variety of jump/dash/sprint scenarios that should test the reflexes of even the most seasoned platforming vets -- and sometimes take Juan off his feet altogether. Still, the platforming sections aren't as satisfying as their combat-oriented counterparts, which can lead to the feeling that each platforming segment is simply buying time until the following moment of exhilarating beat-em-up action.
This sentiment feels like an accurate summation of the entirety of the Guacamelee! experience. Though the game's disparate elements do not ultimately contribute towards a mechanically cohesive whole, Guacamelee's strengths are great enough, and its style exuberant enough, to mostly overshadow its flaws.
Verdict: 3.5/5 stars
---
---