Fri., Jan. 16, 2015
Day 2: Does hippie crystal deodorant work?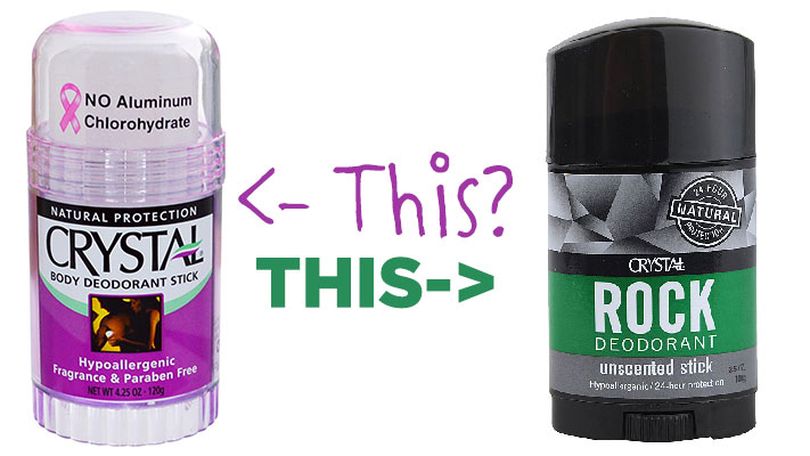 So, day one of my hippie crystal deodorant test went well. I asked my girlfriend to smell me, but the results were inconclusive*:
I'm not going to sniff you, this is awkward

–Kelsey
Regardless of the empirical evidence, the anecdotal evidence from my own smell-o-meter (aka, my nose) indicate that the crystal did in fact make me not stinky.
That is good.
Digging a little further into the actual crystal itself, it turns out it is made out of alum, which is useful for all sorts of things:
In Nigeria, it is used in the removal of snail slime before cooking
Alum is used in the tanning of animal hides to remove moisture, prevent rotting, and produce a type of leather.
Alum is used as a chemical flocculent to remove sediment from water
So yeah, it's plainly obvious that it would make a great deodorant.
Branding is the problem
So if it actually works, why don't more people use it?
My thinking is that it's purely a matter of branding. Look at the picture attached to this post. The deodorant crystal on the left is the one I bought. It's pink, which is fine, I'm secure enough to wear pink so a pink deodorant isn't that big of a deal. But it doesn't look like deodorant.
Who even has his lady friend apply his deodorant for him, across his body, while flexing his biceps? Weird.
The one on the right looks like deodorant. I should have bought that, would have bought that, if they had carried it at the Walgreen's I stopped at.
Conclusion
Hippie crystal deodorant stick people, listen up! Your stuff works, but you've got to get yourself some rad new branding. Have a Macho Man-esque wrastler (THE ROCK!!!) to be your spokesman and you'll be bathing in dolla dolla bills and won't have to be relegated to the bottom shelf next to the Tom's of Maine sidewalk chalk deodorant.
* More enthusiastic lab assistants will need to be acquired before I submit my results to the New England Journal of Medicine and/or National Geographic.
---
---