Thu., Jan. 22, 2015
How about the Game of LIFE?
Good morning everyone. Today on "What to play tonight?" I present to you a bit of nostalgia. It's Milton Bradley's The Game of LIFE, or as most people know it, LIFE. Growing up, board game night consisted of Monopoly or LIFE. LIFE rarely won out, but I usually had more fun with that than Monopoly. Since LIFE has been around since 1860, I am sure many of you already have fond memories of this game or at least knowledge of it. Still for those of you who have somehow dodged this game here's a quick overview.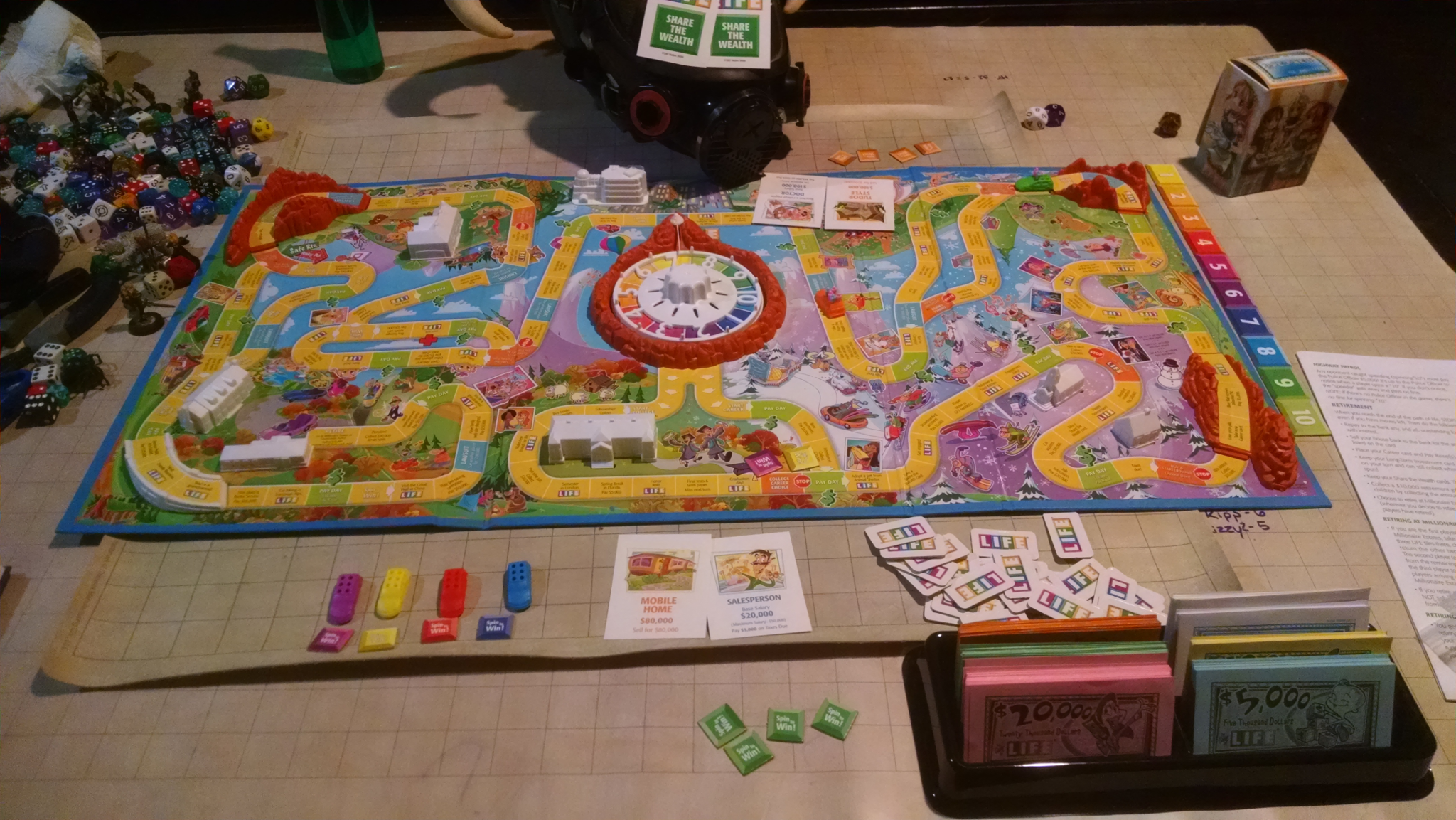 Each player is controlling their pawn as the pawn works its way through life. Several times throughout play, players make decisions that lead the pawn down different paths. Along these paths are different events including but not limited to marriage, babies, new houses, winning a sweepstakes and the beloved Pay Days.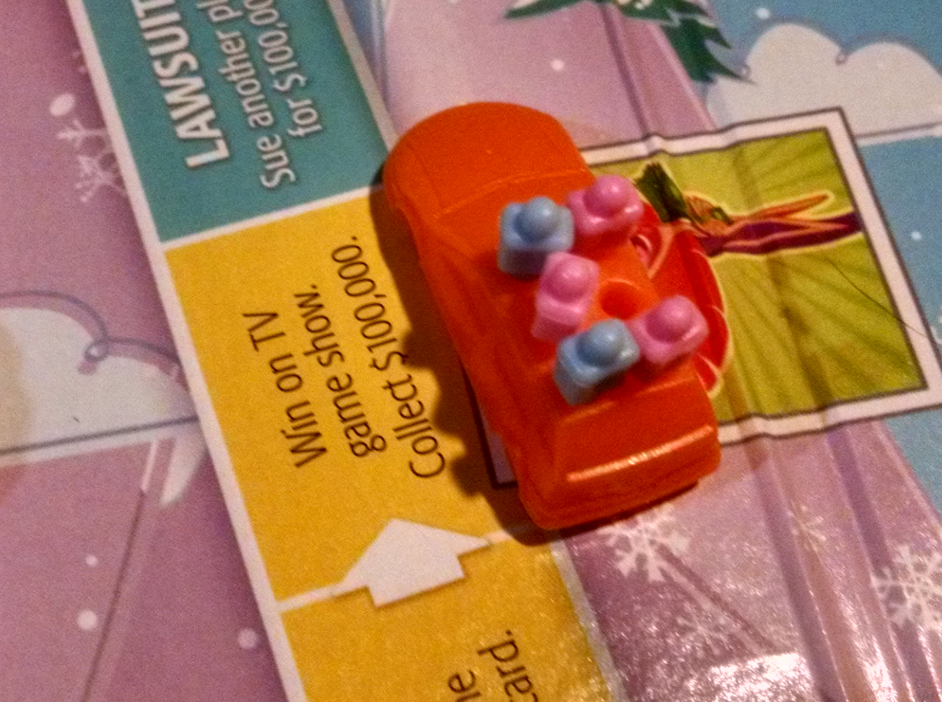 There is a large dial in the center (numbered 1-10) which each player spins on their turn. That's the number of squares you move, do what the square says, and then end your turn. Play moves quickly and is completely independent of the other players. This makes it easy and fun for kids who have difficulty paying attention.
The victor ultimately is the person who has the most money at the end of the game. Straight forward, easy to play, hard to break and you'll have a ton of fun on the way with any family. I highly recommend this game to any family. If you are content with my suggestion then my review is done. As from here on I get a little less optimistic.
---
This is the kind of game that can be so packed with social commentary it's about to burst. Now, having played LIFE in the past year, I have a couple things to say on it. First off this game is not for cynics...mostly. As you play through the game you get a job, you get a spouse of your gender of choice and you get paid. These are not things that always happen to everybody. On the other hand the game is focused entirely around money and how much can gathered.
Second, bleeds from the idea that money is the point of the game and how little agency players really have. Thinking more game design, gaining money throughout the game has nothing to do with skill. Your main source of income is your career which has to be drawn randomly from either the Career deck or College Career deck.
Career Pile: Salesperson $20,000 to Athlete $60,000 per Pay Day
College Career Pile: Teacher at $40,000 to Doctor at $100,000 per Pay Day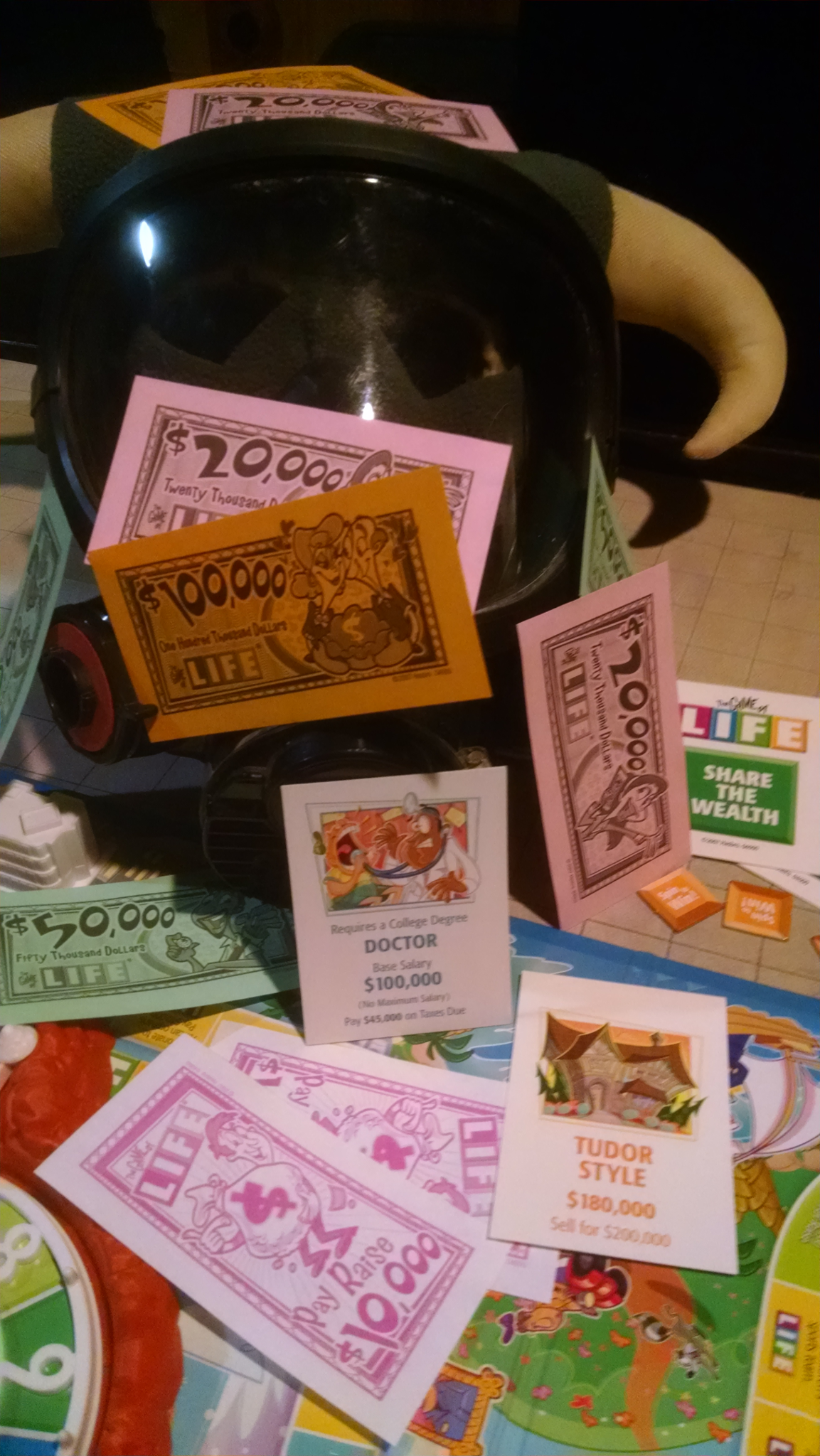 The only choice the player has is whether they go to College or not. If you go to college you are $100,000 in debt, though after a couple paydays (or less) that debt goes away and bam, now you're making upwards of 5 times for then your opponents! As long as the doctor can stay playing a doctor, that player will win. It's just a matter of numbers and they have more.
Ultimately what this means is that if you have a low paying job you will lose at life…hooray for cynicism! There is small a chance that a player will have to discard their career and draw another one. This can work both for and against a player by drawing a lower paying career. However, it's not player controlled it's all random.
Movement is random, careers are random, events on the board are random and there's some fun to be had seeing how everything pans out. You have no control and things and events just happen to you. Your only course of action is to not buy too big of a house, but that's also not much of a choice or risk.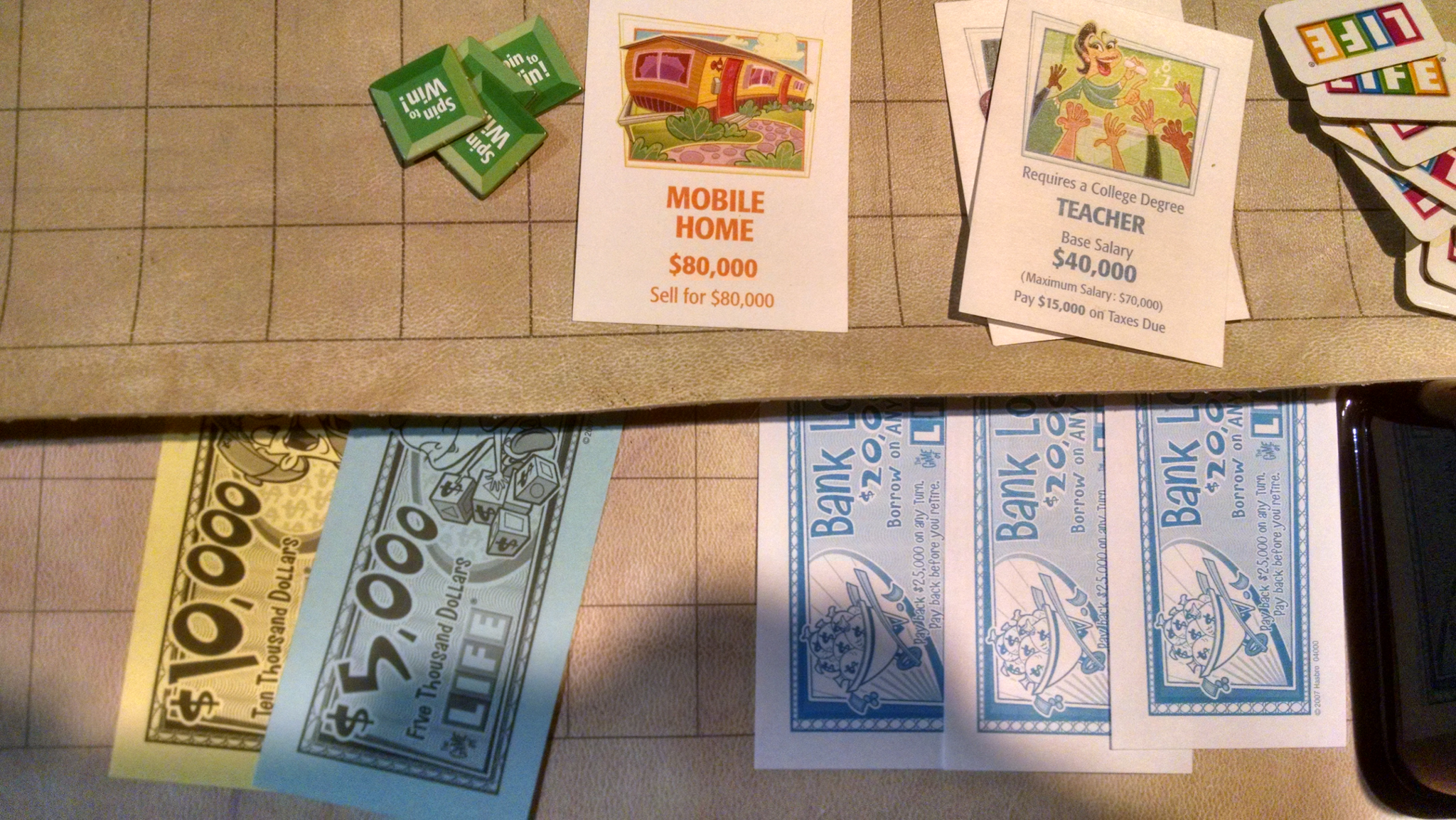 Here's what I would do:
Having been thinking on this game for a while, this is how I would remake LIFE. Number one, money is not what determines the victor of the game, the amount of good memories a player has is. Added to the game are decks of random events, average, awesome and awful (names subject to change).
Awful events are bad things that happen in your life, they are negative points. Awesome memories are cool positive things they generally have lots of positive points and/or other benefits. Average memories are a little of both, but generally good.
College should be a lot bigger of a hurdle to cross. It's the biggest decision in the game and there is little reason not to do it. To make it more difficult, make the debt grow. Force the player to pay a minimum from each Pay Day until it's paid off. Careers aren't random anymore, what if to be a doctor you automatically move further ahead (loss of time due to school), increase the debt caused by college, but get a lot of money in return.
Give the players a reason to spend the cash. In Monopoly (the other childhood game) it's obvious, you have building improvements to do. In LIFE you buy one house…that can later be sold (getting you more money) to buy a bigger house. If there was a chance to lose money when selling a home or making a career out of flipping houses that would be fun.
What's the same? To maintain the feeling of the original game and to represent the craziness of life; I would keep the board and the random movement.
I will probably revisit this idea down the road, but just some food for thought right now. Hope you enjoyed this week's blog! Sorry it has been a little while. Things have gotten busy at work.
Quote of the week:
"Like I say with all my life or death surgeries; Third time's the charm!" – Dan Avidan (AKA Danimal)
---
---