This week's free game: 'Toobin'"
Are you a gamer? Do you like free things? Of course you do!
We here at the Tech Deck are just like you: poor gamers looking for cheap entertainment. And nothing's cheaper than cost-free gaming. Each week, we'll bring you a title (or two or three) you can legally play at home without plopping down a single dollar. If you see games you think we should be featuring on the blog, email us at dang@spokesman.com or kiph@spokesman.com.
In case you haven't noticed, Spokane has been hot and dry this summer. Historically so. We here at The Tech Deck aim to please, so enjoy the classic water racing game "Toobin'," free from the folks at the Internet Archive, by clicking on the image below!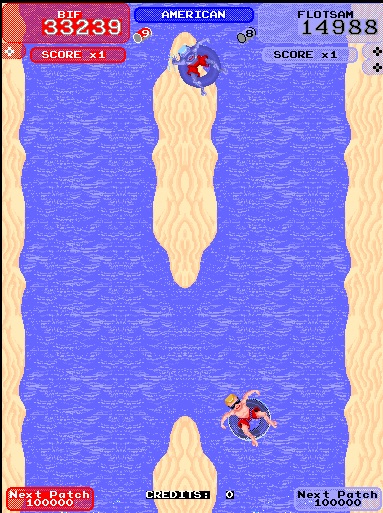 In this top-down racing game, your object is to float faster than your opponent while also guiding your way through slalom-style goals and avoiding obstacles like tree branches. You'll need to insert two "coins" with button clicks, then press "Z" to launch the game. Paddle forward on the left and the right by using the "A" and "D" keys, or backwards using the "Q" and "E" keys.
Go inside the blog to learn more about this arcade gem and the British publisher Domark who brought the title to arcades.
Atari Games developed Toobin' following some tumultuous years in the mid-1980s, headlined by a buyout from Namco in 1985. The company is not to be confused with Atari, Inc., makers of Pong and several highly successful consoles in the early 1980s. Atari Games spun off from its parent company in 1984, and would survive until 2003, when owner Midway Games shuttered Atari Games' studios for good.
Atari Games enjoyed several successful years in the late 1980s, bringing such classics as Gauntlet, Paperboy, APB and a controversial arcade and Nintendo Entertainment System port of Alexey Pajitnov's Tetris, which ceased production following a court order.
Domark Games published Toobin', part of a long relationship with Atari. The London-based publisher was behind the first Championship Manager soccer title in 1992, launching a franchise that now releases under the title Football Manager. Domark, an amalgamation of the names of founders Dominic Wheatley and Mark Strachan, also produced several early James Bond video games in the 1980s, as well as a widely panned PC version of Friday the 13th that released in 1985 (not to be confused with the awful Friday the 13th NES game released by Pack-In-Video in 1989). Domark was acquired by Eidos Interactive in 1985.
Did you get your feet wet in the arcade with Toobin'? Let us know in the comments below, and check back next week for another free title.
---
---