Mon., June 22, 2015
This week's free game: 'Where in the World is Carmen San Diego?'
Are you a gamer? Do you like free things? Of course you do!
We here at the Tech Deck are just like you: poor gamers looking for cheap entertainment. And nothing's cheaper than cost-free gaming. Each week, we'll bring you a title (or two or three) you can legally play at home without plopping down a single dollar. If you see games you think we should be featuring on the blog, email us at dang@spokesman.com or kiph@spokesman.com.
You're welcome. Or I'm sorry. Depending on whether you need your brain to do anything but play this song on repeat for the next eight hours.
If you were born in a certain era, chances are Rockapella's groovy tune and that red fedora are burned into your frontal lobe. Twentysomethings will likely remember the PBS show that ran from 1991 to 1995, but Carmen Sandiego had her birth in the computer game realm in 1985 by Brøderbund Software, a now defunct developer that produced other educational hits like Mavis Beacon and classic action/platformer Prince of Persia. Brøderbund also published Cyan's original Myst game, one of the most successful PC titles of all time developed by the brothers Robyn and Rand Miller of Mead, Washington.
Click below to play the 1989 remaster of the MS-DOS classic from the folks at Internet Archive.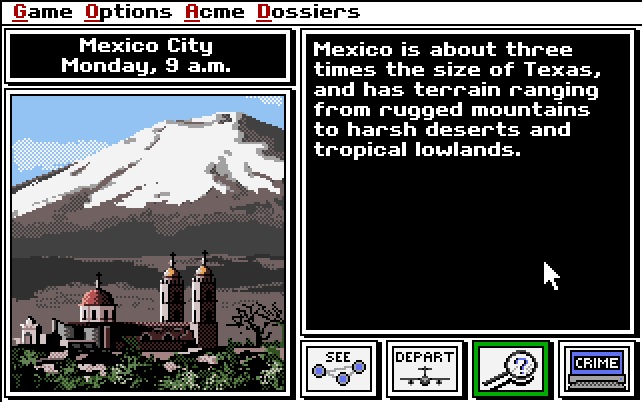 You play an agent of the ACME Detective Agency, tasked with tracking down the titular master criminal. You'll have to solve word puzzles and use the knowledge you gain on your globe-hopping adventure to track down Carmen Sandiego. You'll be playing against the clock, with each trip taking up in-game time. If you can't catch Carmen within a certain time window, you're sunk.
The game received rave reviews from video game geeks to parents and teachers, striking that rare balance between education and fun that proves so elusive to so many developers. Go inside the blog to learn more about Brøderbund and the cultural phenomenon that was Carmen Sandiego.
Surpassed perhaps only by Oregon Trail (which you can also play at the Internet Archive), Carmen Sandiego was a staple feature of many early 1990 elementary school computer labs. While games like Munchers gave gamers a simple task that taught them skills like math, Carmen Sandiego added a cast of colorful characters and a story that launched multiple forays into pop culture.
There was a Saturday morning cartoon series, comic books and - perhaps most popular of all - the PBS afternoon show, which pitted real kids against the video game antihero. With the help of YouTube, you can relive some of that early '90s TV goodness. While Carmen Sandiego wasn't the only TV show that tried to teach you history, its video game roots laid the perfect groundwork for a game show, and the series ran a successful five seasons.
Brøderbund Software fell victim to the educational software consolidation that occurred in the late 1990s. After releasing several successful games for a decade, the developers were bought by The Learning Company in 1998, a company that had recently purchased SoftKey. Mattel bought up all the companies a year later, a disastrous investment that led to the sale of the rights to all the company's games to Ubisoft, where they remain today. The most recent Carmen Sandiego release was a 2011 Facebook game that lasted a year before it was taken down.
Did you pursue the rouge-headed rogue in the early 1990s? Rock along to Rockapella in your den? Let us know in the comments below, and check back next week when we bring you another free game, you sticky-fingered filcher.
---
---