Mon., Nov. 9, 2015
This week's free game: "Jetpack 2 (Beta)"
Are you a gamer? Do you like free things? Of course you do!
We here at the Tech Deck are just like you: poor gamers looking for cheap entertainment. And nothing's cheaper than cost-free gaming. Each week, we'll bring you a title (or two or three) you can legally play at home without plopping down a single dollar. If you see games you think we should be featuring on the blog, email us at dang@spokesman.com or kiph@spokesman.com.
Gamers have their own lexicon, just as other hobbyists. We "pwn" "noobs" and "frag" like crazy. One of the most ignominious honors a game can receive is "vaporware," meaning the title has become a distant memory and will likely never see the light of day.
So it went with "Jetpack 2," the sequel to 1993's "Jetpack" platformer designed for the MS-DOS operating system. But in this age of revivals, it's hard to count any title out (just ask Duke Nukem Forever), and Jetpack 2 was resurrected in 2008. You can play the three-stage beta of that title by clicking on the image below.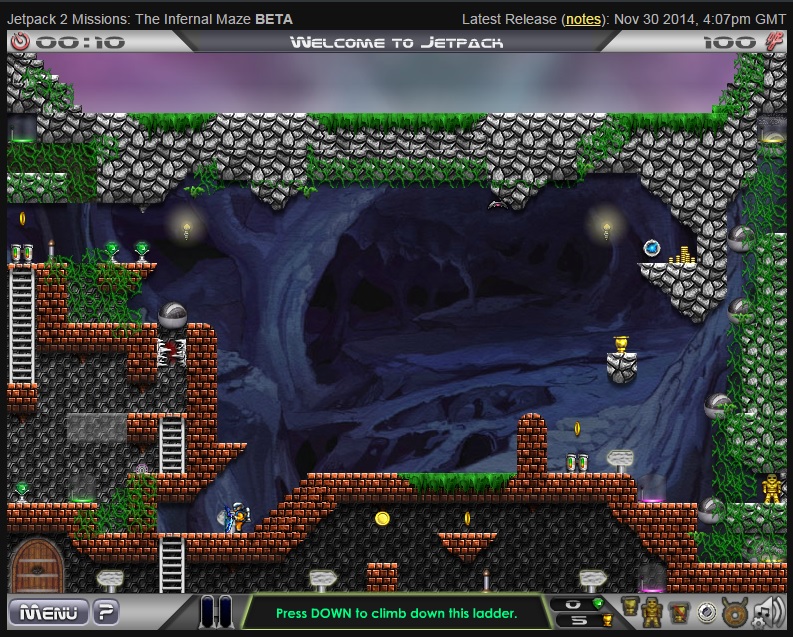 In "Jetpack 2," you play as a hero equipped with the eponymous device. Your task is to avoid obstacles, gather treasure and fuel your jetpackso you can reach the stage exit.
The original Jetpack was notable for its simple and intuitive level editor. You can sign up to be a beta playtester on Jetpack 2 and begin creating levels, but it's unclear if the full release will ever happen. The most recent update to the game's Facebook page was in February.
The game is not to be confused with Jetpac, a 1983 shooter from the company that would become Rare. Jetpack has more in common with another game that's been featured on this blog, "Spelunky," than its 1980s semi-namesake. Coincidentally, one of the power-ups in "Spelunky" is - you guessed it - a jetpack.
Jetpack was designed by Adam Pedersen when he was just 19 years old. Software Creations published the game on its Internet bulletin board of shareware titles, along with games from studios like Apogee, 3D Realms and Id Software. You know them as the creators of the Duke Nukem and Doom series.
Do you have a favorite platform/action/puzzler? Do you think that's a strange combination of gameplay styles? Let us know in the comments below, and check back next week for another free title.
---
---