Mon., Nov. 16, 2015
This week's free game: 'Chicken Shift'
Are you a gamer? Do you like free things? Of course you do!
We here at the Tech Deck are just like you: poor gamers looking for cheap entertainment. And nothing's cheaper than cost-free gaming. Each week, we'll bring you a title (or two or three) you can legally play at home without plopping down a single dollar. If you see games you think we should be featuring on the blog, email us at dang@spokesman.com or kiph@spokesman.com.
In 1984, Bally decided to blend the wackiness of the Rube Goldberg machine, the rustic setting of the barnyard and the horror of becoming Veruca Salt into a timing-based arcade game punningly titled "Chicken Shift." This is one of the weirder games we've featured on The Tech Deck so far, but the mix works surprisingly well. Try it out for yourself, in your browser, by clicking below, thanks to the folks at the Internet Archive!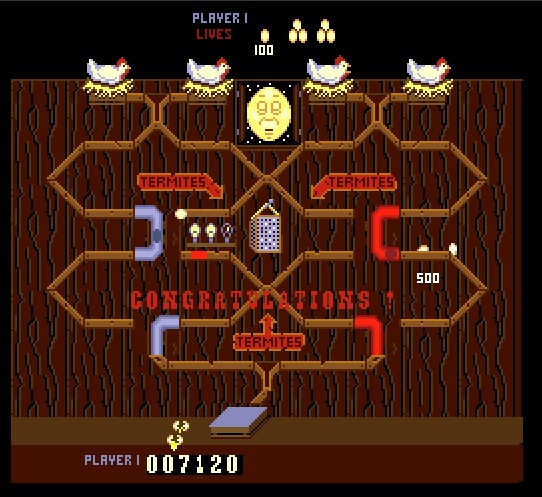 The gameplay in Chicken Shift is relatively simple. There will be a string of eggs you have to guide to safety by shifting the position of pipes, walls and other devices through button presses. The default settings map the action buttons to the left CTRL and left ALT keys. Keep your eyes on those eggs and where they're at - you'll get bonus points if you don't lose a single egg to the horrors of gravity.
I couldn't find a ton of information about Chicken Shift, which supposedly premiered in arcades in 1984. It was released by a division of Bally called Sente Technologies, which was a studio founded by ex-pats from Atari. That year, Bally Sente (as they came to be known) also released Hat Trick, a two-on-two hockey game that proved their best-seller. Bally Sente was shuttered in 1988.
Head designer on Chicken Shift was Jon Kinsting, who is apparently still making games (or so his website would have you believe). Kinsting wrote about Chicken Shift,
ChickenShift was one of my favorite games to develop!

The bizarre idea for this game came to me one morning from some twisted dream. The "gist" of the game is that you work on this farm or egg producing plant. Your job is to gather up eggs (or hatching chicks) while making sure you don't drop any. Simple as that!
Do you think Chicken Shift would have caught your eye back in the 1984 arcades? Have a favorite barnyard-based video game? Let us know in the comments below, and check back next week for another free game.
---
---