This week's free game: 'Money Money'
Are you a gamer? Do you like free things? Of course you do!
We here at the Tech Deck are just like you: poor gamers looking for cheap entertainment. And nothing's cheaper than cost-free gaming. Each week, we'll bring you a title (or two or three) you can legally play at home without plopping down a single dollar. If you see games you think we should be featuring on the blog, email us at dang@spokesman.com or kiph@spokesman.com.
We here at The Tech Deck do not advocate a life of crime. Not in the real world, that is. But as gamers, we often find ourselves on the wrong side of the law, usually with some sort of explanation as to why we're bending (or breaking) the rules of society in pursuit of some other, lofty goal.
Money, Money is not one of those games.
Starting out like a Pac-Man clone, this 1983 offering from Zaccaria, an Italian outfit, casts you in the role of a criminal seeking bags of cold, hard cash. You'll pick up beakers full of drug-like substances (yeah, really) as power-ups to defeat the cops that are chasing you. And then you take to the rooftops, the roads and eventually even a river in your pursuit of the purloined, almighty dollar.
Click below to play this weird one for free in your browser, from the folks at the Internet Archive.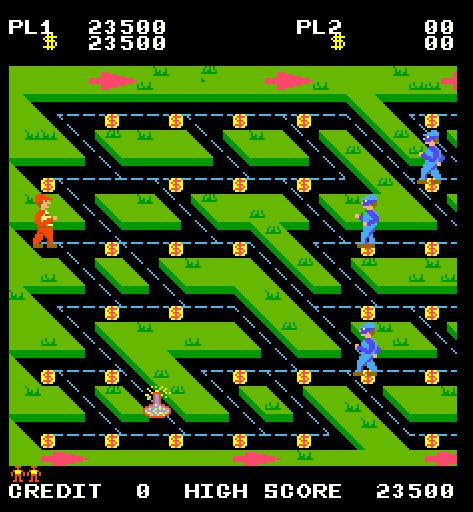 The game is fairly straightforward. The arrow keys will move your character. Avoid the cops and pick up as many money bags as you can on your way to the rooftops.
Go inside the blog to learn more about Pac-Man clones, and what happened to Zaccaria.
Namco hit arcades running in 1980 with Pac-Man, which quickly went on to ship more than 300,000 cabinets across the United States. It makes sense, then, that in those early days of cutthroat competition other companies would attempt to capitalize on the Pac-Man craze.
Some of the most notorious examples of so-called "Pac-Man clones," which-ahem-BORROWED the addictive chomping gameplay of the arcades' first true mascot were Lock 'n' Chase, from Japanese developer Data East; K.C. Munchkin from Philips; and Devil World, a Nintendo clone designed by Mario creator Shigeru Miyamoto. We won't count as a clone that dreadful port of Pac-Man to the Atari home consoles in 1982.
Zaccaria started as a pinball manufacturing company that began to dabble in arcades during the gold rush of the early 1980s. The company released just two more cabinets after Money Money - Shooting Gallery and Jack Rabbit, both of which hit arcades in 1984. Zaccaria, based in Bologna, went bankrupt in 1988 and sold its rights to company tecnoplay.
Which Pac-Man clone was your favorite? Do you prefer to play as the good guy, or the bad guy? Let us know in the comments below and check back next week for another free game.
---
---