Mon., Dec. 5, 2016
This week's free game: "The Castle"
Are you a gamer? Do you like free things? Of course you do!
We here at the Tech Deck are just like you: poor gamers looking for cheap entertainment. And nothing's cheaper than cost-free gaming. Each week, we'll bring you a title (or two or three) you can legally play at home without plopping down a single dollar. If you see games you think we should be featuring on the blog, email us at dang@spokesman.com or kiph@spokesman.com.
Metroid and Castlevania weren't the only games in the 1980s asking players to remember room layouts and solve environmental puzzles. While simplistic, ASCII's "The Castle" delivered to personal computers the exploration gameplay Nintendo gamers enjoyed on their home consoles. With a cutesy art style, ageless story and infectious digitized soundtrack, "The Castle" provided a framework that has continued to inspire designers. You can play a free version, adapted from the Sega SG-1000 machine, by clicking the link below, thanks to the folks at the Internet Archive!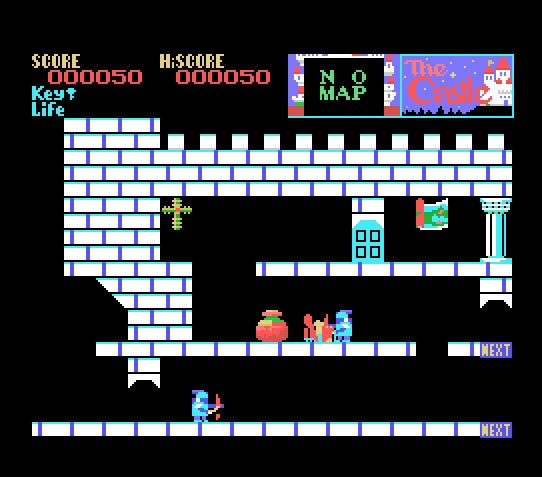 The object of "The Castle" is simple enough: avoid environmental hazards and enemies while solving simple physics puzzles to rescue the princess. The game's innovations included grabbing items from certain areas (mostly keys), then returning to a previous screen to reach an otherwise inaccessible area. Use the left CTRL key by default to leap over gaps and enemies.
Castlequest followed The Castle with the ability to attack enemies, though the gameplay remained essentially the same. Castlequest released for multiple platforms, including the NES, in 1989, the same year ASCII Corporation went public. The last game ASCII Corporation published was 2001's Seaman, which has earned the distinction as one of the strangest video games ever made. You care for a virtual pet that has the body of a fish and the head of a man. Really.
What's your favorite Metroidvania game? Did you ever play Seaman? Let us know in the comments below, and check back soon for another free game.
---
---