Mon., Jan. 18, 2016
This week's free game: "Bio Menace"
Are you a gamer? Do you like free things? Of course you do!
We here at the Tech Deck are just like you: poor gamers looking for cheap entertainment. And nothing's cheaper than cost-free gaming. Each week, we'll bring you a title (or two or three) you can legally play at home without plopping down a single dollar. If you see games you think we should be featuring on the blog, email us at dang@spokesman.com or kiph@spokesman.com.
A few weeks ago, we brought you the classic sidescroller Commander Keen, made by the guys who would go on to release Doom and Quake. Keen's engine fueled a few games, perhaps none more memorable than the over-the-top action title "Bio Menace," which casts you as a CIA operative taking down mutant soldiers. Click below to download the 1993 Apogee title from the folks at Great Old Games!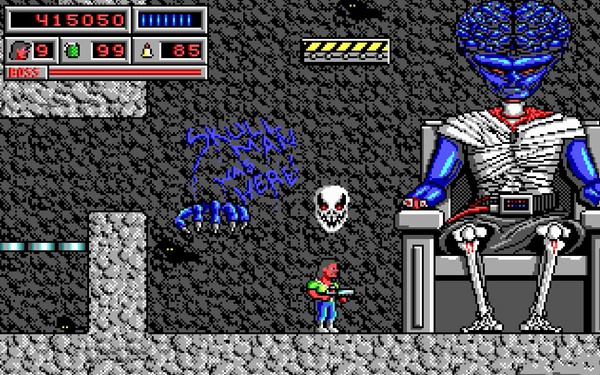 If you haven't downloaded a game from GOG.com yet, it can be a little confusing. Here's a step-by-step guide:
1. Visit the website above by clicking on the image or the link below the image.
2. Click the green "Add to Cart" button. You will not be charged anything, nor will you need to provide a credit card.
3. Click the green "Checkout Now" button that appears in the upper right corner of the screen. Again, you will not be charged anything and you will not have to enter a credit card.
4. If you already have a Great Old Games account, you can skip this step. Otherwise, you'll be prompted to create an account. All the site will ask for is a username, password and email account. If you don't want to get email updates from the website (though they do have some GREAT deals on classic titles), you can opt out of email newsletters.
5. Log in using your username and password.
6. The game will be added to your library, which can be accessed under the "Account" heading at the top of the page.
7. Select 'Bio Menace' and which installer you want, Windows, Mac or Linux. The game will then download automatically and can be opened as any other application on your computer.
In Bio Menace, you play as Snake Logan, a mustachioed CIA operative tasked with clearing Metro City (not that Metro City...or maybe it is?) of evil mutants, which appear as purple blobs with menacing eyebrows and green dinosaur-looking bipeds. Find the keycard, defeat all enemies (including the occasional boss) and rescue hostages to proceed.
Bio Menace was built almost entirely by Jim Norwood, a game designer who would go on to work on the Shadow Warrior franchise, which recently saw new life with a well-received version for current-gen consoles.
We've already detailed at length the history of Apogee, id and the Johns Carmack and Romero. Check out the Commander Keen write-up linked above for a rehash on those entities.
What's your favorite old school shoot 'em up? Favorite mutant in a video game? Let us know in the comments below, and check back next week for another free game.
---
---