Mon., June 27, 2016
This week's free game: 'Spyhunter (Colecovision)'
Are you a gamer? Do you like free things? Of course you do!
We here at the Tech Deck are just like you: poor gamers looking for cheap entertainment. And nothing's cheaper than cost-free gaming. Each week, we'll bring you a title (or two or three) you can legally play at home without plopping down a single dollar. If you see games you think we should be featuring on the blog, email us at dang@spokesman.com or kiph@spokesman.com.
Spy Hunter was a staple of early arcades, whether you found the elusive sit-down cabinet or the upright, steering wheel-sporting version. The game was so popular it was ported to every console under the sun at the time, despite the onset of the Atari-driven video game crash of 1983. You can play the ColecoVision (you remember that device, right?) version, thanks to the folks at the Internet Archive, by clicking on the image below!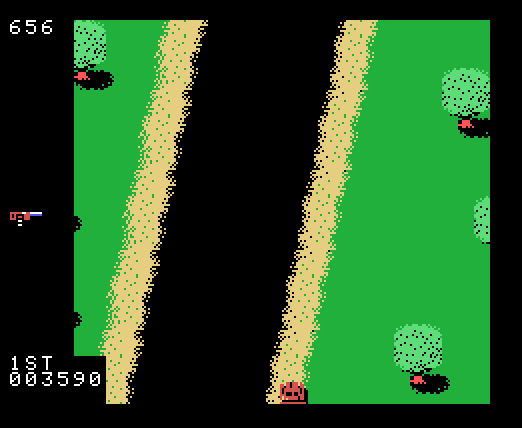 The object of Spy Hunter is to destroy enemy cars and protect civilians. If you shoot the civilian cars, you'll be penalized with a period of no points for a short period of time. Driving into the weapons van will unlock new projectiles for your car to smash enemies. Use the arrow keys to steer and the left ALT key to fire in the above version, if you're using manual controls (bring up the control menu with the TAB key).
ColecoVision got off to a great start in 1982 with a pack-in port of Nintendo's smash-hit "Donkey Kong," which received rave reviews from video game trade magazines. Nintendo licensed Coleco to make a port because it had no home console of its own (the Japanese release of the Famicom would come in 1983, and the Nintendo Entertainment System would follow in North America two years later to coincide with the release of Super Mario Bros.). But Coleco Industries jumped out of the video game market, in part due to the disastrous 1983 industry crash brought about by poor quality titles and market saturation, and discontinued ColecoVision in 1985.
Spy Hunter would survive the crash, receiving a pinball table release from Bally in 1984 and a sequel, Spy Hunter II, in 1987. It would be another 14 years before a proper sequel would be developed, 2001's "Spy Hunter" for the Playstation 2, Xbox, Gamecube and computers. A sequel followed that game, and then there was 2005's "Spy Hunter: Nowhere to Run," the remnants of a failed movie project starring Dwayne "The Rock" Johnson. The most recent Spy Hunter game released was a 2012 handheld title published by Warner Bros. Interactive, once again titled simply "Spy Hunter."
What was your favorite early arcade game ported to a home console? Are you a Spy Hunter fan? Let us know in the comments below, and check back next week for another free game.
---
---