Thu., March 19, 2015
Seattle's big, fat $900 million transportation levy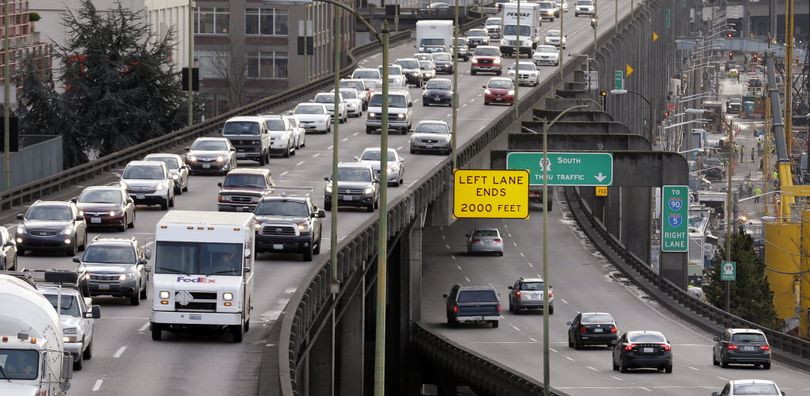 Standing at corner once served by cable cars, Seattle Mayor Ed Murray announced his plan Wednesday to ask voters to approve a $900 million transportation levy this fall.
According to the Seattle Times, the mayor's Move Seattle plan focuses mainly on non-car transit, including a $120 million retrofit to give the city's electric trolley buses their own lanes, as well as projects for bus and streetcar corridors, sidewalk and street work, freight routes and bicycle lanes.
The plan would also set aside $25 million to study and engineer the replacement of aging bridges, including the Ballard Bridge.
The Times said that Murray was asked if the city is squeezing out car drivers with the plan.
"The mode wars are over," Murray said, adding that the city will continue to see an influx of new residents and the city's transportation network must be prepared to deal with them.
"If all new city residents and workers drive every day, drive for every need they need to get to, it would cripple our transportation system and our economy," Murray said. "Today, nearly 70 percent of commuters downtown get there on transit, by carpool, by biking, by walking. We need to build on that success."
According to the Seattle Transit Blog, which used information from the Seattle Department of Transportation, the mayor's Move Seattle plan breaks down as follows:
Safe City ($350m): 50 miles of protected bike lanes, 60 miles of greenways, 225 blocks of sidewalk repairs, the Burke-Gilman missing link, and fixing deficient bridges.
Affordable City ($275m): Repave or reconstruct up to 180 lane-miles of transit arterials, various access to transit projects
Interconnected City ($170m): 7-10 multimodal corridors, bus speed and reliability projects, some funding for a Graham Street Link station and the Northgate pedestrian bridge, 100 blocks of new sidewalks, 1,500 new bike parking spots, and new design solutions for streets without sidewalks.
Vibrant City ($105m): freight corridors, 20-35 projects submitted by neighborhoods.
The levy follows Spokane's street levy, which passed with an overwhelming 77 percent of the vote in November. Here, property tax payers contribute $57 for every $100,000 of assessed property value. In Seattle, taxpayers will be on the hook for about $61 per $100,000 of assessed property value. Spokane's levy, which is much smaller in scope, will last for 20 years. Murray's proposal is for nine years.
---
---