Fri., Aug. 5, 2016
Comments section: More disdain for cyclists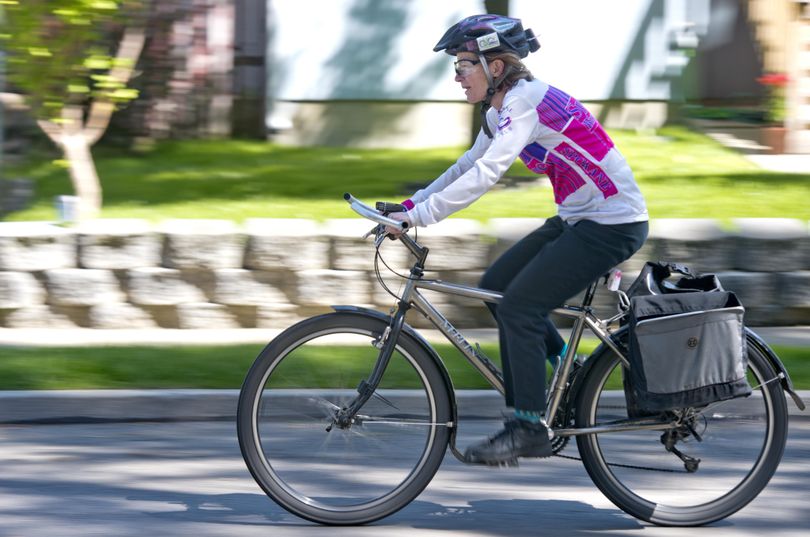 Today's front page features a story I wrote about bicyclists – or, as I like to call them, Comment Section Enemy No. 1.
To quote reporter Nick Deshais, who's on leave from The Spokesman-Review, "Cyclists suck. That's the gist of some comments on any Spokesman article about bikes, bike lanes or bikeways. More specifically, commenters get very, very angry about what they see as a total disregard for laws by those pedaling anarchists."
As my story explains, there is indeed a problem. Some cyclists have been speeding on the Centennial Trail, posing a serious hazard to other pedestrians.
Riverside State Park rangers are trying to enforce a 15 mph speed limit to make the trail safer for walkers, runners, children, skaters and anyone else who lacks the mechanical advantage of a 20-speed, carbon-fiber, super-lubed road bike.
Rules are rules. Cyclists shouldn't zip past slow movers on the Centennial Trail because the result could be catastrophic. Even at 15 mph, an average-sized rider could exert enough force to break bones, knock out teeth – or worse.
"These guys are going to kill someone, or maim them at least," said Dan Tierney, a former Centennial Trail maintenance worker who called me after reading the story. "They are a hazard."
Still, it baffles me that few other topics consistently draw so much criticism. Much of that comes from drivers who insist, despite state laws, that cyclists have no right to ride on city streets. As Nick noted in the same blog post, cyclists aren't the only ones who break laws, and there is evidence suggesting they do it less often than, ahem, drivers.
Here are a few comments I've received as of noon Friday:
I strongly disdain most bike riders, but in town where they interact with vehicle drivers and do a lousy job of it.
This has only REALLY become a problem since the Pokemon Go droves have been out clogging every public throughway.
?? The Ultimate Trail Blocker ¿¿ Three Hefalumps in black Spandex, shoulder to shoulder, earbuds screwed in and oblivious, streaming an invisible plume of Eau de Walmart.
Wha-What? cyclists doing whatever they want and blaming everyone else that their choices are a problem SURPRISE SURPRISE. Seen a speeding bicyclist who was unable to stop for a pedestrian in time, he broke his neck, he can't walk or feed himself now. Seen cyclists without helmets with serious head damage. They will never be right again.
What I believe I am seeing in this comment is bicyclist road rage, a complete disregard for pedestrians, a disrespect for traffic laws and trail rules and other people. You sir are the problem.
I believes that bikes should be on the sidewalk. We've spent millions putting up little ramps for them. Also bikeriders. are prima Donna's. You can't follow the bike routes. Have to go fast so you have to challenge vehicle traffic
And then there was this brief email:
You should really look into speeding cars down by the park. I have run down there for the pass 30 some years and I seen cars go 50 - 60 mph through there. And they are worried about cyclists?
My thoughts exactly.
---
---