Mon., Aug. 15, 2011
Soaking in the Great Outdoors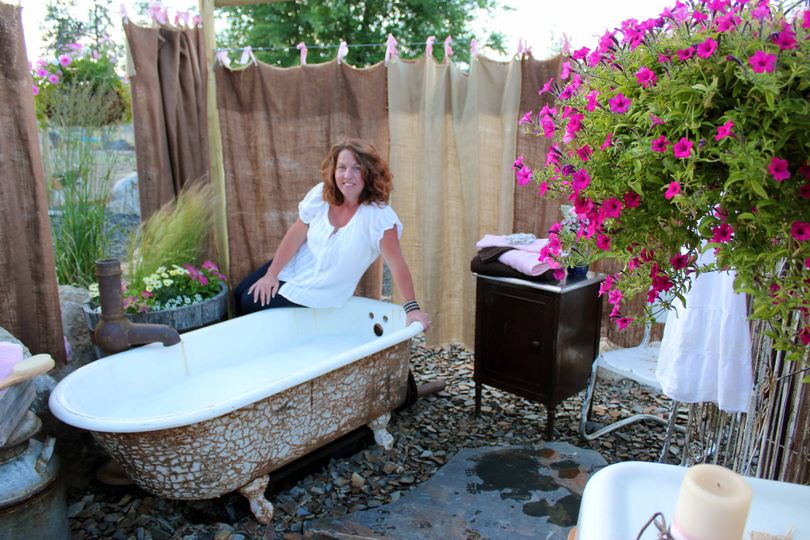 Some people have the right idea.
I've written about Kelly Tareski before, but after reading about it on her blog, I couldn't pass up the opportunity to learn a little more about her outdoor spa.
Tareski, who owns GardenStone Creations in Airway Heights, coerced (or canoodled) husband Monte into using an old claw-foot tub she had been saving to create a place to enjoy a hot soak under the stars on their Nine Mile Falls property. While that might be a big request for most of us, Monte is in the business of moving things around. He owns Cascading Creations and spends most days moving big rocks, building walls, steps and water features.
In a few days she had her heated outdoor tub, surrounded by flagstone pavers. Kelly whipped up burlap curtains and cajoled (or canoodled) Monte into building a vanity using an old sink she'd been saving for another project.
The result? A beautiful, nature-inspired place to soak and dream under a big Eastern Washington sky.
Unfortunately, as happens with most good ideas, now everyone wants in on the act. The kids like the outdoor bathtub so much Kelly has to schedule her own play time. Isn't that always the way?
You can read more about Kelly Tareski's "Suite Outoors" and see more photos of the project here
Cheryl-Anne Millsap writes for The Spokesman-Review and is the editor of Spokane Metro Magazine. Her essays can be heard on Spokane Public Radio and on public radio stations across the country. She is the author of "Home Planet: A Life in Four Seasons" and can be reached at catmillsap@gmail.com
---
---