Mon., Feb. 20, 2012
New uses for Vintage Salt Bowls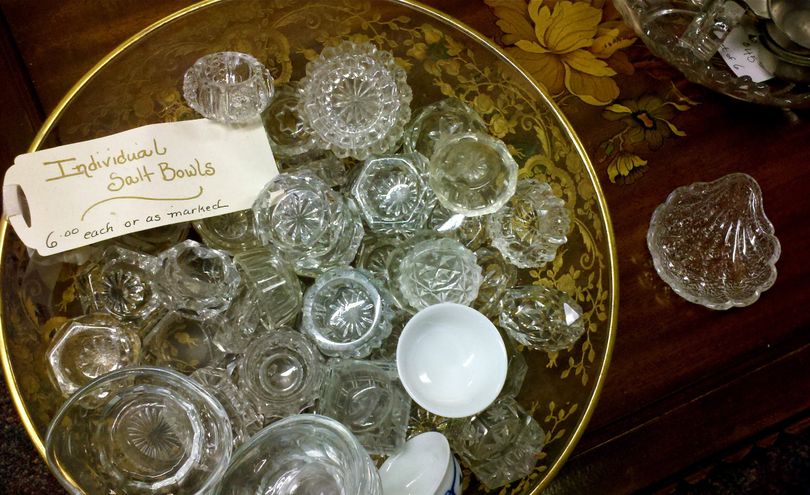 Last week while out making my weekly treasure hunting rounds, I stopped by the Antiquarian, on Division between First and Pacific Avenues.
The antique mall has been a Spokane staple for a number of years and is a place I always recommend when asked where to shop for fine antiques, especially larger pieces of furniture. (I was there because I'm always searching for a set of oak barrister cases to match the ones I have, knowing it's a long shot.)
Before I left I caught sight of a big bowl filled with small crystal and china salt dishes. While a few were priced a bit higher, most were only $6 each.
I snapped a picture and all the way home I thought about the tiny crystal bowls, imagining ways they could be put to use. I remembered seeing an idea on Pinterest for using small berry bowl-sized dishes arranged in a drawer as storage for little odds and ends. What if you were to adapt that idea to a smaller scale?
Tiny crystal salt dishes on a silver tray on a dressing table or in a dresser drawer would make a pretty way to separate and store earrings, necklaces, rings and other pieces of jewelry. On a desk they could be used to hold stamps and paper clips, or to sort coins for parking meter change. If you already have a collection of crystal salts, you could do what the Antiquarian did and fill a big bowl with them. It would make an interesting centerpiece.
Of course, if you're the practical sort, I suppose you could always just fill them with salt and set the table.
Cheryl-Anne Millsap is a freelance writer based in Spokane, Washington. In addition to her Home Planet , Treasure Hunting and CAMera: Travel and Photo blogs, her essays can be heard on Spokane Public Radio and on public radio stations across the country. She is the author of "Home Planet: A Life in Four Seasons" and can be reached at catmillsap@gmail.com
---
---