Sat., March 24, 2012
Parlez-vous Junque?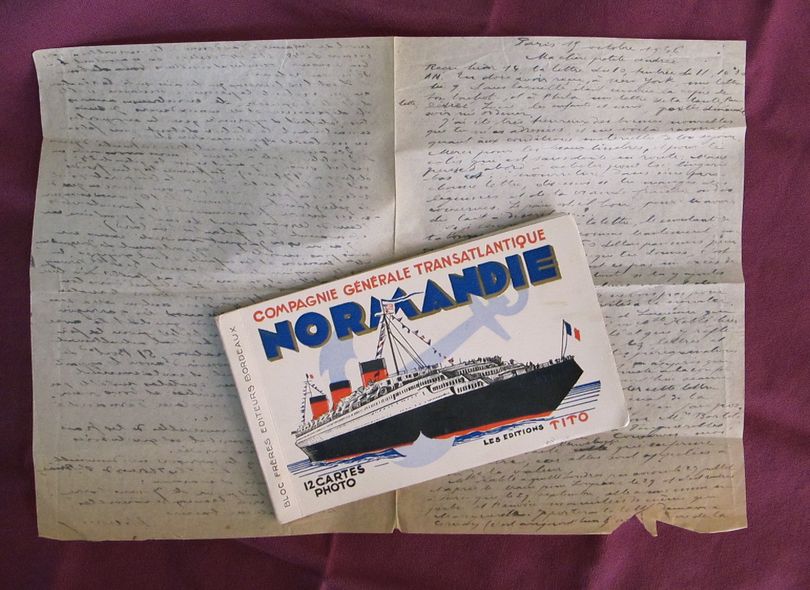 When you walk into Roost, the new vintage emporium on Main Avenue and Division, the first thing you'll see is a trunk filled with letters and papers. But what makes the papers so interesting is that they are a lifetime of correspondence, keepsakes and photographs of a woman who moved from France to Spokane after World War II.
Never have I wished I could speak, and especially read, French as when I was pulling out yellowed pieces of onionskin paper and AirMail envelopes covered with small, neat, lines of handwriting.
Owner, Dena Kieffer, told me the contents of the trunk were all from one estate and I spent at least half an hour rummaging through the ephemera.
Finally, when I'd run out of time, I committed to a folded sheet of stationary ($2) and a souvenir postcard book of photographs of the S.S. Normandie. ($12)
I chose the letter because it is the perfect size to scan and save. I'm going to use it for several decorating projects I have in mind. The postcard book is a miniature history lesson. The elegant French ocean liner was built in 1935 and made 139 crossings to the Untied States before she was seized by the U.S.in 1942 and put into service as the USS Lafayette only to burn and sink in 1942.
The Normandie was one of the last of an era, and as a frequent traveler I love anything to do with the elegant age of transportation.
I brought home my French souvenirs and spent a happy hour or so examining them. The last time I was in Roost, the big box of French memorabelia was still there. I'm tempted to go back and lose myself again in the photos and bits of paper history.
Parlez-vous Junque?

Cheryl-Anne Millsap is a freelance writer based in Spokane, Washington. In addition to her Home Planet , Treasure Hunting and CAMera: Travel and Photo blogs, her essays can be heard on Spokane Public Radio and on public radio stations across the country. She is the author of "Home Planet: A Life in Four Seasons" and can be reached at catmillsap@gmail.com

---
---