Sat., Nov. 17, 2012
Downtown Vintage 'Shop Hop' Today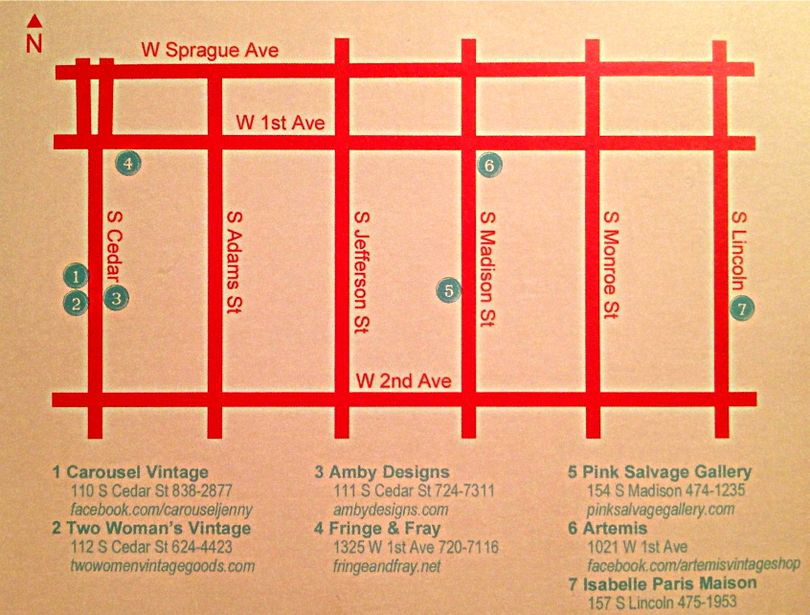 Oh, sure. You could take care of those Saturday chores. You could go to the grocery store. You might even get a little laundry done. Or, you could head downtown and have a little fun
Seven unique shops that specialize in vintage goods are holding a special Shop Hop today from 10 am to 6 pm.
Carousel Vintage, Two Women Vintage Goods, Amby Designs, Fringe and Fray, Pink Salvage Gallery-Deja Neu Furnishings, Artemis and Isabelle Paris Maison, all located dowtown between First and Second Avenues and Cedar and Lincoln Streets, will offer special promotions or discounts to shoppers who drop by.
If the vintage Christmas decorations, one-of-a-kind fashions, unique re-purposed furniture or creative home decor ideas don't get you, the energy of the shopkeepers and owners will. This is an excellent chance to get to know some of the area's newest businesses. Kris Mack has just opened Artemis at the new location, Fielding Chelf has been busy bringing in fantastic finds for Two Women Vintage Goods. Amby Designs and Isabelle Paris Maison have only been open a month.
If you like vintage items, antiques, upcycled and repurposed furniture and accessories, take an hour or so and hop from shop to shop. What better way to meet the new neighbors, support local entrepreneurs, get a head start on your holiday shopping by treasure hunting in the heart of the city.
---
---