Mon., Feb. 11, 2013
Making Good Use of Vintage Hammered Alumium Pieces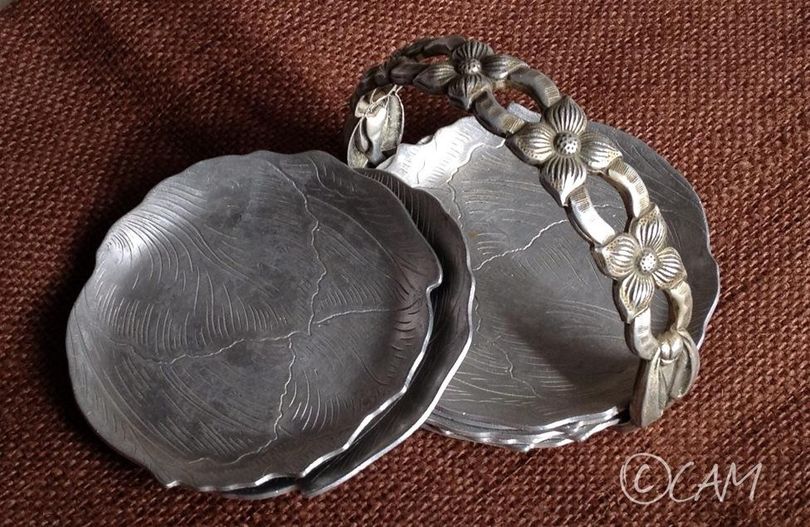 In the year since my granddaughter was born, we've added a variety of toys to my house. The rolling wood box that used to hold Kilim pillows now serves as a toybox. And, a stack of sturdy picture books has replaced the magazines beside my favorite chair in the living room. But what has turned out to be baby's favorite plaything was already on the coffee table.
I picked up a set of vintage hammered aluminum coasters at a thrift store years ago and they move from one table to another. The six coasters nest in a small carrier with an elaborately pressed handle. They are well-made, sufficiently neutral to fit with my decorating style and, best of all, virtually indestructible. This is a good thing because baby likes to take them out and toss them into a pile on the floor. To her delight, the clang of metal on metal is satisfyingly loud. She will navigate across the the table and fling them one by one. Then, practicing her balancing and other skills, she'll pick them up and do it all over again.
When I was raising my four children, our house was filled with vintage objects that had served other families before finding their way to ours. Including the set of coasters. It pleases me to think the tradition continues with new little hands..
Hammered aluminum serving pieces have been around since the 1930s but they are still popular with collectors and I've written about that in previous columns. But you don't have to be a collector to appreciate the practicality of these uniquely American objects.
---
---