Wed., Jan. 30, 2013
1930s Depression Glass juicer still has a place in the kitchen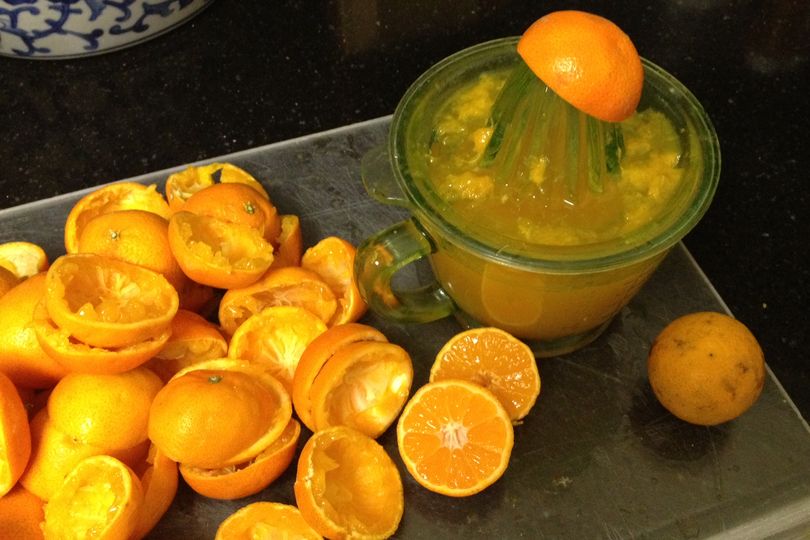 (Photo by Cheryl-Anne Millsap)
Each morning I put bananas, blueberries, oranges or clementines, yogurt and a big handful of spinach in my blender and whip up smoothies for our breakfast. Last week I noticed the clementines were just old enough to be difficult to peel in a hurry, so over the weekend, when I had a free moment, I stood at the counter, peeled them all and then reached into the counter for one of my most low-tech pieces of kitchen equipment.

The green Depression-era juicer was my grandmothers and I've carried it with me from kitchen to kitchen for more than 30 years. The glass juicer fits on top of a measuring cup--I also have a larger cup found at an estate sale--and all it takes is a twist of the wrist for fresh juice.

I sliced the clementines and twisted each half around the grooved top of the juicer until they were all done and the cup was filled with sweet tangerine juice. I gave each an extra twist or two in order to get as much pulp as I could.
For a moment, as I worked, I was able to connect to my grandmother's kitchen, a place I spent so many happy hours as a child

I put the juice in the refrigerator to be ready for the morning's breakfast smoothies, washed the glass juicer and measuring cup and put them both away.

It occurred to me again how much sentimental weight the old objects we treasure can carry. And how sometimes the simplest tools can remain relevant and useful in our harried and hectic modern lives.

---
---