Sun., Feb. 16, 2014
Vintage VW microbus a sweet little ride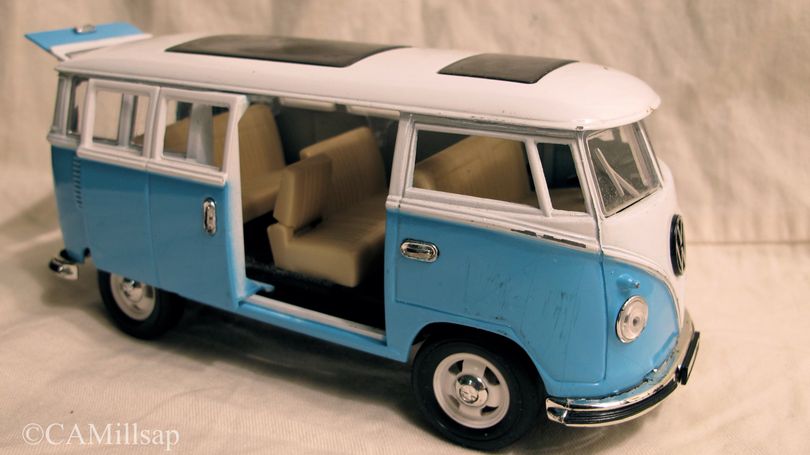 Vintage toys have great appeal because they not only reflect an era or specific period of time, they carry fond memories of childhood and play. And vintage die-cast cars are one of the most enduringly popular collectibles. For some, the curators, only mint collectibles--preferably still in the box--will do. For others, the sentimental treasure hunter, the obvious signs of use, the dents, scrapes and wear and tear of play, only add to the appeal.
I saved a shoebox full of the matchbox cars my children played with, but although I've admired plenty at flea markets and antique sales, I've never bought a vintage toy car or truck. Until a few days ago when I saw a 1960s die-cast replica of a VW Microbus on the shelf in a local thrift store and I couldn't leave it behind.
The toy is completely intact with none of the little pieces of trim missing. There are a few scratches here and there but the doors still open and close and it rolls straight. But to be honest, none of that mattered. What really drew me to it was that it reminded me of my son, not as a little boy pushing toys around in the sand box, but as a young man who likes to tinker with things.
Several years ago he bought a real vintage Volkswagen bus the same robin's egg blue and white as the toy. The bus was in great shape when he bought it and he continued to make improvements to the interior. By the time he was done it was a compact, comfortable, camper. He and his friends camped all over the Pacific Northwest in it.
While the VW bus was fun to work on, and fun to use, it just wasn't practical for everyday use so he sold it for a tidy profit. But whenever he rolled up my driveway in the driver's seat, he had a smile on his face and I hated to see it go.
So, when I saw the vintage 1960s Microbus I brought it home. It doesn't have any great monetary value, similar toys are selling online for under $20. But at $3.99, and considering the pleasure it brings me each time I look at it, my new toy was a real steal.
You can read more of Cheryl-Anne Millsap's work on her Spokesman.com Home Planet blog. She can be reached at catmillsap@gmail.com
---
---