County Commissioner, district 1
* Race percentages are calculated with data from the Secretary of State's Office, which omits write-in votes from its calculations when there are too few to affect the outcome. The Spokane County Auditor's Office may have slightly different percentages than are reflected here because its figures include any write-in votes.
About The Race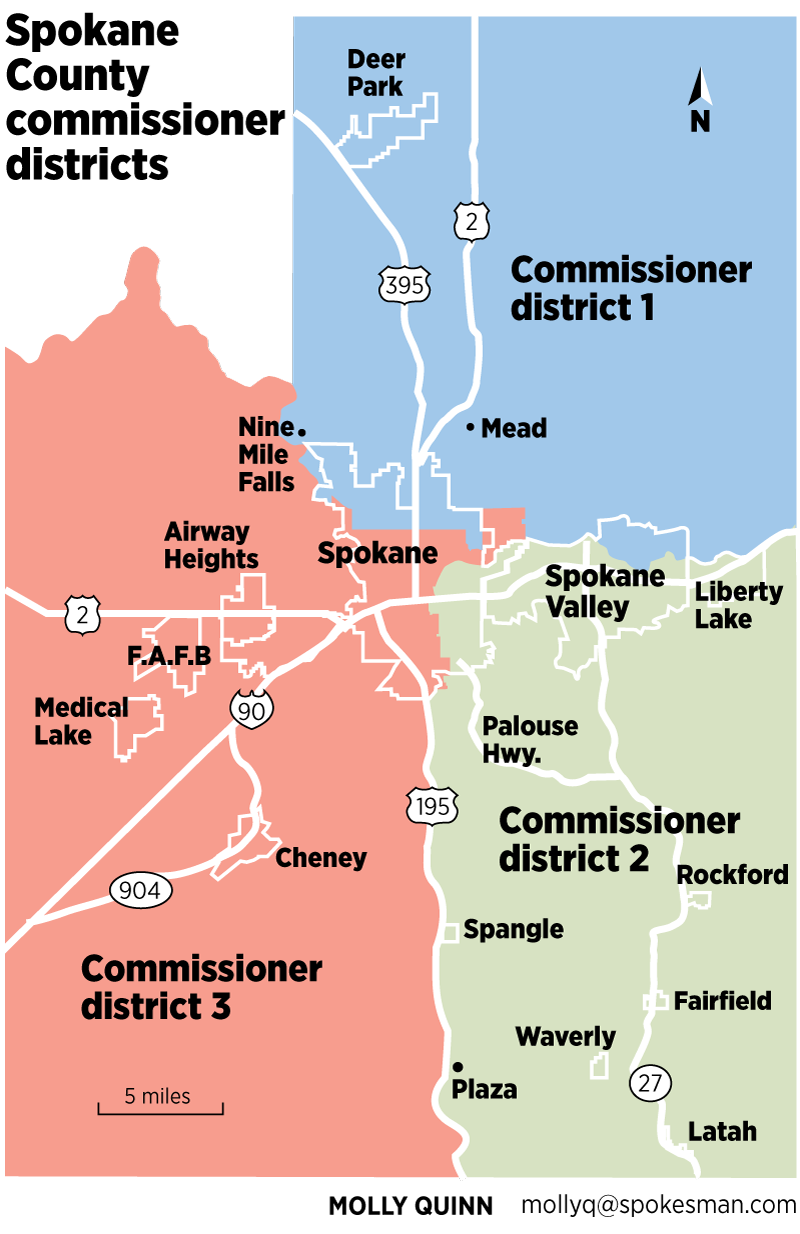 The three-member Spokane County Commission wields both legislative and executive power over the county's 490,000 residents. Position 1, which represents roughly the northern third of the county, is currently held by Republican Nancy McLaughlin, but a surprising August primary left her no chance of retaining the seat. All voters countywide will vote in the race.
McLaughlin was beat by her GOP rival, Josh Kerns, a legislative aide backed by state Rep. Matt Shea and other lawmakers. The other challenger, Spokane City Councilwoman Candace Mumm, won the highest percentage of the primary vote, but she faces a challenge running as a Democrat in a county that leans Republican.
Mumm has touted her business acumen and experience on the city of Spokane's Plan Commission. Kerns said he would use his relationships in Olympia to loosen restrictions on county government.
In recent debates, the candidates have sparred over taxes, spending, development and regulation. Kerns has attacked Mumm for approving a City Council measure that requires businesses to pay employees up to five sick days a year. Mumm has questioned Kerns' political ties to Shea, who recently stirred controversy by suggesting a Spokane County sheriff's deputy was complicit in a triple homicide. Party:

Republican

City:

Mead, Washington
Education: Graduated from Mount Spokane High School in 2003. Earned associate degree from Spokane Community College in 2004 and bachelor's and master's degrees in business administration from Whitworth University in 2006 and 2008.
Political experience: Elected Spokane County commissioner in 2016. Served six years as a legislative aide for state Rep. Jeff Holy and former state Rep. John Ahern. Previously served as a delegate to precinct caucuses and county and state Republican conventions. Has worked on Republican campaigns since 2008.
Work experience: Owns a small marketing company, River Marketing, with his wife. Previously worked as a server at Red Robin and a banker for U.S. Bank.
Family: Married to Nichole Kerns. Has two children.
Campaign finance: Raised about $40,100 as of Sept. 11, 2020, according to the Washington Public Disclosure Commission. Top contributors include the Washington Association of Realtors Political Affairs Council, Avista Corp. and developer Harley Douglass. Party:

Democratic

Age:

60

City:

Spokane, WA

Occupation:

Incumbent city council member, business owner
Her words: "I have always been involved in standing up for neighborhoods. I have been very involved in some of the northside neighborhood improvements … I really enjoy working with neighborhoods, and working at that level."
Her pitch: Mumm says the city council has built momentum on improving roads and sidewalks during her first four-year term, and hopes to continue that momentum for another four years. She points to work on improving the transit options near Spokane Falls Community College, working with the West Hills neighborhood, and securing a commitment from the Washington Legislature to add back a supervision system for property crime offenders in Spokane County, as evidence of her work to address the major issues facing voters in northwest Spokane. In a second term, her priorities would be finding a way to fund additional needed police officers, continuing contract negotiations with the Spokane Police Guild and revitalizing the business center located near Shadle Park High School.
Work experience: Incumbent city councilmember and executive of Smartland, a real estate investment company. Previously worked as a crime reporter and managing editor for KXLY, and as a financial adviser for American Express.
Education: Graduated from Shadle Park High School in 1978. Bachelor's degree in broadcast journalism from Pacific Lutheran University in 1982. Earned a master's degree in business administration from Gonzaga University.
Political experience: Elected to the Spokane City Council in 2013. Previously served on the city's Plan Commission, the county's Stormwater Task Force, the state Department of Commerce's Community Economic Revitalization Board and the Mead School District's Capital Facilities Bond Task Force. Former vice chair of the Five Mile neighborhood council.
Work experience: Currently the CEO of Smartland, a real estate investment company. Previously worked as a crime reporter and managing editor for KXLY, and as a financial adviser for American Express.
Family: Married.
Neighborhood: Five Mile