Picture stories
Japan's crisis grows
Japan's crisis grows
Under threat of a nuclear reactor disaster on Japan's devastated coast Sunday, March 13, 2011, the country begins to dig through the debris left from the catastrophic earthquake and tsunami.
---
---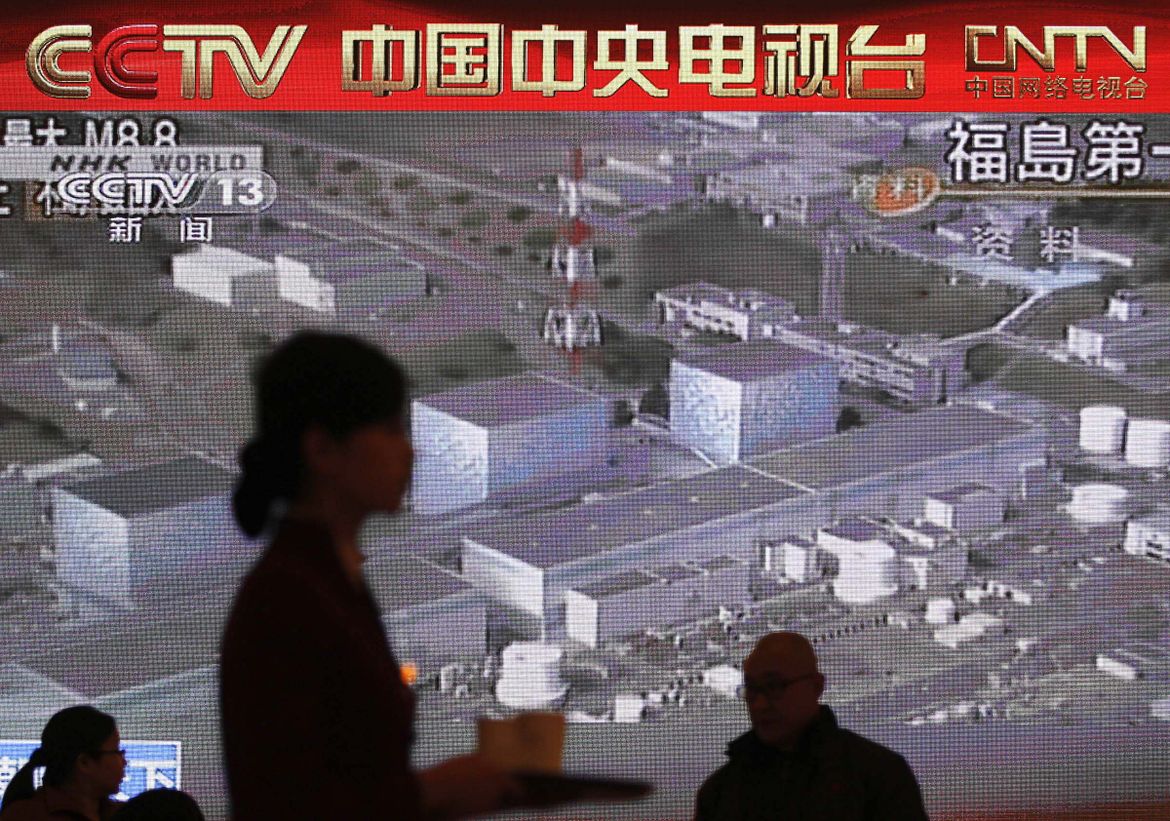 ---
Inside the troubled nuclear power plant, officials knew the risks were high when they decided to vent radioactive steam from a severely overheated reactor vessel. They knew a hydrogen explosion could occur, and it did. The decision still trumped the worst-case alternative — total nuclear meltdown.
Associated Press
---
---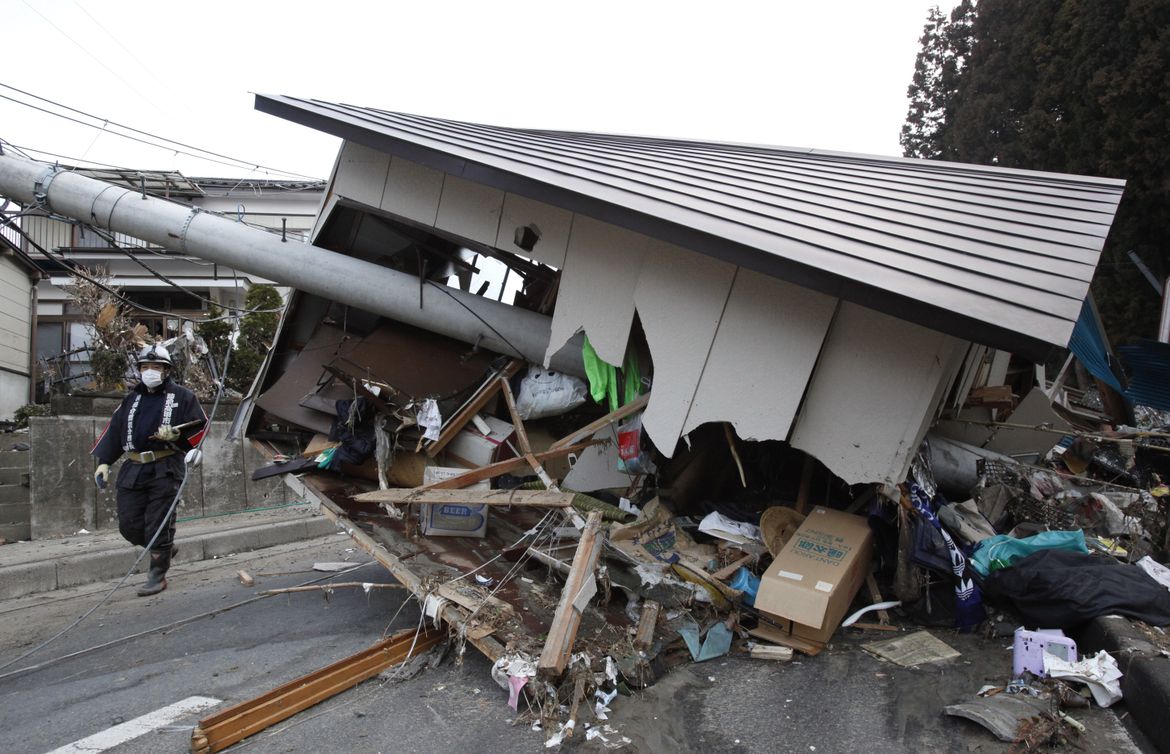 ---
Teams searched for the missing along hundreds of miles of the Japanese coast, and thousands of hungry survivors huddled in darkened emergency centers that were cut off from rescuers and aid. At least a million households had gone without water since the quake struck. Large areas of the countryside were surrounded by water and unreachable.
Associated Press
---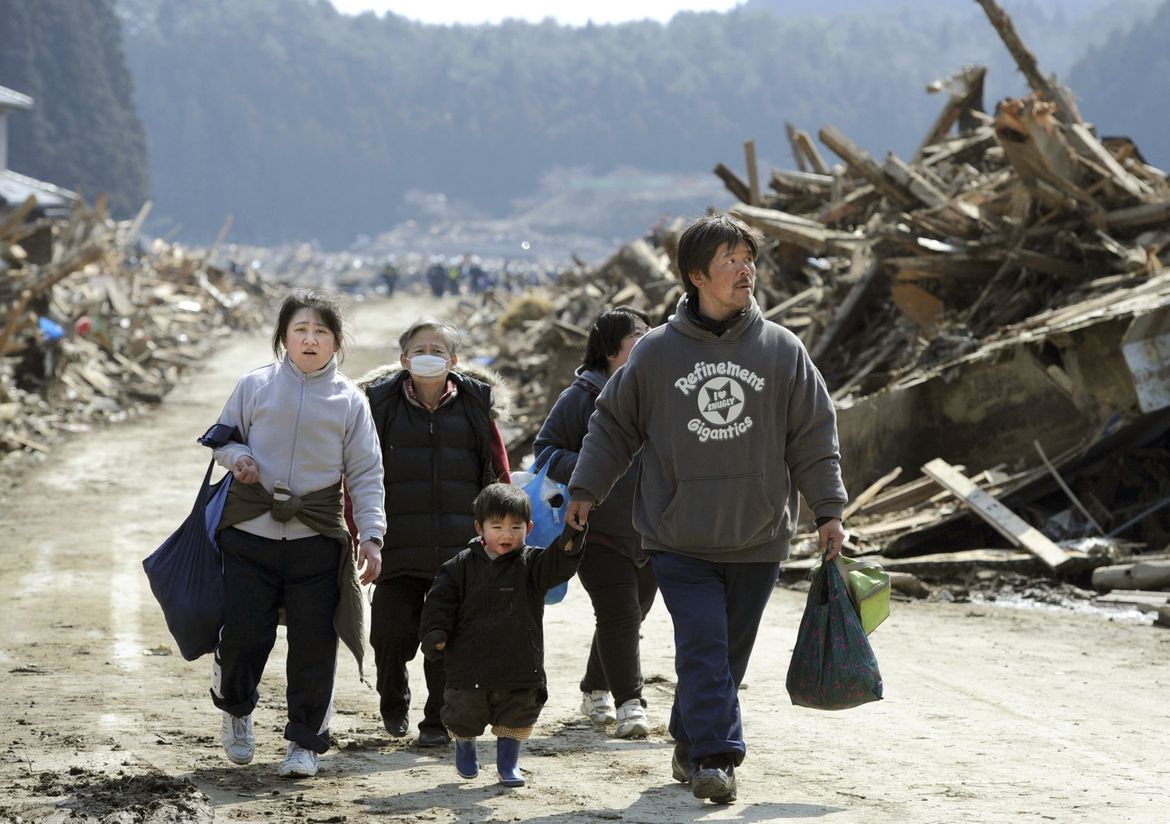 ---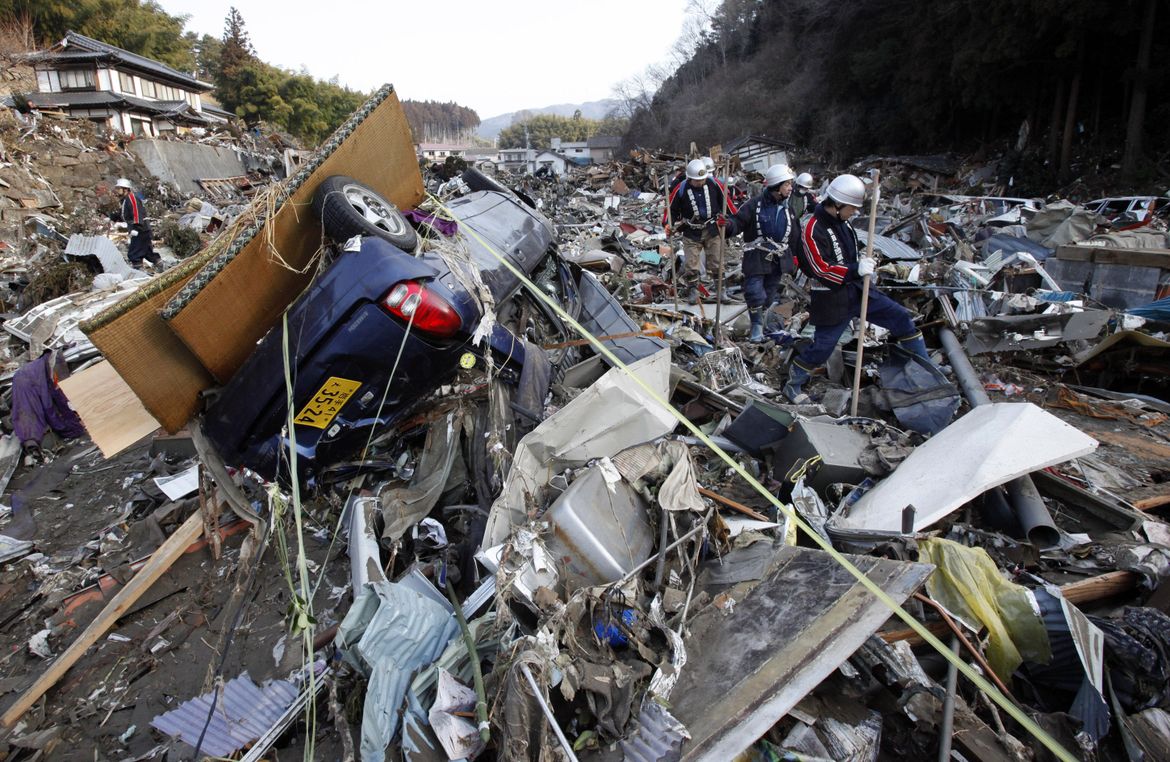 ---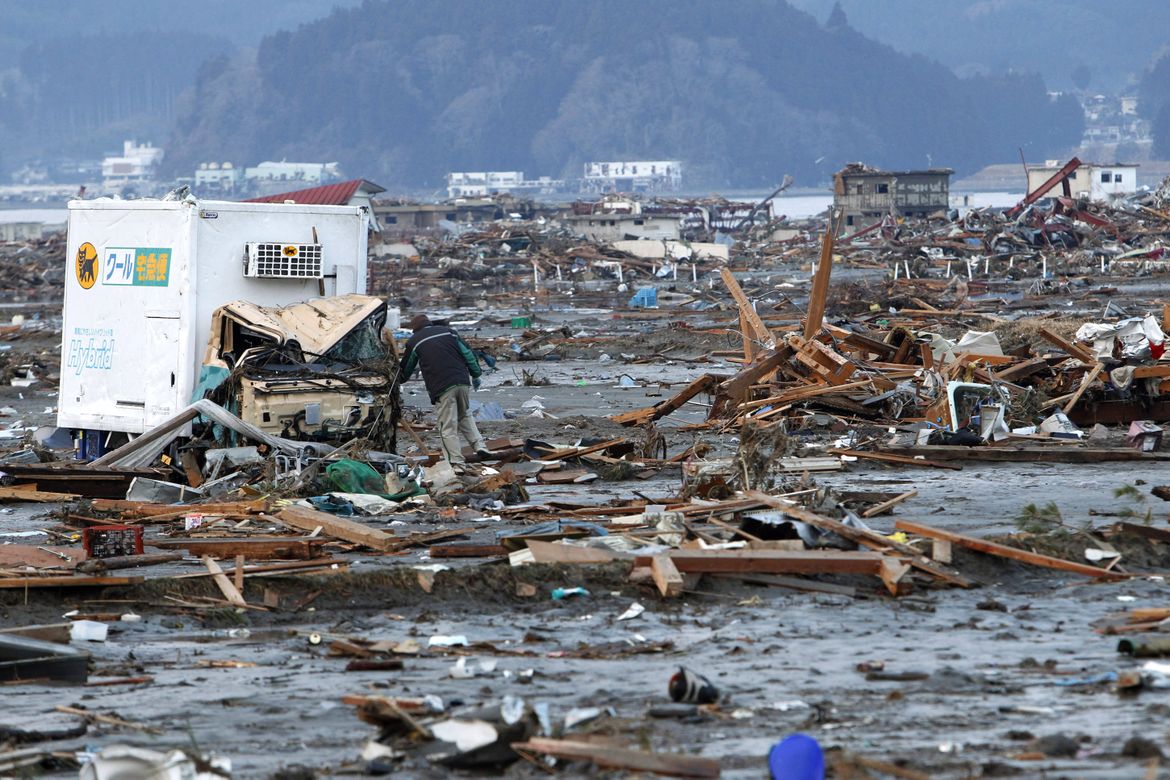 ---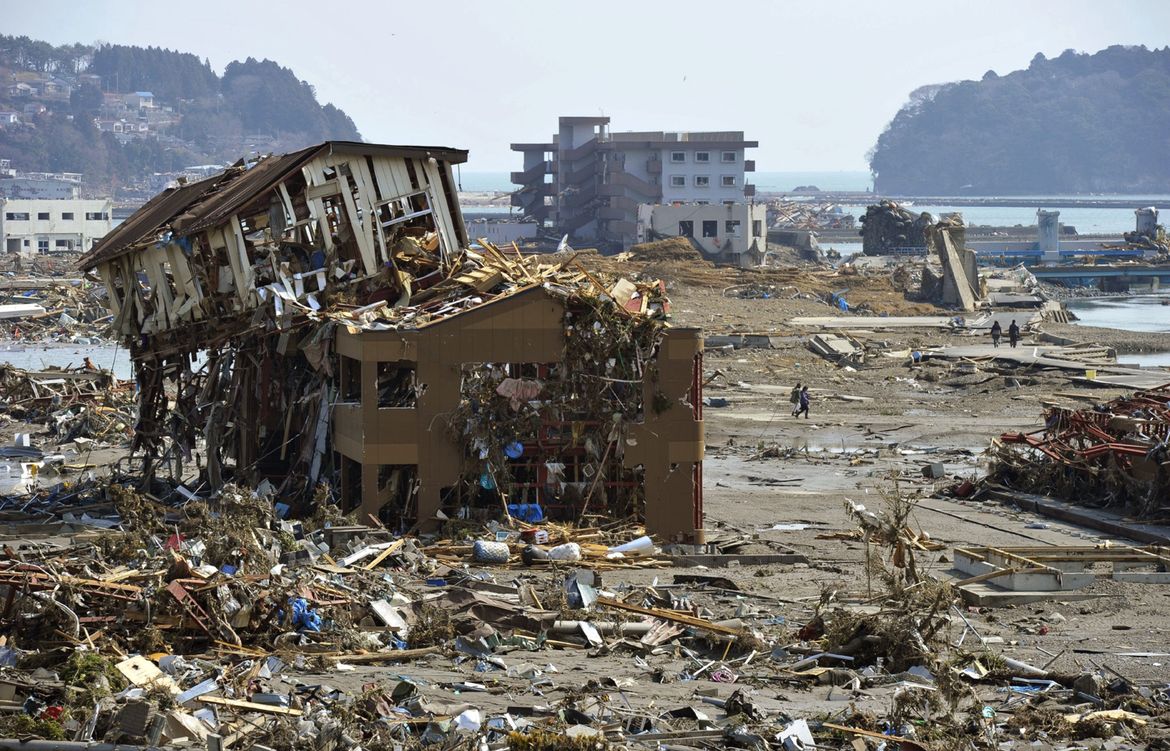 ---
Ten of Japan's 54 commercial reactors were shut down because of the quake, and Tokyo Electric Power said it had to reduce power generation. Japan gets about 30 percent of its electricity from nuclear power.
Associated Press
---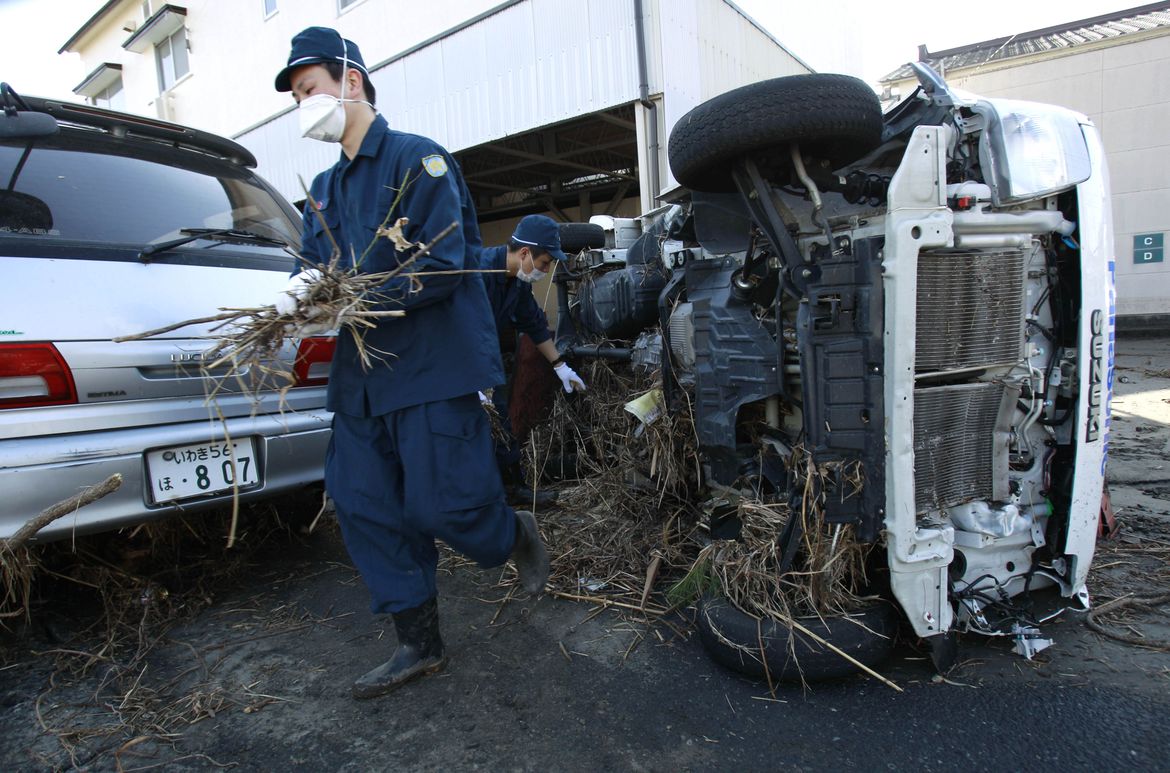 ---
---
A rescue team from Germany arrives at Tokyo's international airport at Narita before heading to disaster areas in northeastern Japan on Sunday March 13, 2011.
---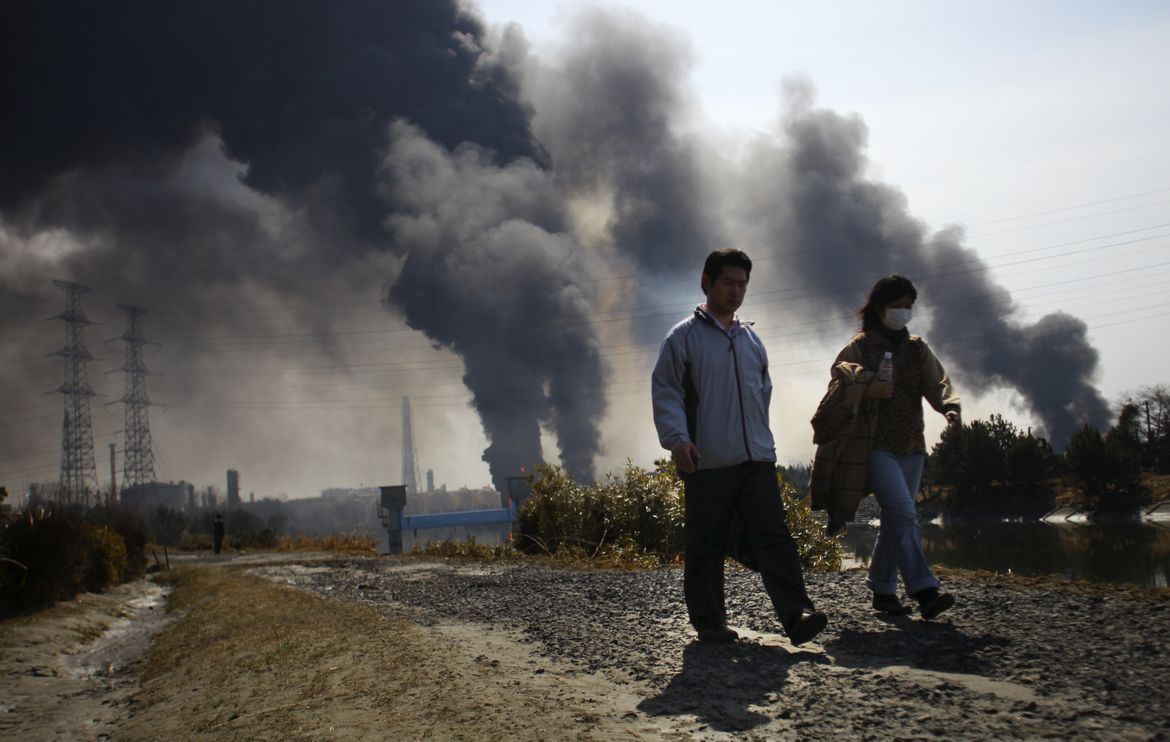 ---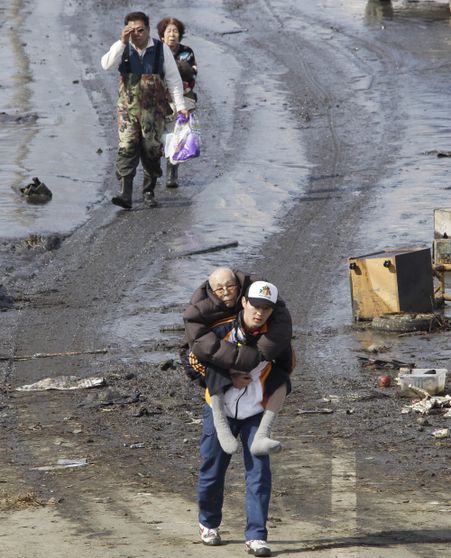 People evacuate from their houses in Tagajo near Sendai, northern Japan Sunday, March 13, 2011 after Friday's catastrophic earthquake and tsunami.
---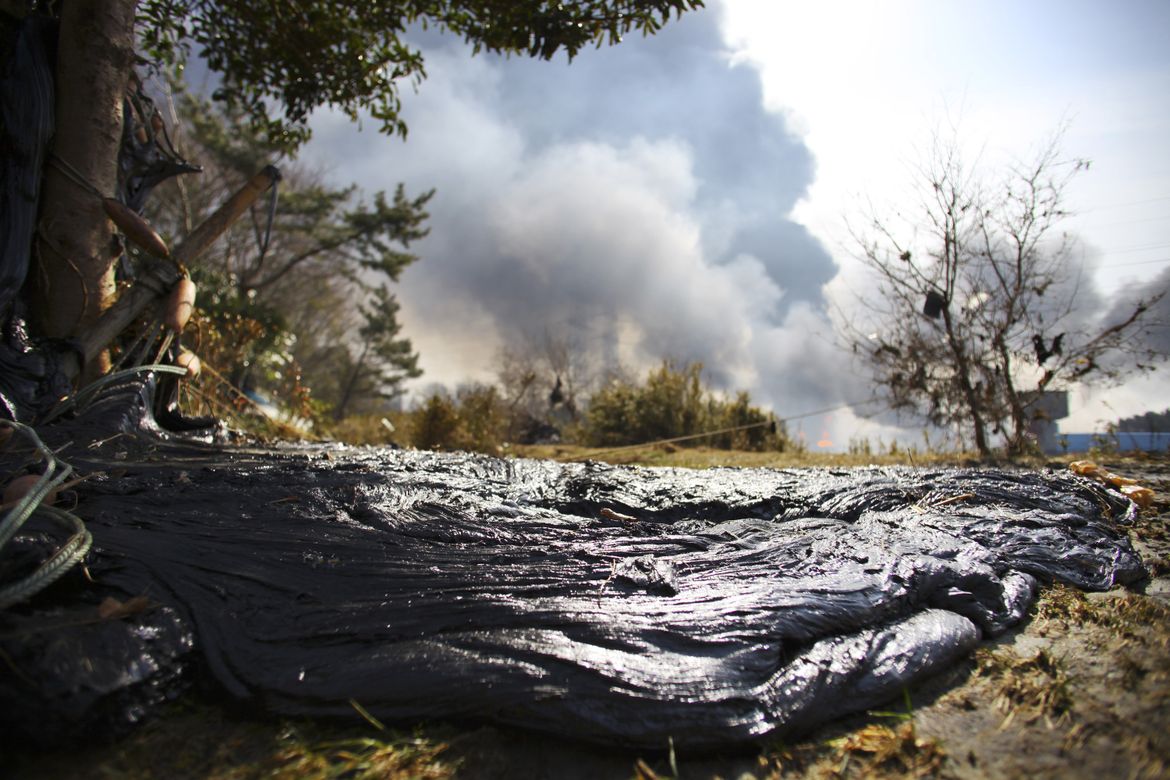 ---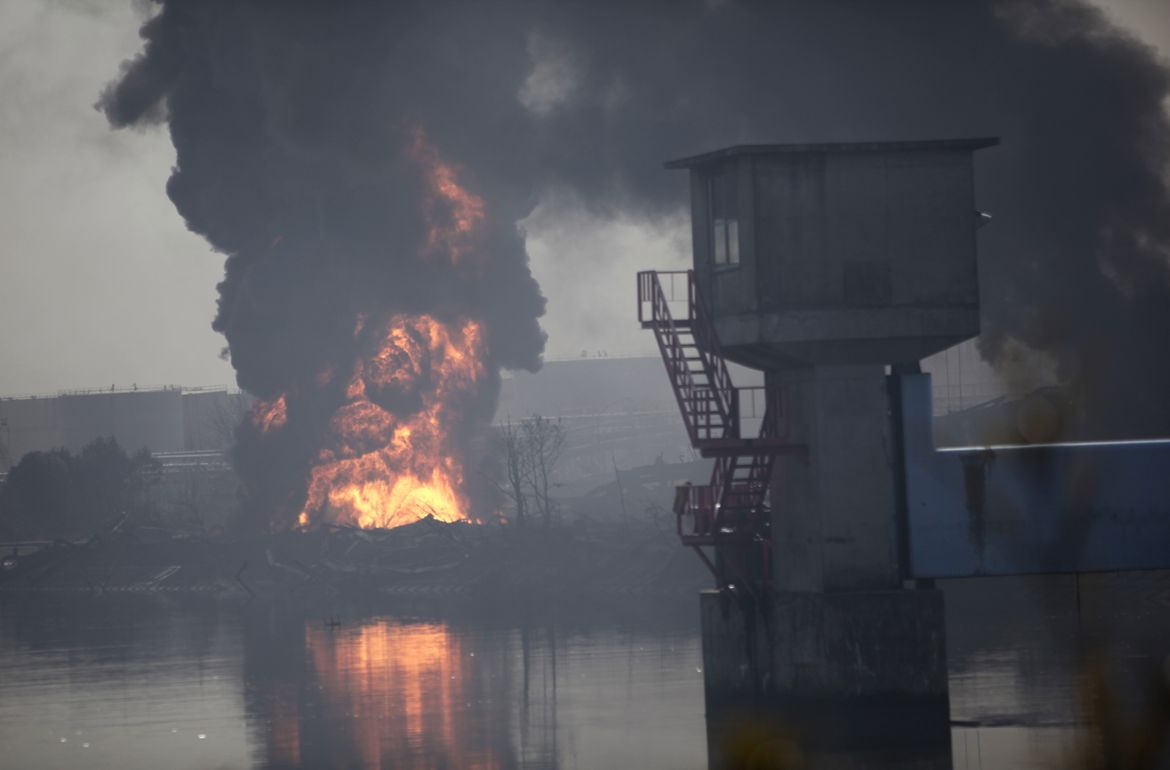 ---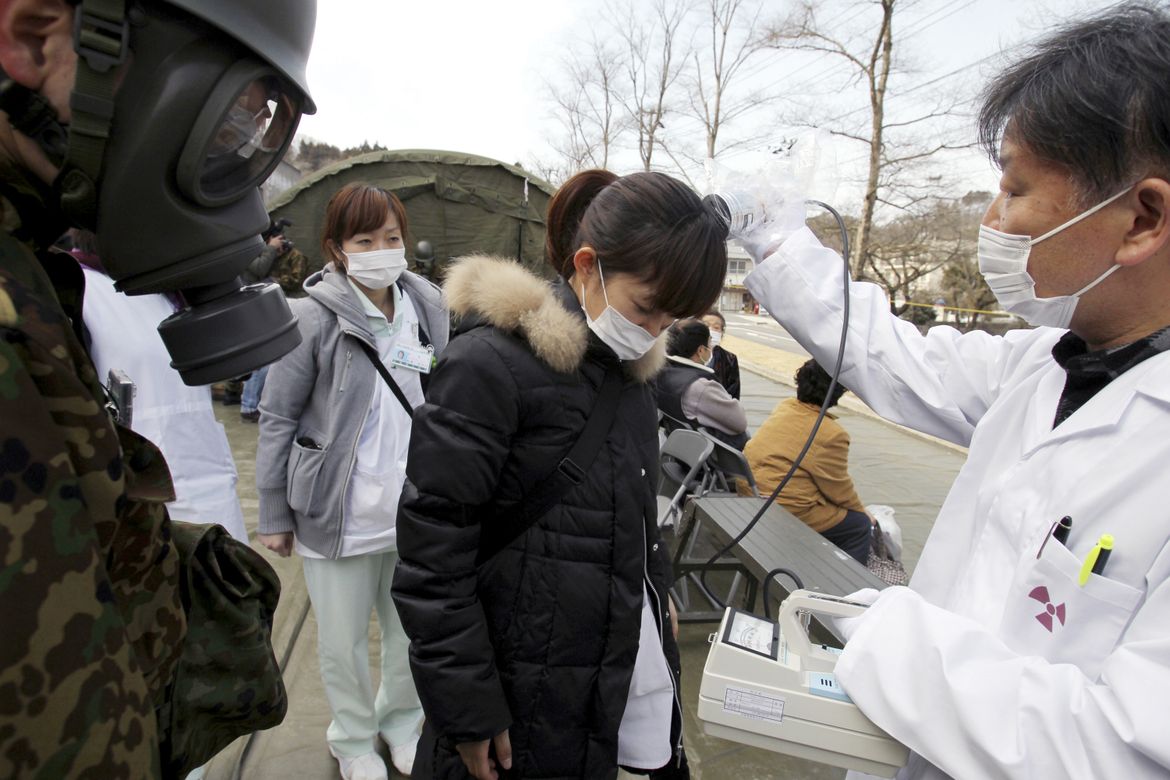 ---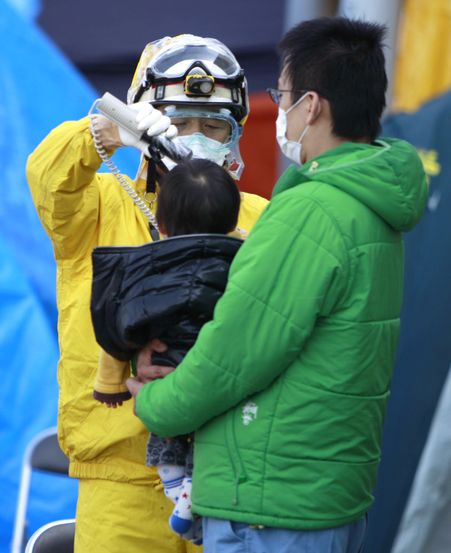 A child evacuated from areas surrounding the Fukushima nuclear facilities damaged in Friday's massive earthquake is checked for radiation exposure with other residents Sunday, March 13, 2011, in Koriyama city, Fukushima prefecture, Japan.
---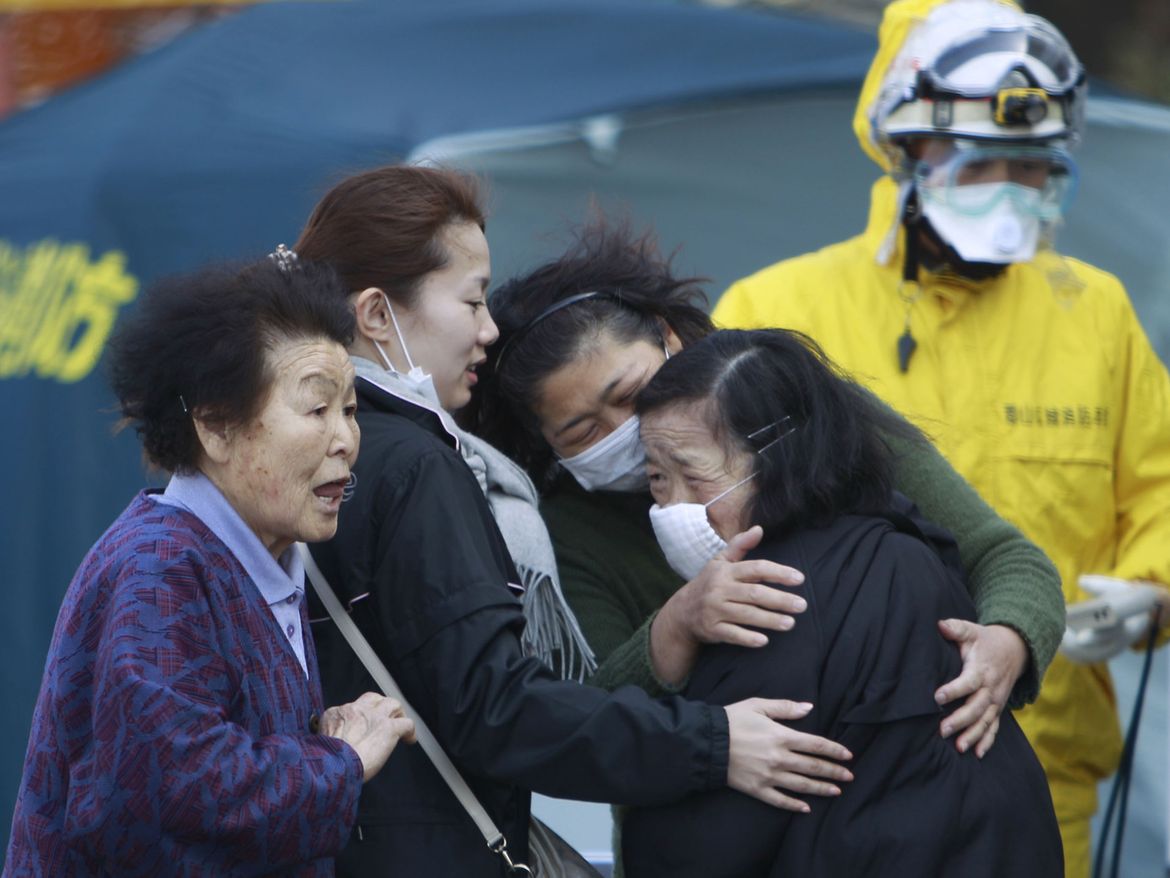 ---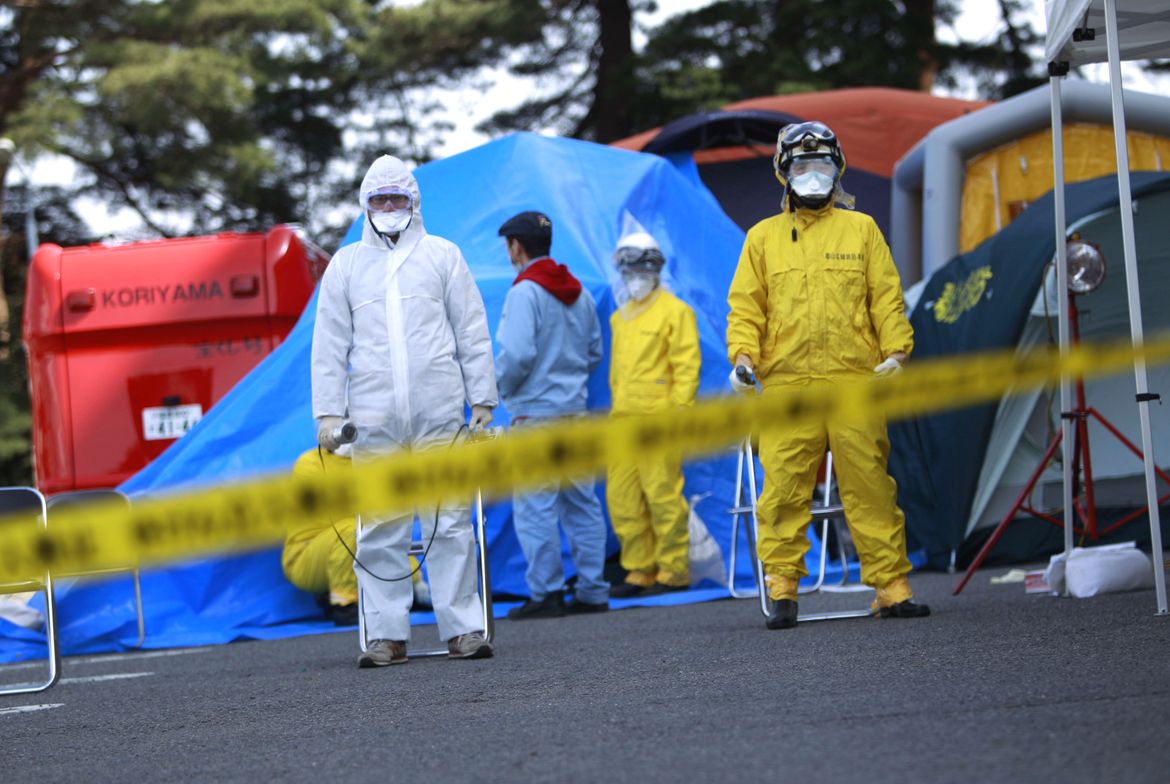 ---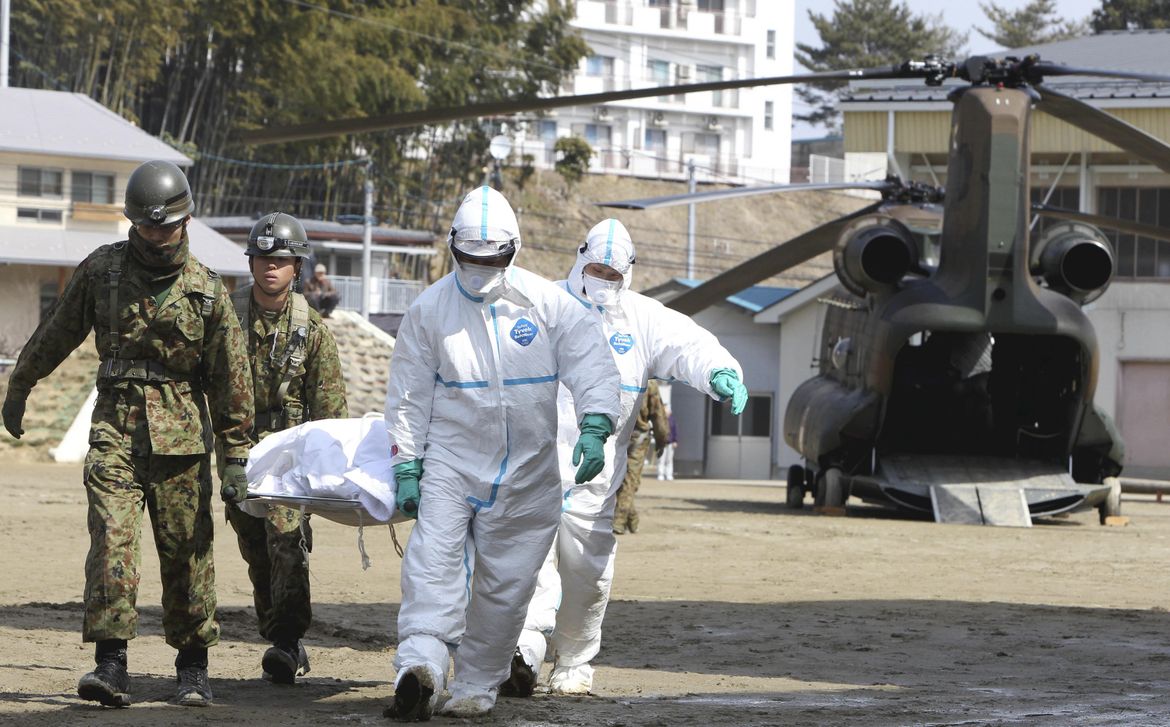 ---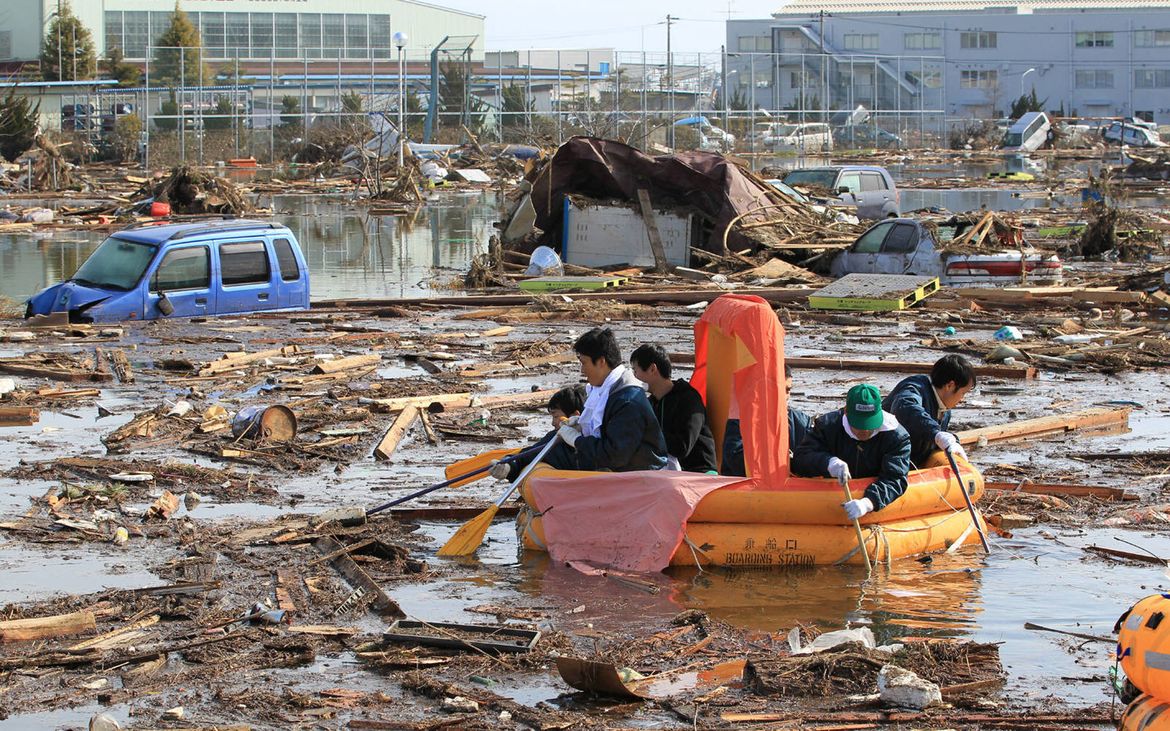 ---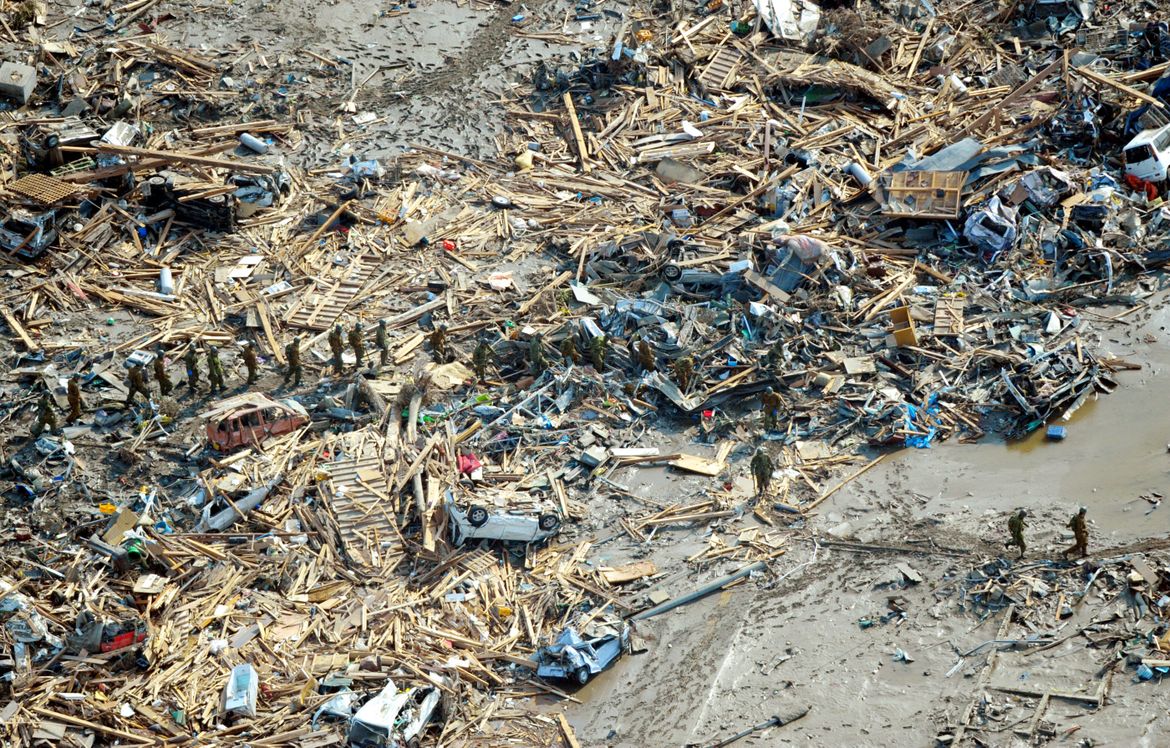 ---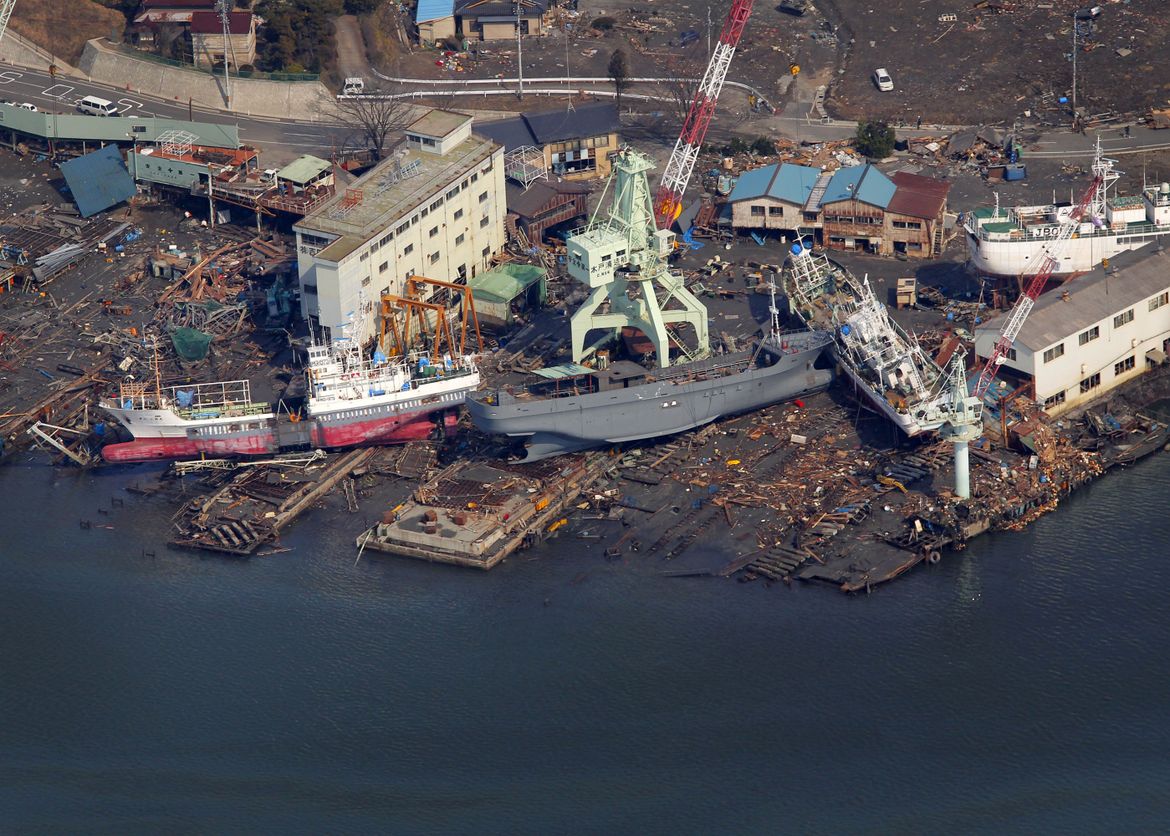 ---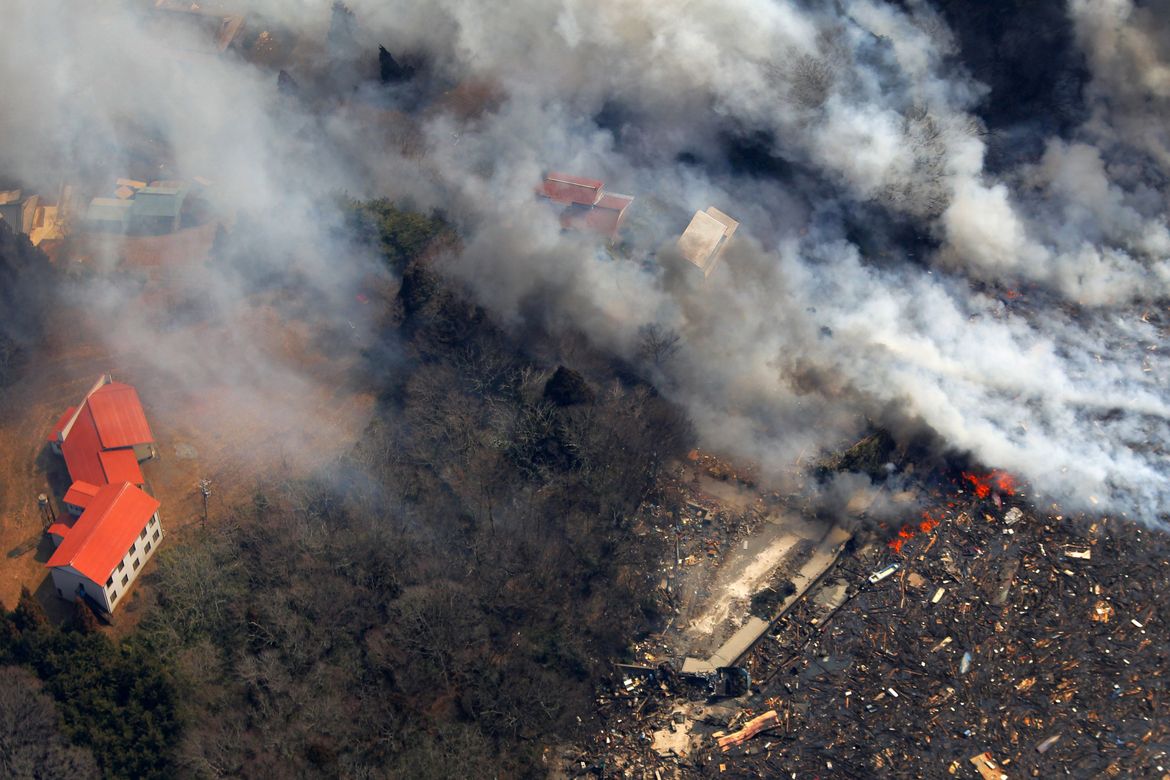 ---
The estimated death toll from Japan's disasters climbed past 10,000 Sunday as authorities raced to combat the threat of multiple nuclear reactor meltdowns and hundreds of thousands of people struggled to find food and water. The prime minister said it was the nation's worst crisis since World War II.
Associated Press
---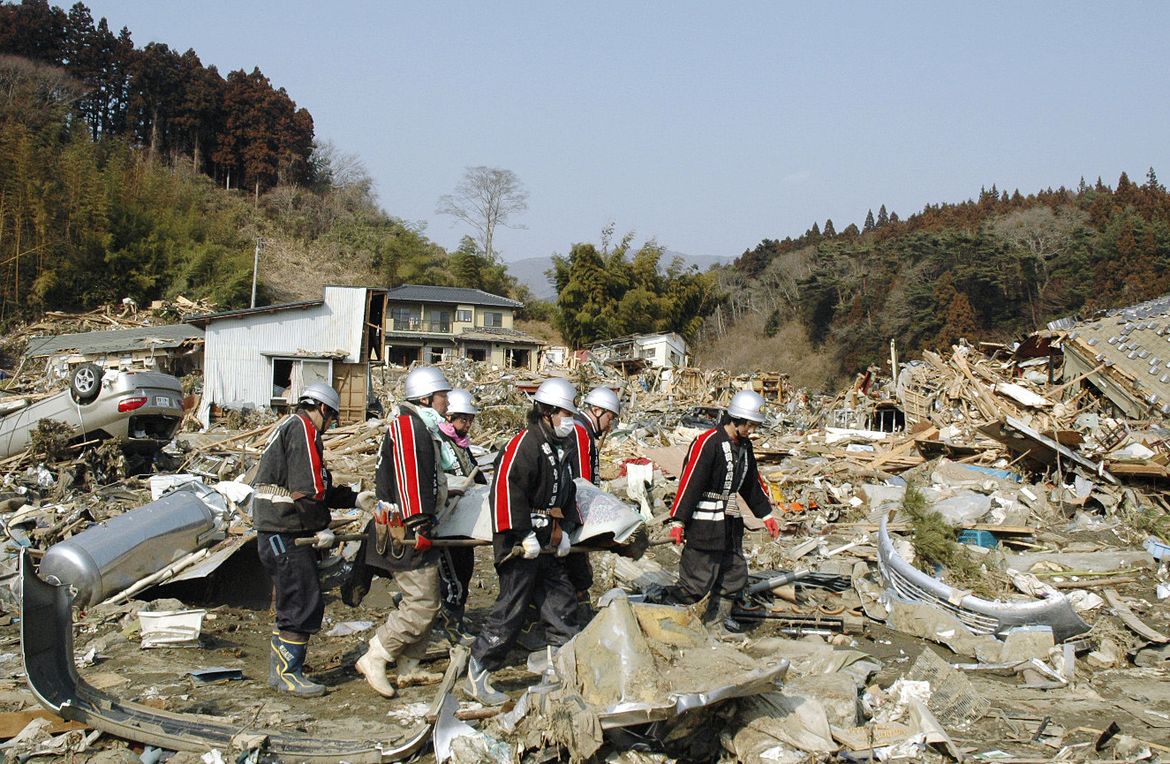 ---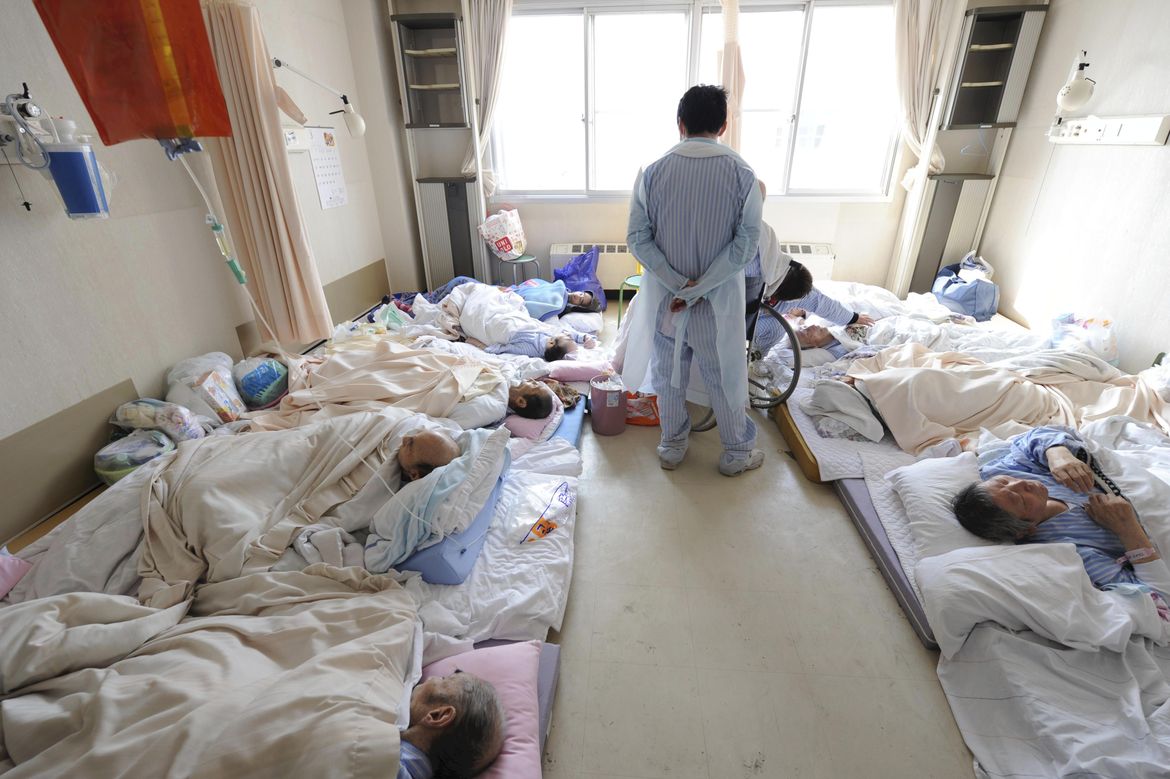 ---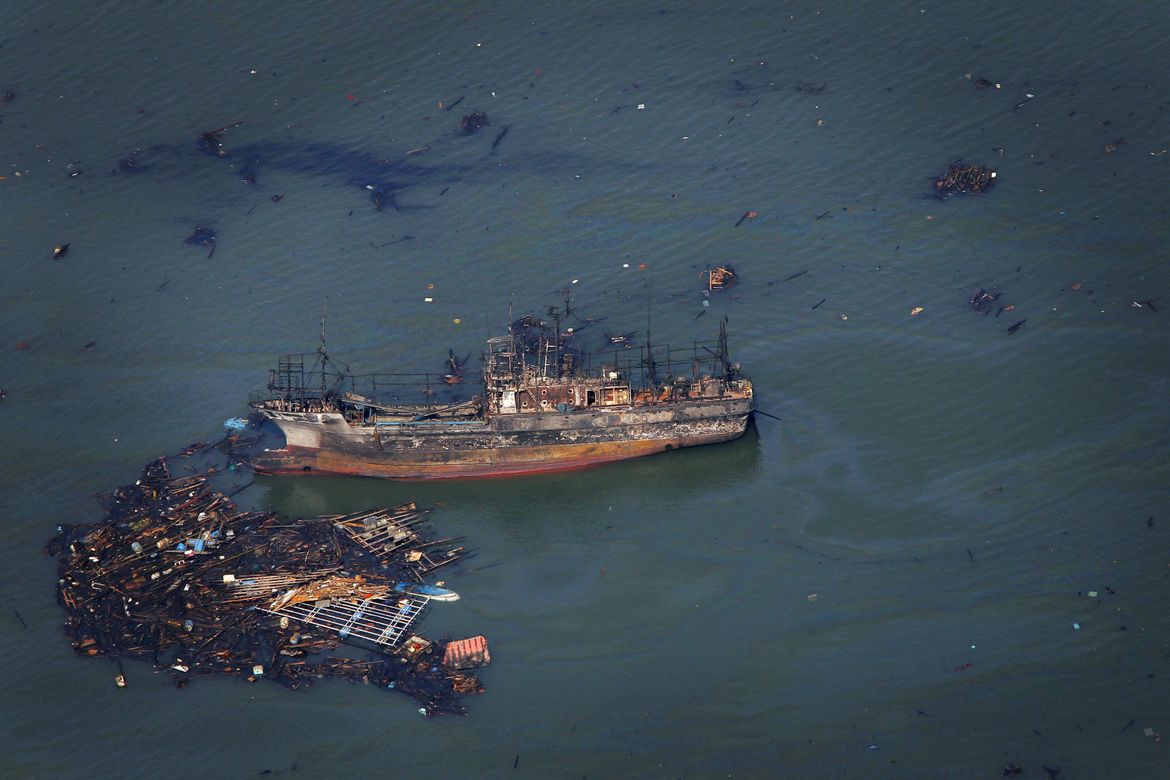 ---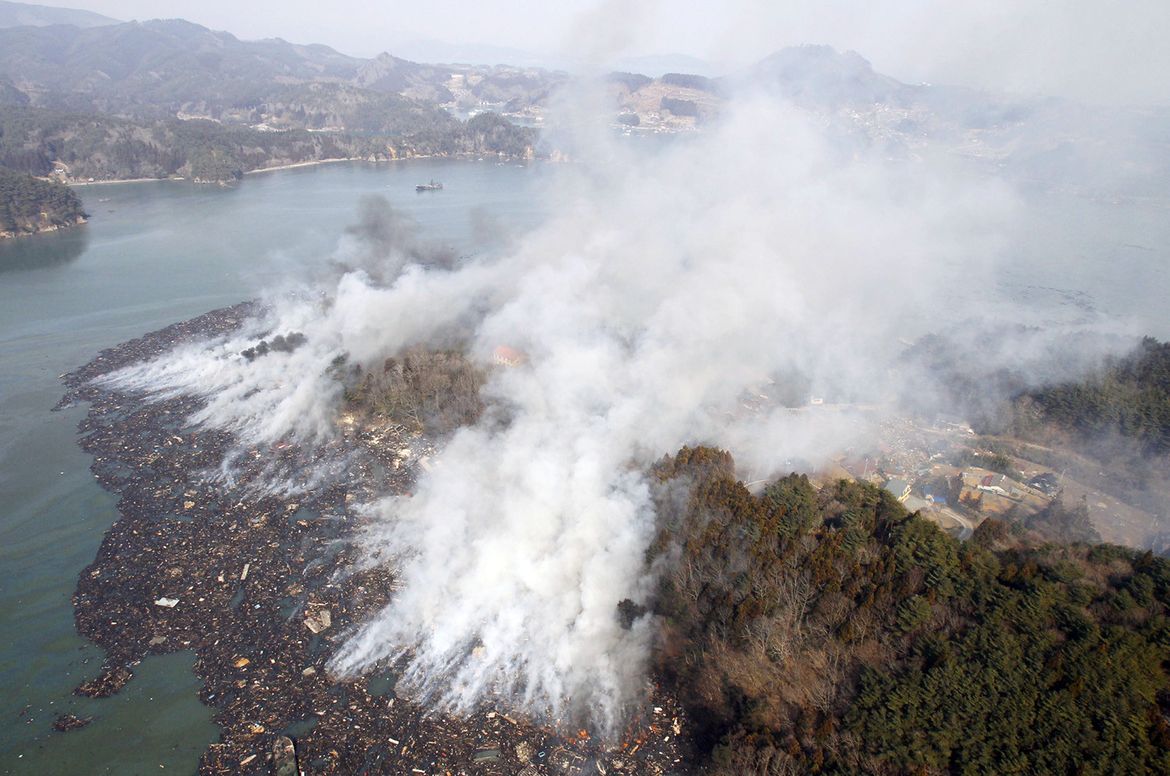 ---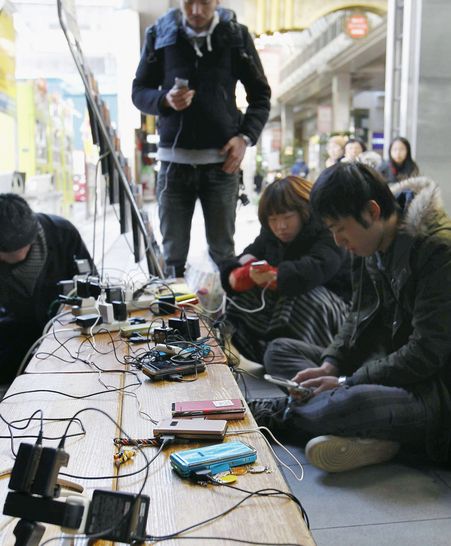 Residents charge up their mobile phones at a shopping street providing a free charging service at Sendai, northeastern Japan, on Sunday March 13, 2011, two days after a giant earthquake and tsunami struck the country's northeastern coast.
---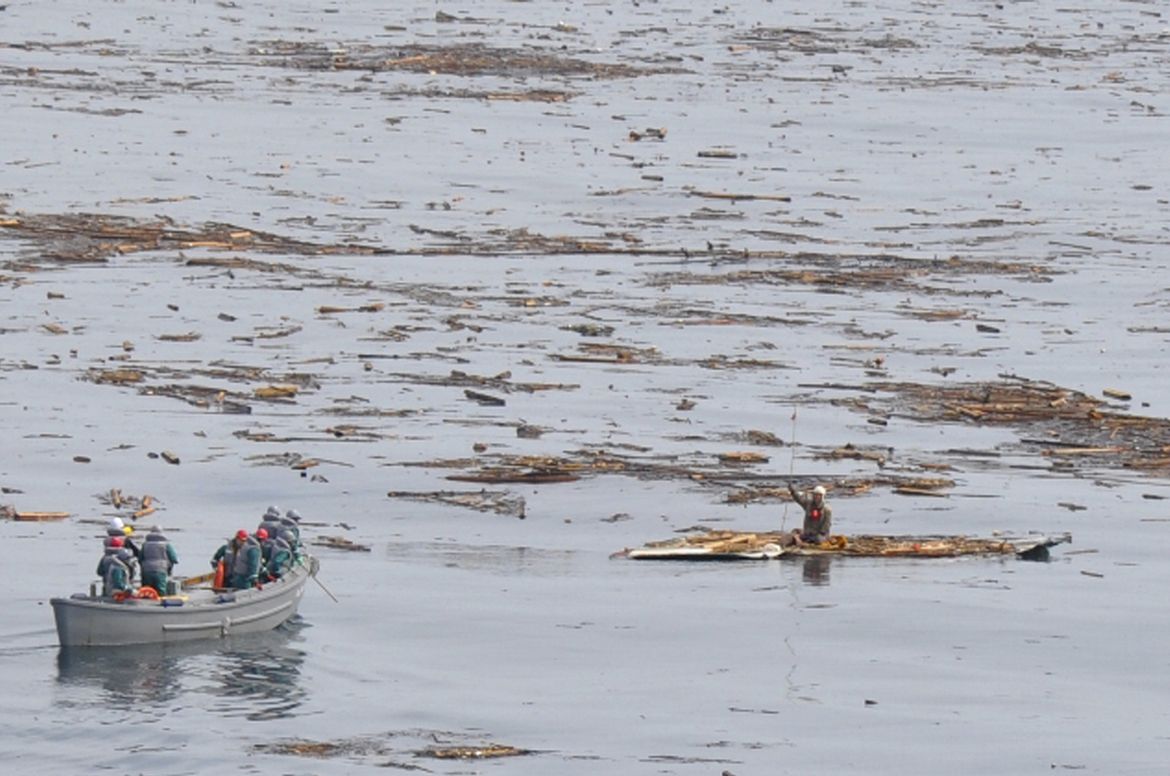 ---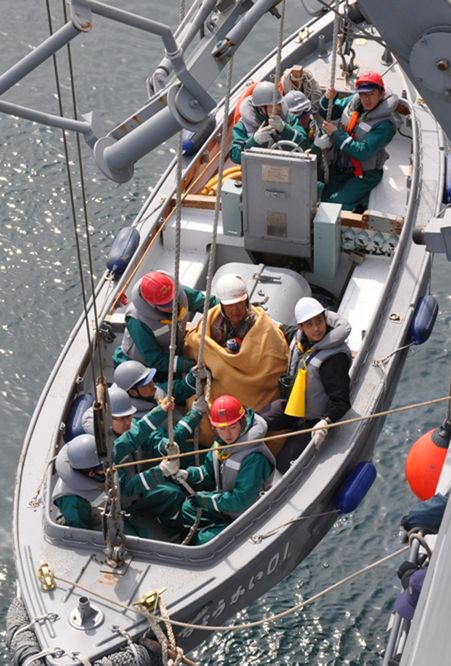 In this photo released by the Japanese Defense Agency, Japanese Hiromitsu Shinkawa, wrapped in a blanket, is lifted to a Maritime Self-Defense Force destroyer following his rescue on Sunday March 13, 2011. When spotted, the 60-year-old man was floating off the coast of Fukushima prefecture's Futaba town on the roof of his house after being swept away in a tsunami. He was in good condition.
---
Near-freezing temperatures compounded the misery of survivors along hundreds of miles (kilometers) of the northeastern coast battered by the tsunami that smashed inland with breathtaking fury. Rescuers pulled bodies from mud-covered jumbles of wrecked houses, shattered tree trunks, twisted cars and tangled power lines while survivors examined the ruined remains.

Associated Press
---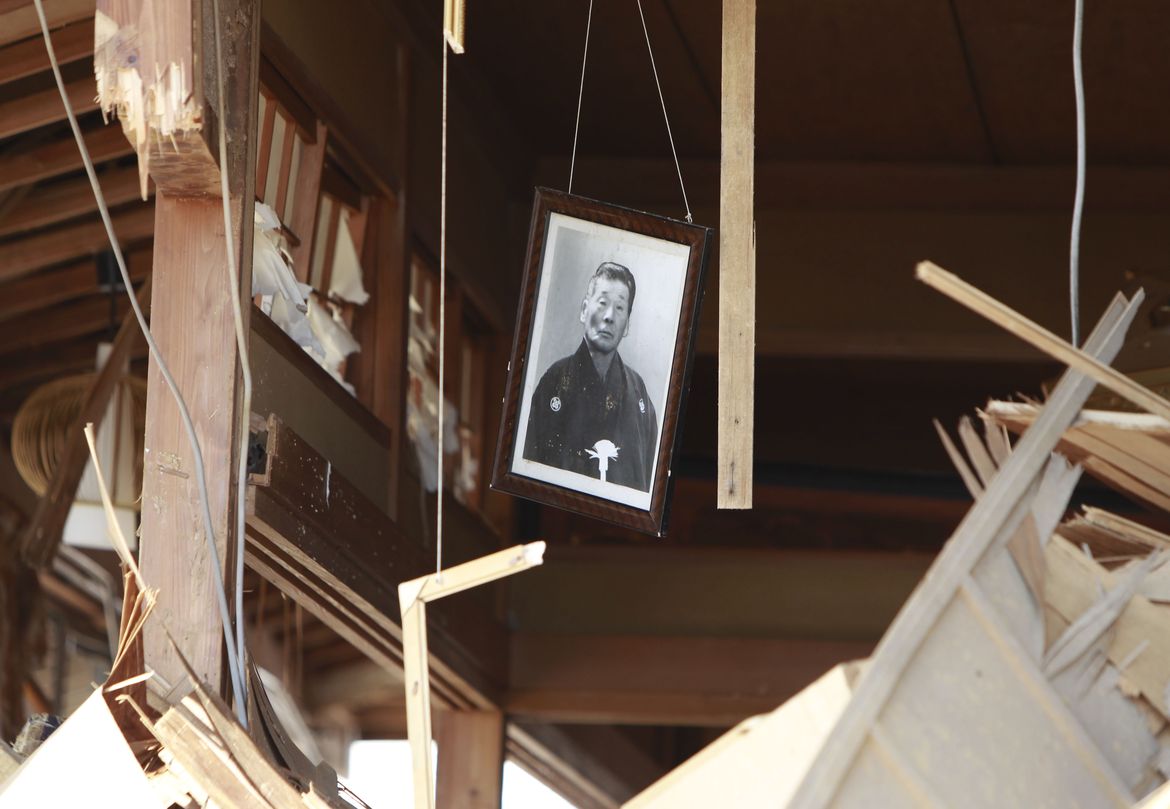 ---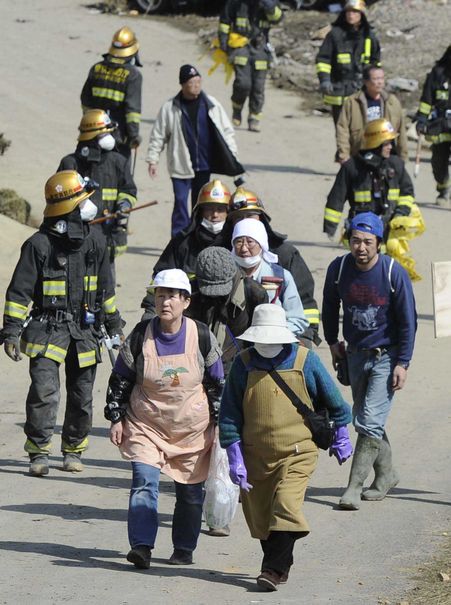 People evacuate to higher place after a tsunami warning was issued Monday, March 14, 2011 in Kesennuma, Miyagi Prefecture, Japan. The coutry's eastern coast was hit by the biggest recorded earthquake on Friday.
---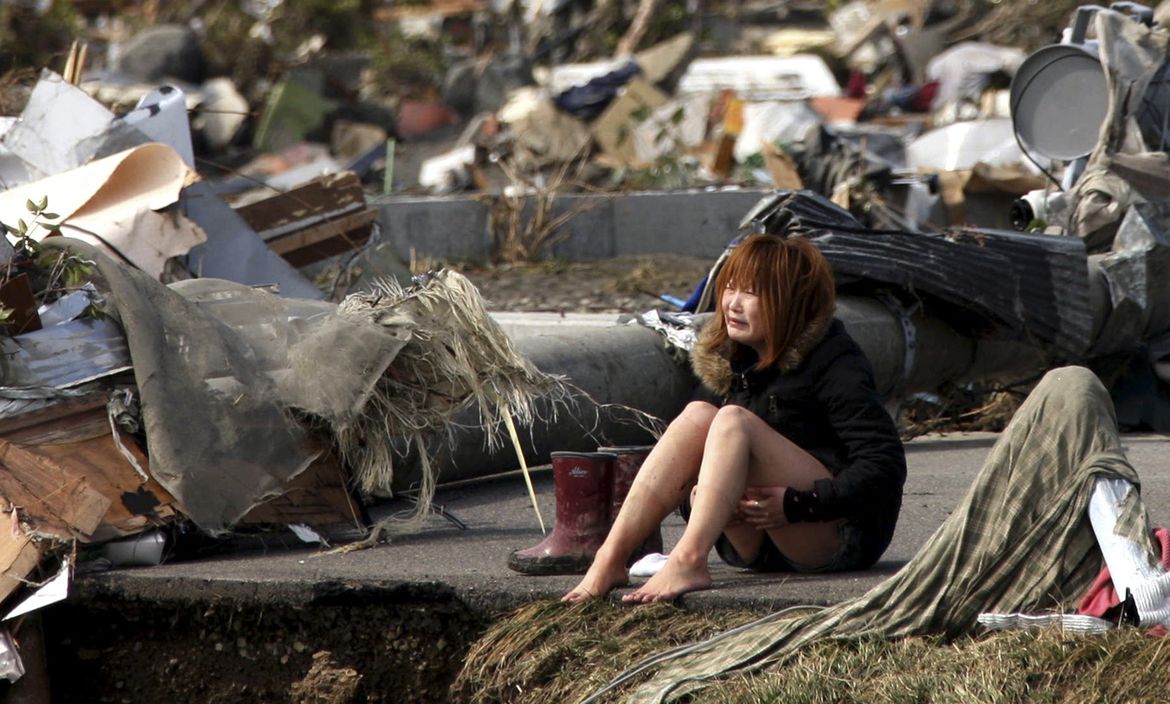 ---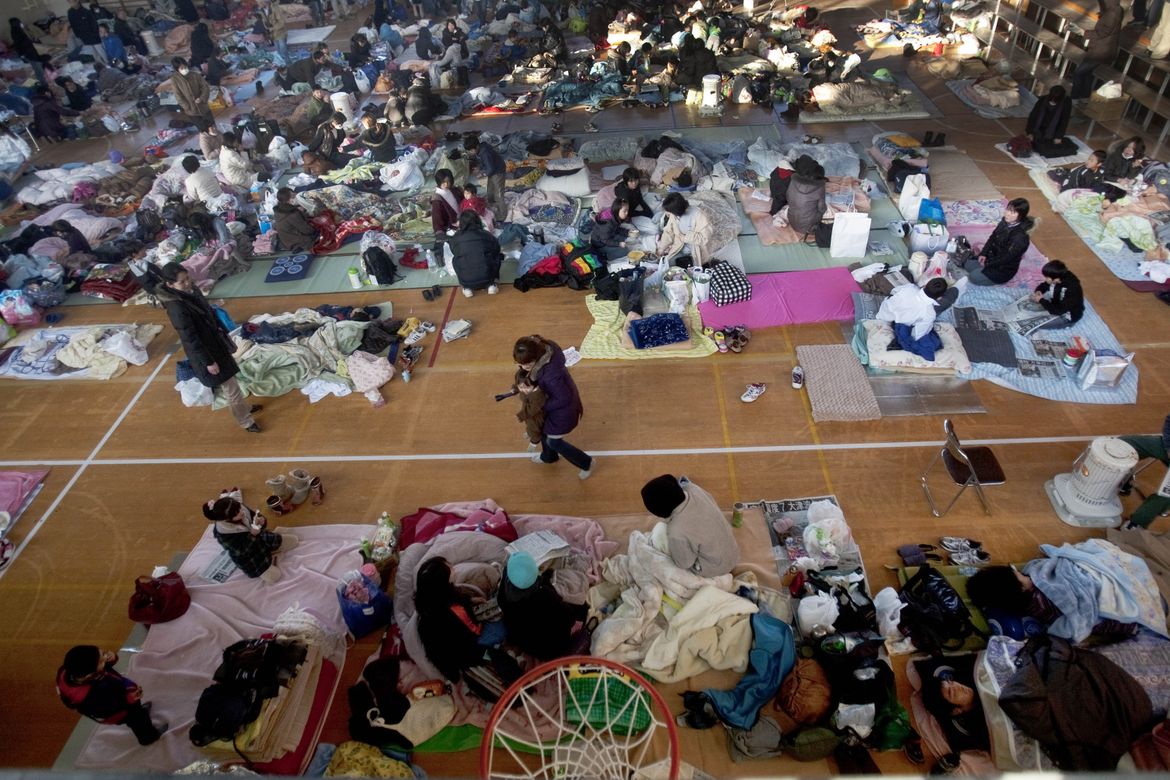 ---
The pulverized coast has been hit by more than 150 aftershocks since Friday, the latest one a 6.2 magnitude quake that was followed by a new tsunami scare Monday. Abandoning their search operations, soldiers told residents of the devastated shoreline in Soma, the worst hit town in Fukushima prefecture, to run to higher ground.
Associated Press
---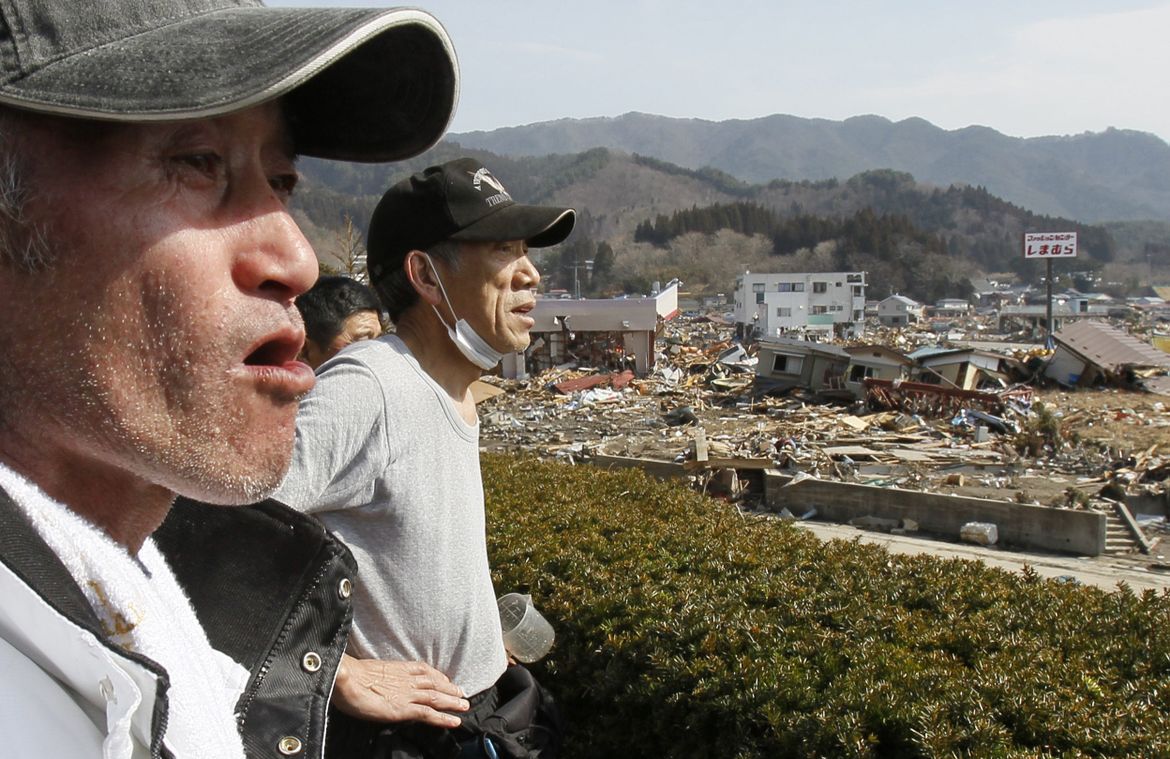 ---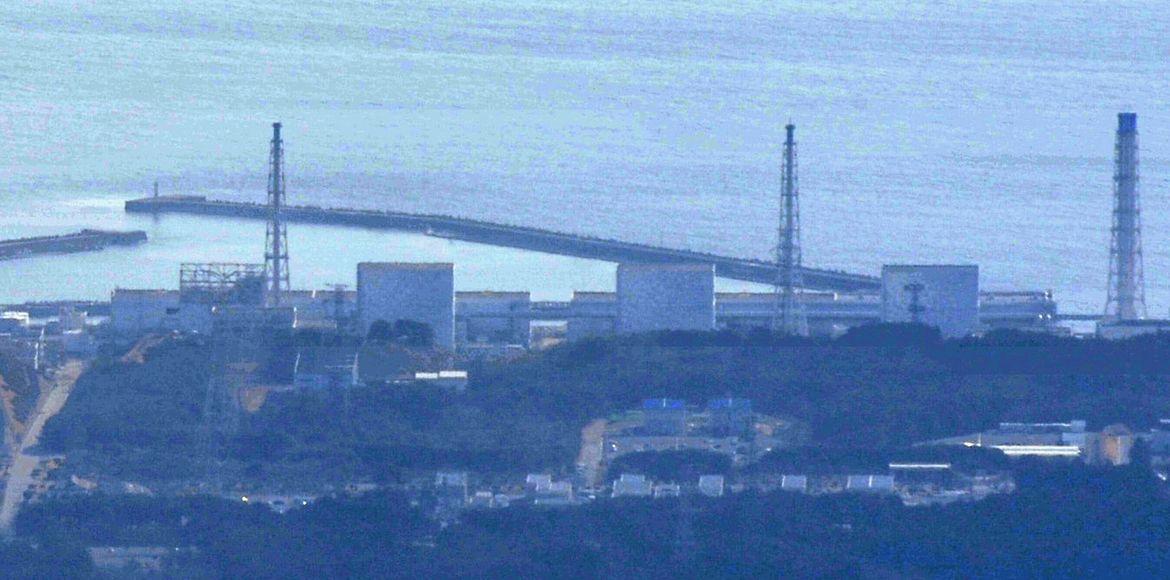 ---