News > Spokane
Agents find body of fugitive's son; death of 13-year-old incites rage of crowd
Aug. 24, 1992 Updated Thu., Aug. 24, 2017 at 4:53 p.m.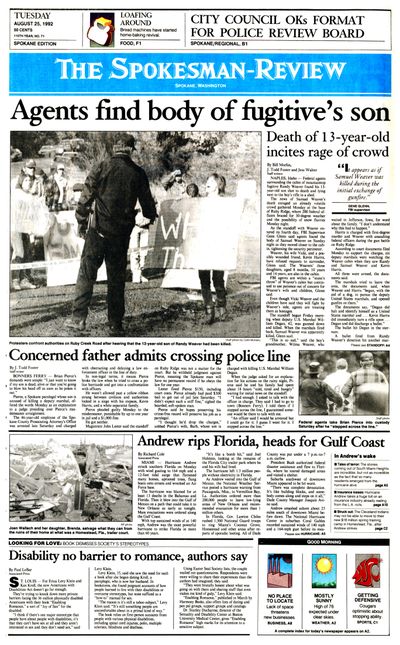 NAPLES, Idaho – Federal agents surrounding the cabin of mountaintop fugitive Randy Weaver found his 13-year-old son shot to death and lying next to the boy's rifle in a shed.
The news of Samuel Weaver's death enraged an already volatile crowd gathered Monday at the base of Ruby Ridge, where 200 federal officers braced for 30-degree weather and the possibility of snow flurries Monday night.
As the standoff with Weaver entered its fourth day, FBI Supervisor Gene Glenn said agents found the body of Samuel Weaver on Sunday night as they moved closer to the cabin, tightening the security perimeter.
Weaver, his wife Vicki, and a possibly wounded friend, Kevin Harris, have refused requests to surrender, Glenn said. The Weavers' three daughters, aged 8 months, 10 years and 14 years, are also in the cabin.
FBI agents are within a "stone's throw" of Weaver's cabin but continued to use patience out of concern for Weaver's wife and children, Glenn said.
Even though Vicki Weaver and the children have said they will fight by Weaver's side, agents are treating them as hostages.
The standoff began Friday morning when deputy U.S. Marshal William Degan, 42, was gunned down and killed. When the marshals fired back, Samuel Weaver was apparently killed, Glenn said.
"This is so sad," said the boy's grandmother, Wilma Weaver, who waited in Jefferson, Iowa, for word about the family. "I don't understand why this had to happen."
Harris is charged with first-degree murder and Weaver with assaulting federal officers during the gun battle on Ruby Ridge.
According to court documents, filed Monday to support the charges, six deputy marshals were watching the Weaver cabin when they saw Randy and Samuel Weaver and Kevin Harris.
All three were armed, the documents said.
The marshals tried to leave the area, the documents said, when Weaver and Harris "began, with the aid of a dog, to pursue the deputy United States marshals, and opened gunfire on them."
The documents say, "Degan did halt and identify himself as a United States marshal and…Kevin Harris did immediately turn a rifle upon…Degan and did discharge a bullet."
The bullet hit Degan in the sternum.
A bullet fired from Randy Weaver's direction hit another marshal, Arthur D. Roderick, penetrating his shirt but not injuring him, according to the documents.
Word of the boy's death added fuel to the rage of demonstrators gathered at a roadblock about five miles from Weaver's cabin. Most, siding with Weaver's anti-government views, have been taunting authorities since Friday.
They got meaner Monday, and their outrage at authorities turned violent.
Jackie Brown said she hoped Weaver's family would kill more federal agents. "I hope they get a dozen more," she said through streaming tears minutes after Samuel Weaver's death became public.
Authorities at the roadblocks have requested additional handcuffs and portable identification equipment in the event violence erupts.
Boundary County commissioners appealed for restraint. "We urge residents to continue remaining calm until the situation is resolved and all the facts are known," they said in a written statement.
Tires were slashed on a number of patrol cars outside the Boundary County Sheriff's Department on Sunday night, but authorities said they could not connect the vandalism to the Naples siege.
An autopsy on Samuel Weaver was scheduled but the results weren't known late Monday.
"It appears as if Samuel Weaver was killed during the initial exchange of gunfire, but that can't be definitely stated until the autopsy is complete," Glenn said.
"Samuel's death is a tragedy, as is the death of Deputy Degan. I emphasize we are taking and will take every reasonable precaution to avoid further loss of life or injury," said the top FBI agent in Utah, Idaho and Montana.
"However, it must be understood that Harris and Weaver have been charged with serious crimes and they pose an immediate danger, no only to law enforcement officers, but to the community as well," Glenn said.
Weaver and others in the house have refused to answer an FBI telephone, dropped outside the cabin, or respond to requests relayed over a bullhorn to surrender.
Before the standoff, Weaver was charged only with a federal firearms offense, selling two sawed-off shotguns to a government informant. He had remained at his mountain redoubt since January 1991 after failing to appear in federal court on the charge.
Glenn said it was not clear whether the teenager died in the shed or whether his father placed the body there after the shooting.
Harris may have been shot, exchanging gunfire with federal agents on Saturday, authorities said. However, they could not confirm the report.
At Randy Weaver's parents' house in Jefferson, Iowa, the family sat quietly in the living room as information trickled in slowly from news reporters, family friends and sympathizers.
When she heard from a reporter that Samuel Weaver had been killed, his grandmother, Wilma Weaver, sighed and set the telephone down. She said her grandson was a quiet and serious boy who loved his life in the woods.
"We have 16 grandkids, and he's the only one who would have had the Weaver name," she said. "I was just writing him a letter to tell him that and tell him how proud I was of him. I guess I won't mail it."
One of Weaver's three sisters visited the family three weeks before the siege began and said Weaver and his family were ready for anything.
"He knew this was coming," said his sister, who didn't want her name used. "He wasn't afraid of it. He's standing on something he totally believes in."
Weavers' oldest daughters are said to be crack shots.
A Montana man said Monday he was in the Weaver cabin last summer "when the family took a vote whether to stand with dad or not," he said.
"We'll not leave you, dad," the man quoted the children as saying. He and six other men from Noxon, Montana, near the Idaho border, were on a logging road where the federal command post easily could be seen.
They refused to give their names, saying they feared federal retaliation for being Weaver supporters.
Weaver's cabin is listed in his name at the Boundary County Treasurer's Office, indicating he owns the wooden structure and 20 acres, together appraised at $21,076.
Weaver hasn't paid property taxes, however, since 1988 and would have faced losing his house and land to the county at the end of 1992. With interest and penalties, he owes nearly $850, courthouse records state.
Residents aren't concerned about his tax delinquency.
Although many residents refuse to discuss their feelings about the Weavers, the family's supporters are becoming increasingly vocal.
It's the same county that a decade ago embraced spy and traitor Christopher Boyce, who lived in Bonners Ferry after selling secrets to the Soviets and escaping from prison.
Some Weaver allies grabbed clubs and chased away a Red Cross truck delivering them food Monday, said volunteer Sylvia Lyon of Spokane.
"I'm scared," said Red Cross volunteer Karl Erbacher, also of Spokane.
Before the truck left, both volunteers said they would serve meals to anyone, including baby food to Weaver's infant daughter.
"We treat everybody equal," Erbacher said. "We don't take sides. We can't afford to. We're the Red Cross."
A Coeur d'Alene human rights group stressed Monday that the Weaver situation is not based on the man's white supremist beliefs, but his violation of federal gun laws.
The portrait of Weaver painted in some media reports by friends and acquaintances as folk hero willing to die for his beliefs are in error, leaders of the Kootenai County Task Force on Human Relations said.
"This is not a case of civil rights or harassment," task force President Tony Stewart said in a prepared statement. "This…has nothing to do with the beliefs of Mr. Weaver or Mr. Kevin Harris no matter how passionately they embrace those beliefs."
The task force staged a press conference "to focus this tragedy in much different light," Stewart said.
Staff writer Kevin Keating also contributed to this report.
Local journalism is essential.
Give directly to The Spokesman-Review's Northwest Passages community forums series -- which helps to offset the costs of several reporter and editor positions at the newspaper -- by using the easy options below. Gifts processed in this system are not tax deductible, but are predominately used to help meet the local financial requirements needed to receive national matching-grant funds.
Subscribe now to get breaking news alerts in your email inbox
Get breaking news delivered to your inbox as it happens.
---