News > Spokane
Officers' nerves on edge as tense Ruby Ridge standoff drags on
Thu., Aug. 27, 1992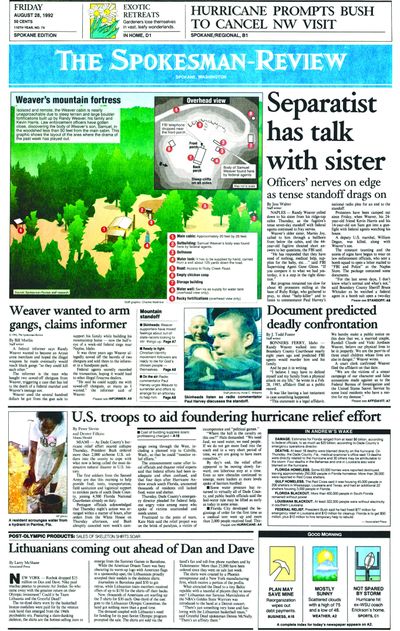 NAPLES – Randy Weaver yelled down to his sister from his ridge-top cabin Thursday, as the fugitive's tense seven-day standoff with federal agents continued to fray nerves.
Weaver's older sister, Marnis Joy, called to him through a bullhorn from below the cabin, and the 44-year-old fugitive shouted short answers to her questions, the FBI said.
"He has responded that they have need of nothing, medical help, supplies for the baby, etc…" said FBI Supervising Agent Gene Glenn. "If you compare it to what we had yesterday, it is a step in the right direction."
But progress remained too slow for about 40 protesters milling at the base of Ruby Ridge, who gathered to pray, to shout "baby-killer" and to listen to commentator Phil Harvey's national radio plea for an end to the standoff.
Protestors have been camped out since Friday, when Weaver, his 24-year-old friend Kevin Harris and his 14-year-old son Sam got into a gunfight with federal agents watching his house.
A deputy U.S. marshal, William Degan, was killed, along with Weaver's son.
The constant taunting and the scores of signs have begun to wear on law enforcement officials, who sent a bomb squad to open a letter mailed to "FBI and Police" at the Naples Store. The package contained some documents.
"For the last seven days, I don't know what's normal and what's not," said Boundary County Sheriff Bruce Whitaker as he watched a federal agent in a bomb suit open a two-day express mail pouch.
Early Thursday morning, an Idaho state trooper yanked a walking stick from a protester's hand, snapped it over his own leg, and threw it into the woods, where it startled another tired trooper.
Inside the Ruby Creek roadblock, Boundary County Volunteer Ambulance crews on standby have been harassed by protesters from outside the community.
"This situation is stressful enough without the anger our members may be exposed to at the roadblock," said volunteer Al Amato.
"It is my hope that this dedication to providing medical care and compassion for anyone sick or injured be respected by outside protesters."
Armed guards are stationed in the Boundary County Courthouse. The Bonner County Courthouse has installed several metal detectors, added personnel and locked doors to control public access. Boundary County judges have been told to take precautions due to the influx of Randy Weaver's Aryan supporters and recent threats against local police departments.
"People call and say law enforcement better watch their backs," said Sheriff Whitaker. "We've had quite a few."
Trying to diffuse the ridge-top standoff on Thursday, Weaver's older sister begged him to come down and asked repeatedly how the family was doing.
He didn't respond to many of the questions, Glenn said, but occasionally he yelled back short responses. Weaver has refused to use a telephone brought to the cabin by robot.
Glenn said he still doesn't know if Harris was injured in a gun fight Saturday.
Admitting that the progress was slow, Glenn compared the system of yelling back and forth to "Sliding notes back and forth under a door.
"But the tone of the responses is much more positive today than it was yesterday," he said. So far, Randy Weaver is the only person to respond, he said.
Agents flew Joy in Thursday morning, after Weaver asked to talk to her.
"They've always been real close," said Joy's daughter, Jeanie Langford, who lives with her mother in Jefferson, Iowa. "We just hope something will come of it."
Joy had visited Weaver's cabin just a few weeks before the gunbattle, and said last weekend that Weaver would not be easy to talk down.
"He believes in what he's doing," she said Sunday. "He's not just going to walk out of there."
Residents said that if he does make it out, they'd like to help him keep his remote mountain cabin, which is $850 behind in its back taxes.
Gene Hopkins, a retired bus driver and Weaver friend, said he is trying to start a fund to possibly buy the Weaver land.
"If he doesn't make it off, we can set up his house as a monument for a man fighting for his constitutional rights," said Hopkins.
At the circus-like roadblock, dozens of people swapped conspiracy theories and occasionally turned their anger toward Idaho State Police and federal Alcohol, Tobacco and Firearm agents.
With the first protest signs painted last Friday beginning to yellow, some prepared for confrontation when a signed emergency proclamation from Idaho Gov. Cecil Andrus began making the rounds.
Protesters feared that the National Guard was about to come in, and a confrontation could develop.
"If they come down with marshal law, you all have a decision to make," said former Green Beret and current third-party presidential candidate Bo Gritz. Gritz has offered to try to mediate the crisis, but has gotten no response from authorities.
"The more people you can have here, the better chance the Weavers have," he said.
Andrus' office said the proclamation – issued Aug. 21 – was only a formality needed to use National Guard equipment already there and that no new state action was expected.
Those holding vigil at the barricades may be weary, but Glenn said federal agents are tired as well. He asked that the protesters like Gritz look at whether they're really helping Weaver.
Staff writer J. Todd Foster contributed to this report.
Local journalism is essential.
Give directly to The Spokesman-Review's Northwest Passages community forums series -- which helps to offset the costs of several reporter and editor positions at the newspaper -- by using the easy options below. Gifts processed in this system are not tax deductible, but are predominately used to help meet the local financial requirements needed to receive national matching-grant funds.
Subscribe now to get breaking news alerts in your email inbox
Get breaking news delivered to your inbox as it happens.
---