Sports > Gonzaga basketball
Jeremy Eaton busts out in big way to lead Gonzaga over No. 22 Washington
Tue., Dec. 8, 1998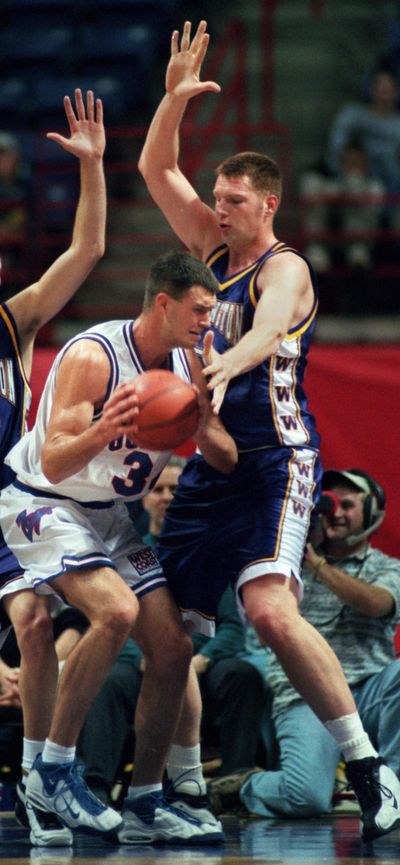 This is what the sacrifices were all about.
Four months of practicing without a chance to play. Twelve long months in the weight room. Hearing the cheers, but realizing they were for someone else. Watching from the periphery as last winter's wonderful ride to a regular-season West Coast Conference championship unfolded.
Last year's redshirt season seemed, at times, like a nightmare for Jeremy Eaton. But Tuesday night, his hard work and patience paid off in a huge way as Gonzaga's fifth-year senior center scored a career-high 25 points in leading the Bulldogs to an 82-71 upset men's basketball win over 22nd-ranked Washington.
"A year is a long time to wait, especially when you're used to playing all the time," said the 6-foot-11, 216-pound Eaton, who torched the slumping Huskies with an assortment of strong inside moves and medium-range jumpers while delighting an Arena crowd of 4,368.
"It feels good to be out there again. Hopefully, it was all worth it."
The victory was GU's first over a Top-25 team since last November, when it stunned No. 5 Clemson in the finals of the Top of the World Classic in Fairbanks, Alaska. It raised the Bulldogs' record to 6-3 and gave coach Dan Monson's team another quality win that could prove extremely valuable come March, when the NCAA selects its at-large tournament teams.
That it came against a Dawg-tired Huskies team (4-3) that was without its top defender and third-leading scorer, Donald Watts, who sprained an ankle in a 69-61 loss at Boise State, probably won't matter.
"You have to build your resume," said Monson, who was bitterly disappointed when last year's 24-10 team was snubbed for an NCAA berth after losing in the WCC tournament final. "I thought this was probably our best assertive offensive output of the year.
"It was nice to have an inside presence."
There were plenty of numbers to back up Monson's assessment. Along with Eaton's big effort - which also included four rebounds and a couple of assists - GU got 21 points from Richie Frahm and 12 from Matt Santangelo.
The Bulldogs shot a modest 43.5 percent (27 of 62) from the field, but seemed to hit every big basket – except for a couple of blown layins by Eaton in the final 2 minutes that didn't prove as damaging as they first seemed.
"This was a big win for us," said Santangelo, who also contributed five assists and two steals. "Jeremy did a terrific job tonight. He felt he could beat MacCulloch with his quickness. He really set up shop down low, and it's easy to feed the post when you're getting the position he was getting."
MacCulloch, the Huskies' 7-foot senior center, finished as the game's top scorer with 28 points and led all rebounders with 13. But he paid a price physically while trying to guard Eaton.
"That was a real concern," UW coach Bob Bender said of the effort his big man had to expend in trying to contain Eaton. "We felt (Eaton) was going to attack us inside, and he did. But then when he started knocking down the jumpers, you see his confidence go.
"That was a tough thing. We need Todd on the offensive end, but it was certainly tough for him to get out and defend that jump shot. That was a big part of the game - how productive Eaton was."
Washington, considered to be one of the top three teams in the Pacific-10 Conference, was playing its sixth consecutive road game and was obviously fatigued after amassing more than 8,000 frequent flyer miles in the past two weeks.
Still, Bender refused to use his team's grueling schedule as an excuse.
"There are other teams that are tired, too," he said. "We played a team (tonight) that played very well against us. They were the aggressors from the beginning and we didn't respond."
GU hit six of its first seven shots in sprinting to a 16-8 lead, but was a meager 9 for 28 the rest of the first half and found itself nursing a 39-35 halftime lead that could have been much larger.
The Huskies, on the strength of MacCulloch's inside game and 18 points from backup forward Chris Walcott, made things very interesting early in the second half by pulling to within 46-45 with 14:43 left. But Ryan Floyd scored on a back-door cut to ignite an 18-3 run that boosted GU's lead to 64-48 at the 9-minute mark. Washington cut the deficit to 72-67 after Eaton missed a couple of easy layins, but was forced to foul down the stretch. And Frahm converted eight consecutive free throws in the final 51 seconds to seal the win.
Both UW and Gonzaga will be idle until Dec. 19, when the Huskies entertain New Mexico State at Hec Edmundson Pavilion and the Bulldogs welcome Chicago State to The Kennel in Martin Centre.
"It's going to be great having a week-and-a-half break where we can really feel good about ourselves," said Santangelo.
Local journalism is essential.
Give directly to The Spokesman-Review's Northwest Passages community forums series -- which helps to offset the costs of several reporter and editor positions at the newspaper -- by using the easy options below. Gifts processed in this system are not tax deductible, but are predominately used to help meet the local financial requirements needed to receive national matching-grant funds.
Follow along with the Zags
Subscribe to our Gonzaga Basketball newsletter to stay up with the latest news.
---