Sports
A destiny denied: Time to cheer escapes Cougs as clock expires
Fri., Jan. 2, 1998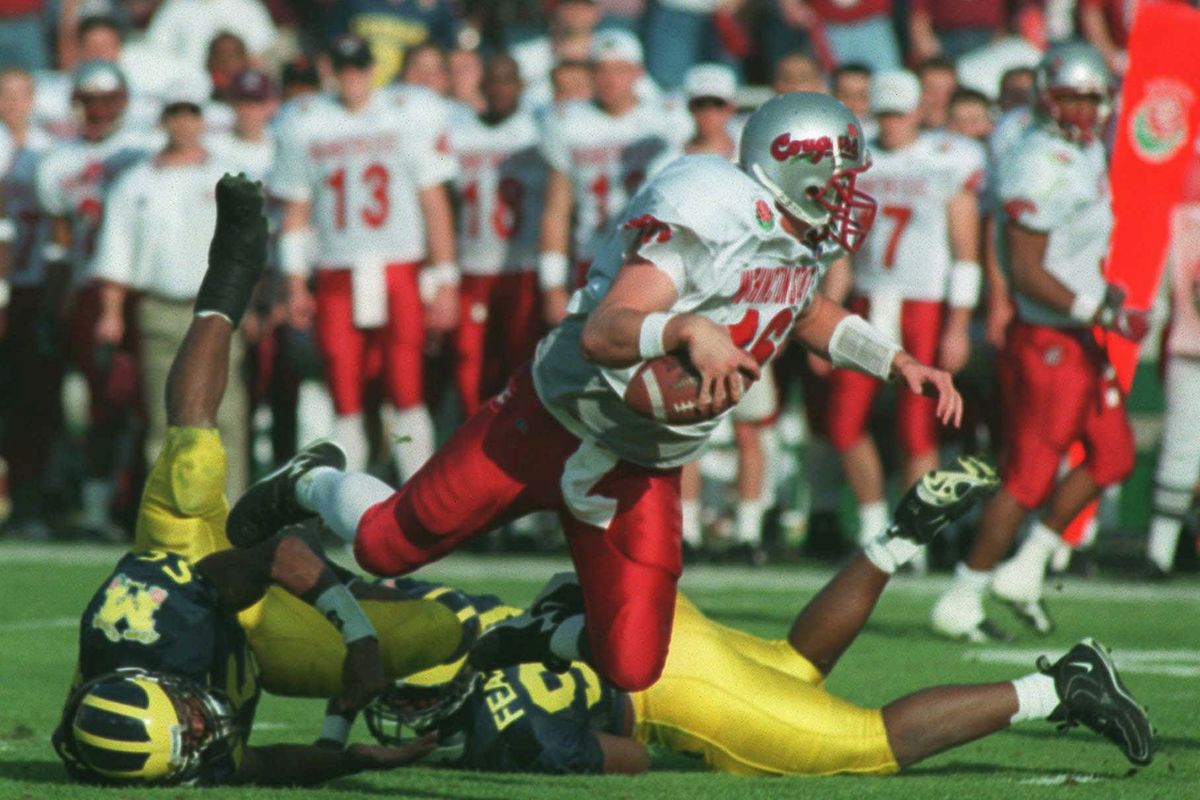 Michigan defenders Dhani Jones and Juaquin Feazell trip up Washington State quarterback Ryan Leaf in the first quarter of the Rose Bowl NCAA football game on Thursday, Jan. 1, 1998 in Pasadena, Calif. (Craig Buck / The Spokesman-Review)
PASADENA, Calif. – Washington State's Rose Bowl dreams slipped away with the setting sun Thursday afternoon, leaving top-ranked Michigan to revel in what figures to be the Wolverines' first national championship in 50 years.
Michigan (12-0), led by quarterback Brian Griese and a defense that wouldn't leave Ryan Leaf alone, eked out a 21-16 victory when the No. 8 Cougars ran out of time at the Wolverines' 26-yard line.
The Wolverines flooded the field as a boisterous crowd of 101,219 erupted in a mixture of cheers and jeers, leaving the Cougars (10-2) to ponder what might have been.
"We've dreamed of this for a long time, and we were so close," WSU defensive tackle Leon Bender said, fighting back tears. "Then you lose by five points - it's like somebody stabbing a knife in your back. It really hurts."
WSU appeared to have one last chance when Leaf attempted to stop the clock by spiking the ball with 2 seconds left, but referee Dick Burleson ruled that time had expired, stranding the Cougars at the Michigan 26.
"I thought it was an official's mistake, personally," WSU coach Mike Price said. "It doesn't take 2 seconds to snap the ball and down it, but we still would have had to make the play."
Michigan made the plays when it counted, making four consecutive third-down conversions during a 16-play drive that consumed all but 29 seconds of the final 7:25. The Wolverines didn't score on the drive, but kept the nation's second-ranked offense on the sideline.
"That's the game right there," WSU defensive coordinator Bill Doba said.
Griese, who had become an afterthought during pre-game hype that centered on Leaf and Charles Woodson, earned MVP honors by completing 18 of 30 passes for 251 yards and three touchdowns.
"I never wanted to be in the limelight or to be an all-star," Griese said. "I'm glad I was able to stay in the shadow of Ryan Leaf and play my game - and today my game was on top."
With WSU's safeties committed to stopping the run, Griese found receiver Tai Streets in single coverage for touchdown passes of 53 and 58 yards. The latter, with 5:07 left in the third quarter, gave Michigan the lead for good, 14-13.
WSU, averaging 42 points per game, squandered three first-half opportunities and never fully recovered.
The Cougars, already leading 7-0 after Leaf's 15-yard scoring pass to Kevin McKenzie, had driven deep into Michigan territory when Leaf made an uncharacteristic error.
Facing third-and-8 from the Michigan 12, Leaf rolled to his left and threw a wobbly pass across his body - right into the arms of Woodson, the Heisman Trophy winner.
Two minutes later, receiver Nian Taylor dropped a 5-yard pass on third-and-4 from the WSU 46. The Cougars were forced to punt, and Michigan capitalized just three plays later, when receiver Streets got behind cornerback Ray Jackson to haul in the 53-yarder.
WSU bungled yet another first-half opportunity when Leaf fumbled the snap from center Lee Harrison on third-and-1 from the WSU 35. Leaf recovered for a 1-yard loss, and WSU was forced to punt.
The Cougars were hurt further by the loss of starting tailback Michael Black, who was sidelined by a calf injury in the first quarter.
Black led WSU with 1,157 yards rushing during the regular season, but he carried just seven times for 24 yards against the Wolverines.
Michigan's defense, which entered the game allowing less than nine points per game, held the Cougars to their lowest point total of the season.
Leaf, who is expected to announce his entry into the NFL draft at a press conference this morning, passed for 331 yards with one touchdown and one interception. He was sacked four times and under steady pressure, and his receivers dropped five passes.
"With their defensive line always in the quarterback's face, they don't have to guard for 3 or 4 seconds at a time," WSU receiver Chris Jackson said. "We just didn't have the chance to get the ball downfield like we would have liked to. But it happens that way sometimes."
Even so, Leaf and the Fab Five had their moments, highlighted by a 99-yard drive midway through the third quarter. The drive, which culminated in a 14-yard reverse by Shawn Tims, staked the Cougars to a 13-7 lead with 3:45 left in the quarter.
Rian Lindell's extra-point try was blocked.
WSU struck again midway through the final quarter, pulling within 21-16 on Lindell's 48-yard field goal. The eight-play, 49-yard drive included a 19-yard pass to McKenzie on third-and-18 and a 42-yarder to backup tailback DeJuan Gilmore.
More than 7 minutes remained in the game, but the Cougars barely saw the ball again.
"We didn't get the job done, but we played our hearts out," WSU linebacker Brandon Moore said. "Them third downs kind of hurt us, but they played a great game, they won, they deserve it. They're a great, class bunch and they deserve all the credit for the victory."
Local journalism is essential.
Give directly to The Spokesman-Review's Northwest Passages community forums series -- which helps to offset the costs of several reporter and editor positions at the newspaper -- by using the easy options below. Gifts processed in this system are not tax deductible, but are predominately used to help meet the local financial requirements needed to receive national matching-grant funds.
Subscribe to the sports newsletter
Get the day's top sports headlines and breaking news delivered to your inbox by subscribing here.
---