Sports > Gonzaga basketball
Gonzaga's halftime lead falls by wayside in loss at Kansas
Fri., Nov. 13, 1998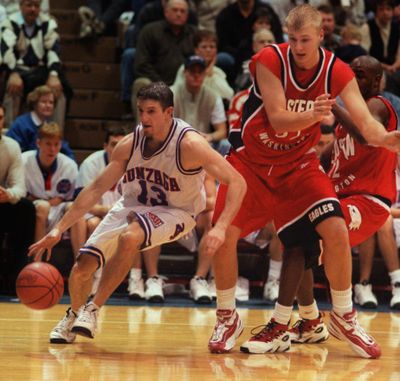 LAWRENCE, Kan. – Gonzaga ran out of fuel Friday night. And Kansas had every intention of leaving the Bulldogs stranded.
At least for 30 minutes, Gonzaga threatened the longest homecourt winning streak in men's Division I basketball. But when the Bulldogs grew tired, No. 8 Kansas left Gonzaga behind, pulling away late with an 80-66 victory in the season opener for both teams.
Gonzaga, using every ounce of standout junior guard Matt Santangelo, built a 7-point advantage midway through the first half. The good news for Gonzaga was that Santangelo led all scorers with 24 points. The bad news for Gonzaga was he got only five of them after halftime, and made 1 of 9 shots after the break.
When Santangelo disappeared, so did the Bulldogs, who were the 61st consecutive victim of the Jayhawks at Allen Fieldhouse, with an announced crowd of 16,300 watching Friday.
Gonzaga coach Dan Monson indicated he might have seen his team's second-half fold coming. He's noticed players losing focus, and it's a concern.
"We've lacked a little bit of concentration after about an hour at our practices," Monson said. "We were happy with our performance until the last 10 minutes. They just wore us down.
"We probably lost the game in the first half. We had great defensive effort, but we made a lot of mistakes on offense. We were out of sync; pressure bothered us, kids were breaking plays instead of screening, and we didn't get the open shots."
The turning point might have occurred in the middle of the second half when KU guard Ryan Robertson stuffed Santangelo's jump shot from the left side of the free-throw circle, and the Jayhawks' Kenny Gregory scooped it up, finished it off with a slam dunk that ignited the crowd and more importantly edged KU ahead 53-51 with 10 minutes, 29 seconds remaining. Gonzaga junior center Axel Dench answered with a basket 23 seconds later, but KU regained the lead and posted a 21-6 run at one point down the stretch.
"In the second half, they went into a trap, and it forced the ball out of my hands," Santangelo said. "The defensive intensity changed in the second half. They became the aggressor. I got out of rhythm and wasn't being aggressive when we had the ball. Fatigue was an issue for us. But you've still got to step up mentally and compete."
Nobody questioned Gonzaga's desire in the first half. The Bulldogs played hard. And smart – they didn't get whistled for a foul until 10:30 was left in the half. Santangelo's 3-pointer pushed the Bulldogs ahead 16-9, but KU's 10-3 run prevented Gonzaga from getting too far ahead.
"They are a very good basketball team," KU coach Roy Williams said about Gonzaga. "In the first half, I thought that not only did they play well, they played harder. They gave more effort than we did. We were just more active in the second half."
That's when Gonzaga tired. And it showed on the shot chart. The Bulldogs made 1 of 11 3-point attempts in the second half. Gonzaga's top 3-point shooter, Richie Frahm, made 1 of 7 3s for the game and scored seven points.
The loss hardly disheartened Dench, who finished with 11 points. After all, he played here three seasons ago with a touring team of Australians that lost by 70 points.
"Such is life," Dench said. "KU was like 'Hey, you're tough.' We were talking with their players after the game, and they said they'd see us at the big dance," Dench said. "Things didn't go the way they should've tonight. But I feel extremely confident in us."
Local journalism is essential.
Give directly to The Spokesman-Review's Northwest Passages community forums series -- which helps to offset the costs of several reporter and editor positions at the newspaper -- by using the easy options below. Gifts processed in this system are not tax deductible, but are predominately used to help meet the local financial requirements needed to receive national matching-grant funds.
Follow along with the Zags
Subscribe to our Gonzaga Basketball newsletter to stay up with the latest news.
---