Sports > Gonzaga basketball
Cold shooting, missed chances leaves Gonzaga with heavy hearts after loss to UConn in West Regional final
Sun., March 21, 1999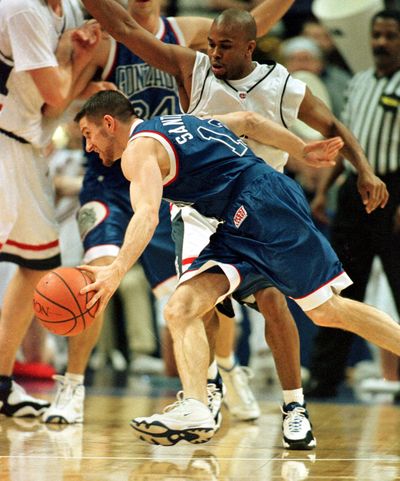 It might not happen today, or even next week. But in time, the huge hearts of the young men who fascinated an entire nation with their unthinkable run in the NCAA Tournament will heal.
Perhaps only then will the Bulldogs of Gonzaga University realize that the thrill of going up was worth the pain of coming down.
For now they must deal with the disappointment of Saturday's 67-62 loss to Connecticut in whatever way they can, while trying not to dwell on the great opportunity they had to extend their magical season in the West Regional finals.
"This is not the way we wanted it to end," senior center Jeremy Eaton said after the top-seeded Huskies ousted the 10th-seeded Bulldogs in front of an America West Arena crowd of 18,053 and a national television audience. "That's the bad thing about college basketball. You can have a great year, but unless you win the national championship, you're going to end on a loss.
"In a couple of days maybe we'll realize where we were and what we've done this season."
Where the Bulldogs found themselves late Saturday afternoon was within a few points and one last Quentin Hall miracle of the NCAA's Final Four.
They failed, however, to close the deal no fault of Hall's. And that means No.3-ranked Connecticut (32-2) will represent the West when the NCAA semifinals play out in St. Petersburg, Fla., next Saturday.
"It was a tremendous college basketball game," GU coach Dan Monson said after watching his Bulldogs (28-7) close out the most successful season in the school's history. "Both defenses really did a good job of disrupting the other team.
"Their defense was probably the best we've seen as far as disrupting us and taking us out of our offensive flow."
As a result, the Bulldogs shot a season-low 35.1 percent from the field, making just 20 of 57 attempts – including only 5 of 21 from 3-point range.
And now Huskies coach Jim Calhoun can discard the cache of lines he has built up over the year while trying to explain why he can't get his team past the regional finals.
"For the last 10 years, we've had teams that made a run at the Final Four," said Calhoun, who has guided UConn to eight NCAA Tournament berths in his 13 years at the school. "They never gave me one ounce of disappointment, but other teams got in the way of moving on.
"This is for them and this particular team, which wouldn't allow anything to get in the way of getting to St. Petersburg."
Gonzaga tried, but the Bulldogs were shoved aside in the end by the Huskies' suffocating defense and relentless work on the boards.
It didn't help, either, that they found little in the way of answers for UConn's Richard Hamilton, who finished with a game-high 21 points.
He also played a major role in a UConn defensive effort that limited Matt Santangelo and Richie Frahm, two of GU's main perimeter weapons, to nine points on 3-for-20 shooting from the field.
"He did a tremendous job on Richie," Monson said of Hamilton. "He's just a great defender. He's a pro. He's probably a lottery pick. He's got the whole package."
Hamilton was forced to shoulder much of UConn's offensive responsibility when sophomore point guard Khalid El-Amin was saddled with two early fouls that limited his first-half playing time to 4 minutes.
He responded with 11 points prior to intermission and remained a consistent contributor throughout the second half while El-Amin was struggling with his stroke and misfiring on all 12 of his field-goal tires.
Still, thanks to the heroics of Hall, a fearless 5-8 senior guard, Gonzaga had a chance to win late.
Despite the disappearance of Santangelo and Frahm, who combined to average 35 points in GU's first three tournament wins, the Bulldogs trailed by only 63-62 after Hall hit a long, leaning 3-pointer while ducking under Hamilton's block attempt.
The difficult shot went down with 35 seconds left and gave Hall the last of his team-high 18 points. GU fouled immediately on UConn's inbounds pass, but El-Amin hit both free throws for his only points of the game.
Santangelo, who scored his only two points on his first shot of the game, took the ball inside on the Bulldogs' ensuing possession, but failed to connect on an off-balance jumper with 10 seconds left.
Hall fouled out 4 seconds later and Kevin Freeman made both free throws to cap the scoring.
"I did everything in my power," said Hall, who loaded the Bulldogs on his shoulders when it became apparent Santangelo and Frahm weren't going to get it going. "I left everything I had on the floor, but it wasn't enough."
Hall scored 13 of 15 points for the Bulldogs during one stretch in the second half and spent much of his time on the defensive end trying to contain Hamilton out of a diamond-and-one.
Despite the loss, Gonzaga managed to earn the respect of Calhoun and his Big East Conference champions.
"We played a lot of good people this year throughout the country," Calhoun said. "But I'll tell you what, I'm not sure we worked harder for a victory all year. They're one terrific basketball team."
Local journalism is essential.
Give directly to The Spokesman-Review's Northwest Passages community forums series -- which helps to offset the costs of several reporter and editor positions at the newspaper -- by using the easy options below. Gifts processed in this system are not tax deductible, but are predominately used to help meet the local financial requirements needed to receive national matching-grant funds.
Follow along with the Zags
Subscribe to our Gonzaga Basketball newsletter to stay up with the latest news.
---