Sports
Worth shouting about: Cougs can dance to 10-2 record after win over Purdue in Sun Bowl
Tue., Jan. 1, 2002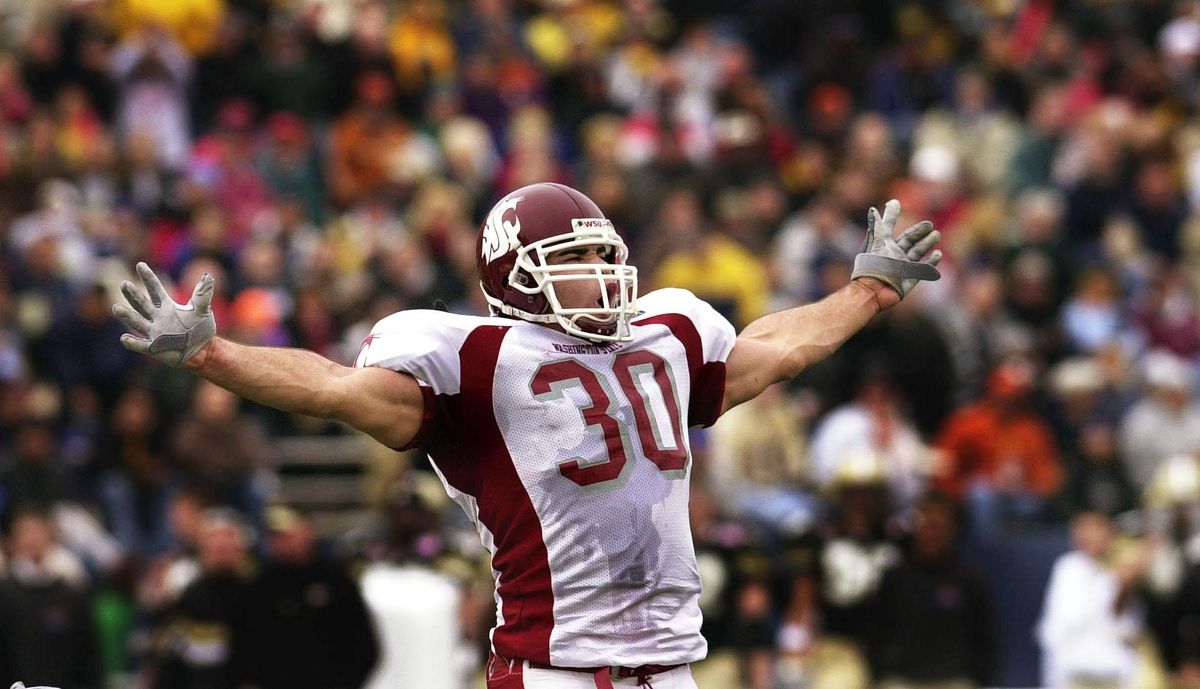 Washington State's Raonall Smith expresses himself to the WSU faithful after sacking Purdue quarterback Kyle Orton in the first half of the Sun Bowl NCAA football game on Monday, Dec. 31, 2001 in El Paso, Texas. (Christopher Anderson / The Spokesman-Review)
EL PASO, Texas – In the moment, after the final seconds had ticked away, they danced.
Right there on the floor of Sun Bowl Stadium. As fans cheered, Washington State's players danced and screamed, "Ten and 2. Ten and 2."
It wasn't so much that these Cougar football players got lost in the moment. Instead, they grabbed hold of the moment as if they would've been lost without it.
Because this was a team that had made it through the season without an identity of its own. Everybody wanted to compare them with 1997. How did they stack up? Who was better?
To the players, it never mattered.
"We just wanted that 10th win," said senior safety Billy Newman. "To us, that was something special."
Washington State got that 10th win, 33-27 over Purdue in front of 47,812 at the Sun Bowl on Monday. With it, this team became only the third in WSU history to reach 10 wins. The Cougars finished the season 10-2. The two losses were to ranked teams. Purdue finished 6-6.
"We're 10-2 and nobody will forget that," said senior offensive guard Joey Hollenbeck.
It's not likely anyone will forget how the Cougars got that 10th win. After stumbling through the first half, WSU finally pulled out to a seemingly comfortable 33-20 fourth-quarter lead before a furious Boilermakers comeback.
First, Purdue quarterback Kyle Orton hit Taylor Stubblefield for a 51-yard touchdown with 1:53 left to make the score 33-27.
"I knew this team would fight," said Purdue defensive lineman Akin Ayodele. "We are just a typical Purdue team, we never give up … we fight you 'til it's over."
The fight was far from over as the Boilermakers followed up the touchdown with an onside kick.
"Please God, help me catch this," Newman said to himself as he lined up to receive the kick. The message apparently didn't make it through the overhanging clouds.
"I think he was busy talking to someone else," the safety said.
Seth Morales, maybe. He was the Purdue player who recovered the onside kick after it bounced off Newman's shoulder pads. Purdue had the ball on its 49-yard line. Two plays later, they had it on WSU's 22 with less than a minute left.
"I was a little nervous," said WSU running back David Minnich. "But I knew the defense would stop them. It was just a matter of when."
"When" was on fourth-and-2 at the WSU 22 when defensive coordinator Bill Doba sent in a blitz from the sideline.
"This is it," senior linebacker Raonall Smith said to his teammates in the huddle. "Defense has to make the play. It's our game."
Smith, like he had done all game, did make the play. The 6-foot-3, 245-pounder came in from the right side and saw running back Montrell Lowe slide down and block WSU's defensive end.
"Then I thought about diving and trying to get the sack, but I was a little too far away," said Smith, who had a team-high 11 tackles and half a sack and four quarterback hurries. "So I jumped, and luckily the ball hit my hands."
The ball fell to the turf, and WSU's players jumped in the air. All that was left was for Cougars quarterback Jason Gesser to take a knee.
"At the end, the defense showed character," Smith said.
It also once again showed an ability to give up yardage, but not too many big plays.
Orton threw a Sun Bowl-record 74 times. He completed 38 for 419 yards. Again, both were records.
Purdue receivers John Standeford and Tim Stratton each had 12 catches, breaking the old Sun Bowl record of nine. Stubblefield finished with 196 receiving yards, breaking the old record of 180.
But even with all that passing offense, Purdue could manage only two touchdowns and two field goals until the last 2 minutes of the game.
The passing game also got Purdue in trouble as WSU picked off four Orton passes. The first interception was by cornerback Jason David. He stepped in front of an Orton pass and took it 45 yards for the first touchdown of the game.
"I'd been watching that pass for five weeks on film," David said. "I knew it was coming."
Sun Bowl MVP Lamont Thompson finished off the WSU interceptions when he snagged one in the end zone to snuff out a Purdue drive.
While that pick gave WSU a little breathing room, it was Washington State's third-quarter defense that allowed WSU to take control of the game.
Purdue only gained 39 yards, had just three first downs and went three-and-out three times.
A simple switch in defenses, from a four- and five-man front to three down linemen and six defensive backs allowed WSU to shut down the Boilermakers. The defensive package was something the Cougars had worked on all year, but this was the first time they had run it in a game.
"They told us to be real aggressive with the receivers and group and bump them, and that started to work out for us," Thompson said.
The WSU secondary not only had four interceptions, but 16 pass breakups.
While Purdue struggled on offense, WSU found the cure to its problems.
Washington State, which only had 139 total yards in the first half, had 162 in the third quarter. The Cougars outscored the Boilermakers 13-0 in that 15 minutes and took control of the game.
"We didn't think they would blitz as much as they did," said WSU coach Mike Price about the first half.
Purdue did, and Gesser took the worst of it. The junior was knocked around and finished just 15 of 40 for 281 yards with three interceptions and one touchdown. The offense finished with 362 yards, 15 first downs and was an abysmal 2 of 15 on third-down conversions.
Still, even with everything that went wrong, WSU did figure out how to do some things right in the third quarter.
"We had to regroup and go back to our base stuff that we knew," said wide receiver Nakoa McElrtah. That meant getting the ball to McElrath. The Cougars did. He caught six balls for 116 yards, all in the second half.
"It was just one-on-one; you can't cover him one-on-one," Gesser said.
McElrath's catches kick-started the drives and kicker Drew Dunning finished them. The sophomore was 4 of 4 on field goals and was named the special-teams MVP.
"We knew this was a 10-win team," Dunning said. "We wanted it. And we worked at it."
And in the end, Washington State got it.
Local journalism is essential.
Give directly to The Spokesman-Review's Northwest Passages community forums series -- which helps to offset the costs of several reporter and editor positions at the newspaper -- by using the easy options below. Gifts processed in this system are not tax deductible, but are predominately used to help meet the local financial requirements needed to receive national matching-grant funds.
Subscribe to the sports newsletter
Get the day's top sports headlines and breaking news delivered to your inbox by subscribing here.
---