Missoula's Sandman totes his cowboy rap to The Shop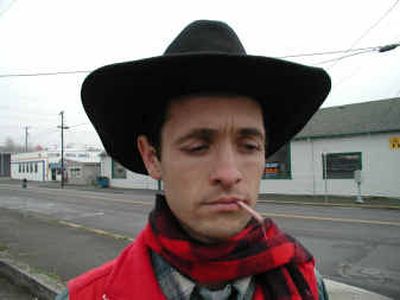 Maybe it's best to let the rappin' cowboy speak for himself.
As you read a section of the intro to Sandman's new album – a hip-hopera titled "A Year in the Life of … Slippery Goodstuff" – do so in the voice of a sullen Huckleberry Hound while a Casio keyboard and banjo rendition of "Home on the Range" plays in the background:
"Sandman's latest batch of songs will have you clappin' yer hands, stompin' yer feet before you realize therr filled with truly perverted sexual innuendo, and over-the-top-blatant obscenities. This is not an album you should let yer children listen to, but if you do they'll probably appreciate it."
Yep, it's cavalier, spit-in-your-face explicit rap. But it's a lot more 2Pac than 2 Live Crew, cowboy hat and all. Sandman is socially and politically conscious and overflowing with toilet talk. But just like Pac (think "Wonder Why They Call U" vs. "I Get Around") there is a prevailing sentiment of remorse beneath the bravado.
At first glance, "Slippery Goodstuff" recalls Eazy-E, Too Short, AMG and Ice-T, with a touch of Run-D.M.C., and the production sounds like it's from the same era. Somehow, it works.
But once Missoula's Sandman is revealed, bits of Kool Keith-like brilliance are veiled in the lunacy. About midway into the album, "Slippery Goodstuff" takes a cartoonish turn from the catchy-but-crass "Supersperm.com" to the confessional audio-biography "Rock Star Lover from Xanadu."
Suddenly, earlier tracks about coke-sniffing country girls are not so much bizarre as they are tragic.
Fans of Sandman's 2003 album, "The Long Ride Home," will be happy to know Sandman sticks with the cyber-cowboy-from-the-future theme, only this time he's rappin' along with his banjo and acoustic guitar.
Like "Long Ride," Sandman's latest is severely sobering and at the same time laughable.
As far as the Northwest goes, no one has had a compatible marriage between hip-hop and country since Sir-Mix-A-Lot's "Square Dance Rap."
But unlike Mix's spoofs, the Sandman's new concept piece dares to take itself seriously.
Hear it live when Sandman moseys into town with the Moustaches tonight at 7:30 at The Shop, 924 S. Perry. There is a $5 cover.
Keep your pants on
Terry "Two-Step" is hosting another Bottomless BBQ Party on Wednesday at Talotti's 211, 211 N. Division.
The last party packed 211 with about 200 heads, who were there more for the meat than the market.
But the buffet is just the bait to check some live music. This time around it's Fine For Now, which includes respected local studio engineer Lee Stoker along with members of Clintch and Level, plus homemade futuristic hip-hop beats from emcee Synthetic. There is a $5 cover.
Club hoppin'
• With a new album on the way, The Makers return Saturday at 9:30 p.m. to The B-Side, 230 W. Riverside, with openers Belt of Vapor (see Spin Cycle on page 5) and Portland's Book of Maps. There is a $7 cover.
• Society's Finest, from Dallas, releases a new album, "Love, Murder and a Three Letter Word," on Hand of Hope Records on Tuesday, the same day Finest appears at the newly reopened Big Dipper, 171 S. Washington. Tacoma hard-cores The Capgun and local rock band Ties That Bind open the show. Showtime is 7 p.m. Tickets are $7 at the door.
• The dead guys of the Necro Tonz return Monday at 9 p.m. to Mootsy's, 406 W. Sprague. There is a $5 cover.
---