News > Idaho
Rosanna Robbins honored as Idaho School Psychologist of Year
Sat., Dec. 4, 2004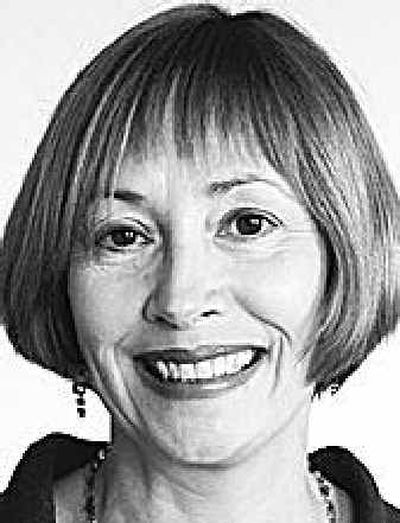 After 19 years as a school psychologist, Rosanna Robbins, a petite, soft-spoken woman, has had the ultimate recognition. While at the fall conference for the Idaho School Psychology Association in October, Robbins was named the Idaho School Psychologist of the Year for the 2004-05 school year.
With only two psychologists in the Post Falls School District, Robbins serves Post Falls High School, Post Falls Middle School, the new River City Middle School, New Vision alternative school and Seltice Elementary. The other District 273 psychologist takes care of all the other elementary schools.
"We're seeing many more disabled students in a variety of ways, particularly with emotional and behavior difficulties," Robbins said.
She said they see problems with attention difficulties as well. They have families who are dealing with a lack of finances and resources that are struggling to make ends meet.
"Everyone suffers then," Robbins said. "It really becomes a community and society wrap-around-the-kid kind of a problem, because children's problems, emotional and behavioral don't act in isolation."
Robbins thinks that having more resources available in the schools and in the community would help the kids.
She is not the same as a school counselor. For example, the counselors oversee academic programming and scheduling. Robbins' job is to handle crisis situations. As special education personnel, she is responsible for all of the psychological, emotional and behavioral testing for special education. Robbins is also responsible for risk assessment when someone is a possible threat to the school or the safety of themselves or someone else.
Crisis counseling might include ongoing abuse or helping someone who just has a "meltdown."
"Middle School is a tough time for kids," Robbins said. "You have to really be attuned and love working with that level of a child. It isn't for everyone. I love it. I can just be who I am and I love working with them. It can be really quite difficult for them, because of all these changes they are going through. Everything is of intense importance (to them)."
She said that while something doesn't always look like a big deal to adults, to understand a student's perspective of the issue, and deal with it from that perspective is important.
This is Robbins' second career. She spent 13 years as a bookkeeper and secretary before continuing her education to become a psychologist. Her mentors were very important to her, so she is continuing the cycle and has an intern right now from the University of Idaho who is also a special education teacher at River City Middle School. Robbins also prints a quarterly psychology newsletter.
Scholarships available
The Idaho State Board of Education has several scholarship opportunities available for graduating high school seniors for the 2005-06 academic year.
The Robert R. Lee Promise Category B Scholarship provides up to $600 annually to Idaho students attending college for the first time. To qualify, students must have a grade-point average of at least 3.0 or an ACT score of 20 or better and attend a participating Idaho college or university full time.
The Robert R. Lee Promise Category A Scholarship provides up to $3,000 per year, is renewable annually, and is available for a limited number of qualified students pursuing either academic or professional-technical programs.
Applicants for this scholarship must be a resident of Idaho, be a current graduating senior of an Idaho high school, and enroll in the fall 2005 semester full time at an eligible Idaho college or university. Applicants must be in the top 10 percent of their class with a cumulative grade-point average of 3.5 or better, and an ACT score of 28 or above. Those enrolling in a professional-technical program must have a cumulative grade-point average of 2.8 or better, and take the ACT-COMPASS test.
The Governor's Challenge Scholarship is for Idaho students who demonstrate a strong commitment to public service and leadership. To qualify, a student must be a resident of Idaho and a current graduating senior of an Idaho high school. Applicants must enroll full time in the fall 2005 semester in an academic or professional-technical program at a participating Idaho college or university, and have a cumulative grade-point average of 2.8 or above. Academic applicants must take the ACT or SAT.
The Robert C. Byrd Honors Scholarship is a federally funded, state administered scholarship that recognizes exceptional high school seniors who show promise of continued excellence in the post-secondary educational system. Pending annual federal approval, the award is $1,500 per year, renewable for up to four years.
Applicants must be a current graduating senior of an Idaho high school or have the equivalent of a certificate of graduation recognized by the state of Idaho and have demonstrated outstanding academic achievement and show promise of continued academic success. Students are selected on the basis of grade-point average, ISAT scores and faculty ratings.
Apply for any of these scholarships at any participating school or the State Board of Education's Web site at http://www.boardofed.idaho.gov/ scholarships.asp. The deadline is Dec. 15 for the Robert R. Lee and Governor's Challenge scholarships and Feb. 1for the Robert C. Byrd Honors scholarship.
Local journalism is essential.
Give directly to The Spokesman-Review's Northwest Passages community forums series -- which helps to offset the costs of several reporter and editor positions at the newspaper -- by using the easy options below. Gifts processed in this system are not tax deductible, but are predominately used to help meet the local financial requirements needed to receive national matching-grant funds.
Subscribe now to get breaking news alerts in your email inbox
Get breaking news delivered to your inbox as it happens.
---