News > Idaho
Dave Traner 'loved life, lived it to the fullest'
Sat., Dec. 25, 2004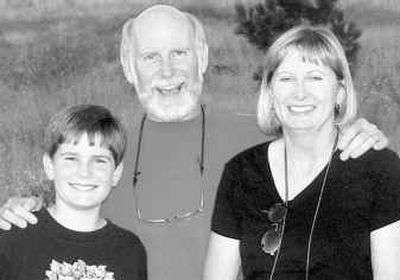 Perhaps the best way to sum up Dave Traner's life is to look at the three posters still hanging in his classroom. The first reads "You only live once, but if you live right once is enough." The second is "I am not an ordinary person," and the third says "Take time to do the things that really make you happy."
Traner, a science teacher at Mead Middle School for 15 years, died Oct. 7 from injuries suffered in a car accident east of Missoula. He was 55.
"One thing that was so unforgettable about him was that he was a wonderful example of someone who loved everything about life," said Ed Merz, a counselor at Mead Middle School. "He really loved life and lived it to the fullest."
Born in Yakima, Traner graduated from high school there before serving in the Army in the Vietnam War from 1968 to 1969. After his discharge he graduated from Washington State University with a bachelor's degree in biology, and later received a master's in botany.
He began his teaching career in Ione, Wash., and later taught at Canfield Middle School in Coeur d'Alene. He began teaching at Mead Middle School in 1989.
All the students at Mead Middle School knew Traner, whether they'd had him in a class or not. Every Friday morning he had "Traner's Joke Corner" where he would tell jokes over the intercom, and after every joke the school would be treated to his trademark laugh.
"He was a character," said Robin Kimball, a teacher at Mead Middle School. "He was big and bald with this loud booming voice and an even louder laugh, and as a person just larger than life," she said. "I suppose to some people initially that might be intimidating, but as soon as you get to know him you realize his was just a big old teddy bear."
Traner was dedicated to his students, taking time to talk with them during and after class. When one of his students had a parent suffering from cancer and became responsible for making the family meals, Traner made her a cookbook of easy-to-prepare recipes.
He looked out for everybody, not just his students. He would take new teachers under his wing and help them with their lesson plans. Sometimes other teachers would have problems in their classrooms, such as a broken table, and he'd come in on a weekend to rebuild it. Kimball said she couldn't remember how many times he'd come over to jump-start her car or come over with food when she was sick.
"And he does that for other people, too," Kimball said. "Of course, he'd moan and groan about it the whole time. But he just was a big pushover."
Traner was also dedicated to his family. He married Nancy Brandvold in 1983 in Coeur d'Alene, and the couple led an active life. They had a two-seater plane and enjoyed hiking, skiing and other outdoor activities.
Kimball remembers how excited Traner was when his son, Michael, was born.
"I used to commute with him to work, and on the way home I'd be finding out about what kind of cribs are best, what kind of diapers are best," she said.
"He (Traner) used to come to school with these big gouges on his very expansive forehead from Mike because he used to love to lie down on the bed with Mike, and Mike would flail his hands about and catch Dave on the forehead. And that was like a badge of honor for him. There was nothing about his son that didn't bring him joy."
Although science was his main focus, this year Traner had been assigned to teach reading, and he approached it with his usual passion.
"He devoted his heart and soul to try to become the best reading teacher he could be," Kimball said. For the first few weeks of school this year she would see him speaking to English teachers, trying to pick their brains.
After he died, she was called into Merz's office, and there was one of Traner's reading students. He was sitting there with his mother, holding a copy of Traner's obituary in his hand. Now that Traner was gone, the student felt he didn't have a reason to come to school anymore.
"That kind of describes how Traner related (to the students), especially to the ones who needed him the most, the kids who just had some space in there that needed to be filled," Kimball said.
"They just could sense that he was such a loving person, and even though he was loud and he was brash, and it seemed like all he was doing was teasing other people, they would know instinctively that the teasing came from affection and how much he cared about them."
One of Traner's students, Chelsea Gray, agreed.
"He had a connection with all the students," she said. "He was more than a teacher. He was a really good friend."
Local journalism is essential.
Give directly to The Spokesman-Review's Northwest Passages community forums series -- which helps to offset the costs of several reporter and editor positions at the newspaper -- by using the easy options below. Gifts processed in this system are not tax deductible, but are predominately used to help meet the local financial requirements needed to receive national matching-grant funds.
Subscribe now to get breaking news alerts in your email inbox
Get breaking news delivered to your inbox as it happens.
---