Sports
Melvin hopes to lead D-Backs back to glory
Sun., Dec. 26, 2004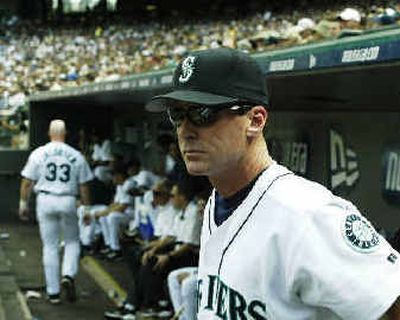 PHOENIX — The bookshelves are virtually empty. The desk is basically bare. The walls inside Bob Melvin's office at Bank One Ballpark have few personal touches — a plaque commemorating Melvin's first major-league game and an autographed, framed poster from the rock band Pearl Jam.
"They came out and took some BP and did some fielding stuff with us, Eddie Vedder and the boys," Melvin said of Pearl Jam's visit last season with the Seattle Mariners, for whom he managed the past two years. "Hopefully, we'll turn them into Diamondbacks fans and have them come visit us this year."
That would be a nice touch.
Since the mangled hiring and firing of Wally Backman as manager, the Diamondbacks have done all they can to re-create their image. It started with the naming of the affable Melvin, 43, as the new manager on the same November day they fired Backman.
They snagged power-hitting third baseman Troy Glaus from the Anaheim Angels for $45 million. They plucked starting pitcher Russ Ortiz from the Atlanta Braves for $33 million. They signed shortstop Royce Clayton, brought back fan favorite Craig Counsell, and almost pulled off a blockbuster trade that would have sent Randy Johnson to the New York Yankees and brought slugging right fielder Shawn Green and pitchers Brad Penny and Yhency Brazoban to Phoenix.
"We're headed in a very good direction," said Melvin, who agreed to a two-year contract with a pair of one-year options, "and I think whether Randy is here or not, we're going to be very competitive."
But what about the man leading the charge from the dugout, the former part-time catcher and role player who spent parts of 10 years in the majors? Who is Bob Melvin and how can he help?
"Bob Melvin is his own man and he's going to do a fine job in Arizona," Chicago Cubs manager Dusty Baker said. "He's a solid baseball guy who knows his stuff. People have a lot of respect for the guy. Hell, he almost had my job."
Before Baker agreed to join the Cubs two years ago, he said he was told by Cubs management that Melvin would be the club's choice to manage the team if Baker backed out. Baker signed on and Melvin, Arizona's bench coach in 2001 and '02, left the Diamondbacks to manage the Mariners.
One good year and one awful year later, he is back. And he is home. Melvin, a Phoenix resident for more than a dozen years, has his dream job.
All-American boy
Melvin, born in Palo Alto, Calif., was introduced to sports at an early age. His grandfather, Bud Levitas, was a real estate magnate who had the best seats at nearby Candlestick Park and other sporting venues. Bob got to tag along and often was allowed to invite a friend or two.
"I had to grind for my 10 years," Melvin said. "I never had a starting role — for a few years I was a platoon player — but having played in a bunch of different places for several different managers kind of serves me well in my role now. And I think having some failures helps me in understanding that guys are going to fail in this game, too."
Shaping his style
Three years after retiring, and having focused his time on his marriage to Kelley, whom he met at age 21 when he was playing in the minors — "The minute I saw her, I knew she was the right one," — Melvin received his first coaching opportunity.
In 1999, Milwaukee manager Phil Garner hired him to be his bench coach with the Brewers. When Garner left the following season to manage the Tigers, Melvin went with him and in 2001, he was reunited with Bob Brenly, his friend and former teammate with the San Francisco Giants, as the Diamondbacks' bench coach.
Arizona won the World Series that season, just four years into existence as an expansion club, and Brenly credited Melvin for helping make it happen. Although he didn't necessarily draw the same applause as Luis Gonzalez or World Series co-MVPs Johnson and Curt Schilling, Melvin's stamp was clearly definable on the club.
There are parts of Brenly's down-home, country-style charm in Melvin, and a lot of the same baseball sense. But Melvin picked up qualities and quirks from various former managers and friends, from Sparky Anderson in Detroit, to Roger Craig in San Francisco to Frank Robinson in Baltimore.
Family and destiny
What Melvin thinks about now is how to get the Diamondbacks back to their glory days, while always keeping focus on his family, his wife and their daughter, Alexi, 16, an aspiring actress who has won fanfare for independent films such as "Malediction" and "After the End of it All."
Alexi was diagnosed with juvenile diabetes in October 2003, but life has been good for the Melvins, who are about as close as a family can get. When Bob had a rough road trip or a poor home stand in Seattle, Alexi would fly there from their East Valley home to spend time with Dad.
These are happy times now, no doubt. Melvin may not have his office at Bank One Ballpark decorated up to speed, but his heart, his soul and his ambitions are bountifully tied up in the Diamondbacks' fortunes in 2005 and beyond.
Local journalism is essential.
Give directly to The Spokesman-Review's Northwest Passages community forums series -- which helps to offset the costs of several reporter and editor positions at the newspaper -- by using the easy options below. Gifts processed in this system are not tax deductible, but are predominately used to help meet the local financial requirements needed to receive national matching-grant funds.
Subscribe to the sports newsletter
Get the day's top sports headlines and breaking news delivered to your inbox by subscribing here.
---
Subscribe and log in to the Spokesman-Review to read and comment on this story