News > Travel
Local canyons near and grand
Sun., July 4, 2004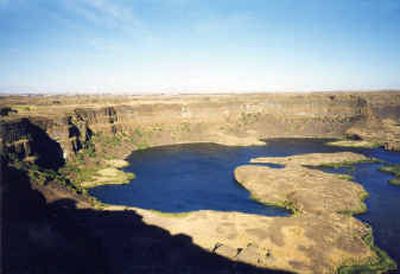 Thanks to two-buck-plus gas prices, that driving vacation to the Grand Canyon may not be looking so good now. But Washington's Grant County holds many grand canyons and it's only a tank of gas away.
The county, named after President Ulysses S. Grant, traces its natural features back to an Ice Age flood. Some 15,000 years ago, glacial Lake Missoula covered most of western Montana until breaking its 2,000-foot-tall ice dam. The monstrous rushing waters carved out Eastern Washington's scablands and created Grand Coulee, Dry Falls and Drumheller Channels. Grand Coulee stretches out 50 miles from Grand Coulee Dam to Soap Lake, extends 2 to 5 miles wide and drops down 1,000 feet.
This dry desert climate offers some 300 days of sunshine a year and many fine sights:
" Grand Coulee Dam: The largest concrete dam in the world, blocking the Columbia River, offers guided tours and a free laser light show every summer night. Trails lead to viewpoints of the dam.
" Dry Falls: Back during that great flood, water poured over Dry Falls across 3.5 miles and fell 400 feet. Niagara Falls would be but a drop in the bucket, so to speak, with a 165-foot drop and 1-mile width. The Dry Falls Interpretive Center, just west of Coulee City, offers view points and shows videos of the area's geologic history.
" Lake Lenore Caves: Shallow caves, carved into the basalt cliffs during the great flood, are accessible off a maintained trail. Numerous other caves can be found off the beaten track.
" Steamboat Rock State Park: This 900-acre park features a sandy beach, bath house, grassy picnic area and playground with views of Banks Lake, just one of the county's 139 lakes, and Steamboat Rock. Boating and hiking are popular diversions, too. Watch out for rattlesnakes.
" Soap Lake: This is the last in a chain of potholes lakes that extend south along the coulee from Dry Falls. Without an outlet, the lake's water maintains a high salt and mineral content. The sodium, bicarbonate, fluoride, calcium, copper, tungsten, titanium, vanadium, iron and 18 other minerals attract people from around the globe looking for therapeutic soaks. Visitors also slather the coal-black mud from the lake bottom onto their skin for a soothing treatment. Some even swallow lake water for its laxative powers.
" Drumheller Channels: Designated a National Natural Landmark in 1986, the Drumheller Channels sit in the Columbia National Wildlife Refuge south of Potholes Reservoir in Moses Lake. Cliffs, deep canyons, lakes and old lava flows make this a scenic wonder. The refuge attracts more than 200 species of birds, from songbirds, hawks and owls to great blue herons, sandhill cranes and tundra swans. Canada geese and ducks visit seasonally.
" Gingko Petrified Forest State Park: This curious fossil forest holds more than 200 species of trees swept downriver and sealed in molten lava. The fossils show incredibly detailed cell structures of the wood. You've seen the signs for this park at Vantage on the Columbia River. (OK, so this is not technically Grant County, but it's so close.)
And there's more, of course. Information: (509) 754-2011, ext. 331; www.tourgrantcounty.com; information@moses-lake.com.
For more information about the region's great floods, check the Web at www.iceagefloodinstitute.org (based in Moses Lake) and www.npw.gov/iceagefloods.
Seafair launches next weekend
Seafair can only be described as HUGE. The monthlong event, from July 10 to Aug. 6 this year, features fun happenings throughout Puget Sound. The parade calendar alone stretches out to 17 community spectacles — with the biggie, the Torchlight Parade, on July 31.
Here are the highlights just from opening day: At the engaging Milk Carton Derby, dozens of creative watercraft, all floating on milk cartons, compete in speed and design divisions on Green Lake from 10 a.m. to 3 p.m. Pirates will land on Alki Beach in West Seattle at noon on the same day, with games and prizes for all. Arrrggg.
Wallingford will host a Kiddies Parade and Street Fair (all kids are invited to join in; costumes are encouraged but not required) from 10 a.m. to 6 p.m. (parade at 11 a.m.).
The Chinatown/International District Festival kicks off on Saturday and continues the next day. It's billed as the largest Pan-Asian street fair in the Northwest, with ethnic food, entertainment, arts and crafts, children's activities and retail booths.
That's all opening day, folks.
Seafair also includes Silverdale Whaling Days and Parade (July 23-25), Ballard SeafoodFest (July 24-25) and, of course, the arrival of Navy and Coast Guard fleets (Aug. 6-8). And don't forget the Unlimited Hydroplane Race (Aug. 6-8) and the Air Show, with the Blue Angels (Aug. 6-8). In addition, there are classic speedboat and car shows, concerts and running events.
Details: (206) 728-0123; www.seafair.com.
Ancient Egyptian art in Victoria
One of the world's oldest cultures will be visiting one of the newest when ancient Egypt appears in Victoria, B.C.
Beginning this Saturday, the Royal British Columbia Museum will host 144 priceless artifacts from the British Museum's extensive Egyptian collection. The exhibit, titled "Eternal Egypt: Masterworks of Ancient Art from The British Museum," will run through October.
The pieces embody the 3,000 years from Ramesses the Great to Cleopatra. Each one was selected for its rarity, beauty and historical significance. The exhibit is arranged chronologically so visitors can see the evolution of ancient Egyptian art.
Highlights include a gilded mummy mask, gold jewelry, seven sections from papyrus rolls containing the Book of the Dead, a colossal quartzite sculpture of the head of Amenhotep III, a haunting Greco-Roman period mummy portrait and a marvelously sculpted, 5,000-pound red granite lion.
The Royal BC Museum is the only Pacific Northwest venue hosting the exhibit on its 11-city North American tour.
The museum is located just off Victoria's Inner Harbour next the Fairmont Empress Hotel.
Information: (888) 447-7977; www.royalbcmuseum.bc.ca.
Tours of French Riviera, South Pacific
Spokane's Southside Senior Activity Center is sponsoring two tours this fall, one to the French Riviera and the other to Australia and New Zealand.
The nine-day "Discover the French Riviera" departs on Oct. 5. Highlights include visits to Nice; Grasse and St. Paul de Vence (a medieval walled town); Ventimiglia, Italy; St. Tropez and Cannes; and Monaco. Cost is $2,199 per person, double occupancy (other rates available), which includes airfare, hotels, transfer and a dozen meals.
The fun itinerary features visits to a flower market, perfume maker and the Picasso Museum as well as a St. Tropez bay cruise.
There's also an optional three-night Paris tour.
" The 19-day "Journey to the South Pacific" launches on Nov. 11. Highlights include Cairns, the Great Barrier Reef, Melbourne, Canberra and Sydney in Australia and Christchurch, Queenstown, Milford Sound, Mount Cook National Park and Rotorua in New Zealand. Cost is $4,599, which includes airfare, hotels, transfers and 27 meals.
The fun stuff includes visits to an aboriginal cultural center, a penguin nature preserve and an old gold boomtown as well as cruises on Sydney Harbor and Milford Sound.
There's also an optional two-night Fiji tour.
For reservations and details, call Frances Martin at (509) 535-0803.
Regional events
" C.M. Russell Stampede, BBQ, Quick Draw and Rodeo, July 17-18, Stanford, Mont. Two days of Western family entertainment with music, art auction, PRCA rodeo, wild cow milking contest and barbecue. (406-566-2422)
" Oregon Brewers Festival, July 23-25, Portland. This 17th annual event, held in Tom McCall Waterfront Park, features 72 breweries with seven restaurants, a soda garden for minors and designated drivers, and live entertainment. (503-778-5917; www.oregonbrewfest.com)
" Bellevue Festival of the Arts, July 23-25, Bellevue, Wash. This showcase of some 200 artists and artisans from across the Northwest and nation features jewelry, photography, textiles, glass, fine art, woodwork, pottery and sculpture as well as food, drink and music. (206-363-2048; www.bellevuefest.org)
Local journalism is essential.
Give directly to The Spokesman-Review's Northwest Passages community forums series -- which helps to offset the costs of several reporter and editor positions at the newspaper -- by using the easy options below. Gifts processed in this system are not tax deductible, but are predominately used to help meet the local financial requirements needed to receive national matching-grant funds.
Subscribe now to get breaking news alerts in your email inbox
Get breaking news delivered to your inbox as it happens.
---