News > Spokane
City Hall won't be in Met tower
Fri., July 9, 2004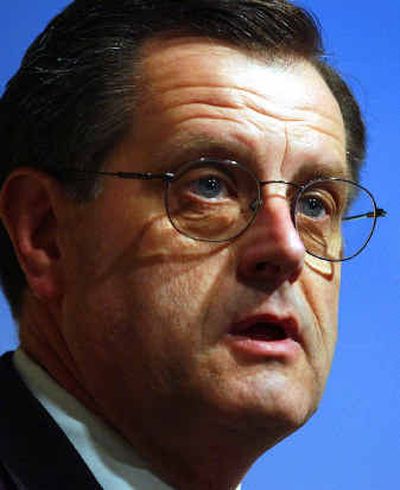 Spokane Mayor Jim West said Thursday that the city is no longer interested in buying the Metropolitan Financial Center.
Facing a budget crunch and skeptical voters, the city is just not ready to embark on such a bold proposal as buying the 17-story white high-rise in downtown Spokane and moving City Hall there, he said.
West said that his decision represents a lost opportunity.
"This one won't come around again," he said. "The fact is we need more room and this looked good."
So for now, City Hall will remain at 808 W. Spokane Falls Blvd., a building coveted by condominium developers. The upper floors feature views of the Spokane River Falls and Riverfront Park is at its front door. The downtown core's growing shopping, entertainment and restaurant scene all sit within an easy walk of the former Montgomery Ward store.
City Hall is worth between $6 million and $10 million. If retooled into upscale condominiums, the building could be worth about $23 million, West said.
He said he received two different development proposals for the building, including one from Ron Wells, who renovated the Steam Plant and other historic buildings in Spokane.
By contrast, Metropolitan Mortgage & Securities Inc. is seeking bids on its headquarters. The asking price: $16.6 million.
The Spokane financial firm declared bankruptcy in February and a new team of executives is attempting to sell assets to repay investors. The city's bid would have been considerably less, West said.
"Our people ran the numbers backward and forward and it could work," he said.
However, moving City Hall at a time when the city is facing a $5.4 million budget shortfall is politically risky, he said.
The tight budget has forced department-by-department cost scrutiny. Moving City Hall would likely cost about $50,000 more each year than the city currently pays.
"There's a lot of angst over here," West said. "It would be difficult to tell our employees, 'Sorry we can't keep you,' and then buy that building."
Had the city purchased the Metropolitan tower, it would have had to lease four floors to other tenants. If unable to do so, the city's added cost could have reached $300,000.
Cementing West's decision was the fact that such a large purchase would have required voter approval.
"Frankly, the city has a credibility problem that I haven't overcome yet," he said.
City officials will float a street bond in February designed to smooth pitted streets and feared that a separate vote concerning a new City Hall would be too much.
Part of the attraction of buying the Met tower is easing the glut of downtown commercial office space.
The collapse of Metropolitan has left one of the largest office buildings in the region empty.
The company once had hundreds of employees reporting to work in the 178,000-square-foot building erected in 1982 for Ag America Farm Credit Bank.
Today, Metropolitan has fewer than 40 employees.
The company hopes to announce a bidder for the building later this month. The tower will likely be auctioned by the Bankruptcy Court unless there's only one serious buyer.
Bill Romney, Metropolitan's chief restructuring officer, has said he wants to sell the tower soon, along with other notable Spokane properties including the Metropolitan Performing Arts Theater and the Summit property on the north bank of the Spokane River near downtown.
One interested bidder in the office tower is Davenport Hotel owner Walt Worthy. To press his point, Worthy acquired an $11 million note Metropolitan owes, which is collateralized by the tower. He purchased the note from IDS Life Insurance Co.
Local journalism is essential.
Give directly to The Spokesman-Review's Northwest Passages community forums series -- which helps to offset the costs of several reporter and editor positions at the newspaper -- by using the easy options below. Gifts processed in this system are not tax deductible, but are predominately used to help meet the local financial requirements needed to receive national matching-grant funds.
Subscribe now to get breaking news alerts in your email inbox
Get breaking news delivered to your inbox as it happens.
---