A&E > Entertainment
'Sleepover': More like Lolita than Cinderella movie review
Fri., July 9, 2004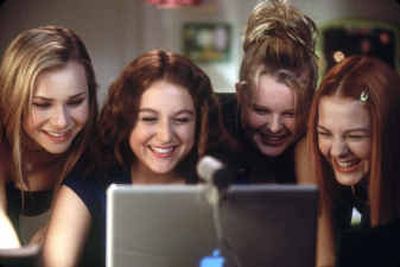 Teen girl-power heroines are creeping up on bulbously muscled action heroes as Hollywood's most formulaic protagonists.
Yet the latest girly giggle fest, "Sleepover," objectifies early teenage girls in a manner that's disagreeable and indelicate at best, cheap and vulgar at worst.
It's one thing for pre-high schoolers to "borrow" Mom's car and embark on an all-night scavenger hunt. It's another when that scavenger hunt requires a 14-year-old girl to rendezvous at a bar with a grown man, dug up on an online dating service, so she can get him to buy her a drink.
Considering that her "date" turns out to be one of her junior high teachers, "Sleepover" steers disturbingly from wholesome fun into "Lolita" territory.
Alexa Vega ("Spy Kids") stars as uncool Julie, who's holding a slumber party with three pals (Mika Boorem, Scout Taylor-Compton and Kallie Flynn Childress) to celebrate their last day of junior high.
Their party turns into a nocturnal quest after rival Staci (Sara Paxton) and her coven of "popular girls" challenge Julie and friends to a scavenger hunt. The winners get the cool lunch spot next year in high school, while the losers have to eat at the table next to the trash bin.
Passable performances by Vega and Boorem go to waste in this mealy trifle.
Local journalism is essential.
Give directly to The Spokesman-Review's Northwest Passages community forums series -- which helps to offset the costs of several reporter and editor positions at the newspaper -- by using the easy options below. Gifts processed in this system are not tax deductible, but are predominately used to help meet the local financial requirements needed to receive national matching-grant funds.
Subscribe to the Spokane7 email newsletter
Get the day's top entertainment headlines delivered to your inbox every morning.
---