News > Idaho
Bus driver takes seventh in international contest
Sat., July 31, 2004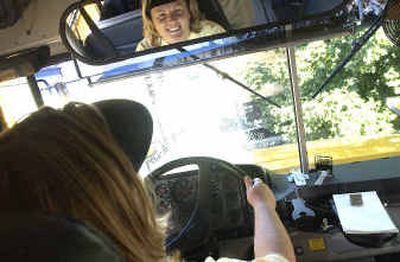 The kids are all right when they're in the capable hands of veteran school bus driver Jill Hill.
Hill placed seventh out of 100 competitors in the International School Bus Safety Competition in Minneapolis, July 10 and 11. Hill moved up 12 places from her 19th-place finish at last year's competition in New York City.
This fall will mark her 15th year driving a school bus. She started driving when her kids were little, thinking it would be a great way to be able to work and still spend time with her kids. She started driving school bus in Florida's Santa Rosa County.
Hill and her husband, Bill, who is originally from Montana, moved to Coeur d'Alene, and she started with School District 271 in September 1996, at the same time as her supervisor, Carol Brown. Brown has been driving since 1972 and has been extremely supportive of Hill.
"At first I was against it (the move) because I wasn't familiar with ice and snow," Hill said. "I just love it now."
She had never driven on ice and snow, so she had to learn some new skills.
"You slow down, be careful and don't tailgate, and leave plenty of room," Hill said. She also had not seen a school bus with a stick shift before coming to Idaho.
She entered her first competition in Idaho. North Idaho led the way with these competitions beginning in 1980, but it took 10 more years to get the rest of the state involved, according to Brown. The first state contest was in 1992. Hill has won the state championship in Boise, held in June, the past two years. The top state winner goes to nationals.
The Idaho Association of Pupil Transportation paid the way for Hill to compete in Minneapolis.
"We had a written knowledge test, a written pre-trip test and driving courses that we had to go through," Hill said.
She said they had a 10-foot wide back-up stall in which they were expected to center the eight-foot wide bus. They goal also is to keep the tail of the bus in a three-foot zone to the rear without hitting the barrier. They also have exercises in student loading and parallel parking. They test them in alleys, turning corners, because the buses have three feet of tail swing.
"Three inches is perfect, from the curb," Hill said of the parallel parking drill. She said anything over three inches earns demerits.
"I missed the whole parallel parking this year," Hill said. "If you hit any of the barriers, you just hit a wall or somebody's Mercedes."
Brown said she overshot the rear barrier. Obviously it didn't hurt her too much in overall placement.
She has never been in an accident in her life, and when she's not working, she drives a Ford Taurus, not a huge SUV or minivan.
The bus Hill drives for district 271 is a bus for special-needs students, so she is working year-round. It is a 2002 Freightliner with four spaces for wheelchairs dispersed throughout the bus. Her license is Class B, meaning she cannot pull anything like a large load. Her husband is the director for Sage Technical Services, which is a school for truck drivers, so the two share a love of driving.
Local journalism is essential.
Give directly to The Spokesman-Review's Northwest Passages community forums series -- which helps to offset the costs of several reporter and editor positions at the newspaper -- by using the easy options below. Gifts processed in this system are not tax deductible, but are predominately used to help meet the local financial requirements needed to receive national matching-grant funds.
Subscribe now to get breaking news alerts in your email inbox
Get breaking news delivered to your inbox as it happens.
---