Sports
Rice looking for reversal of Indy trend
Tue., June 1, 2004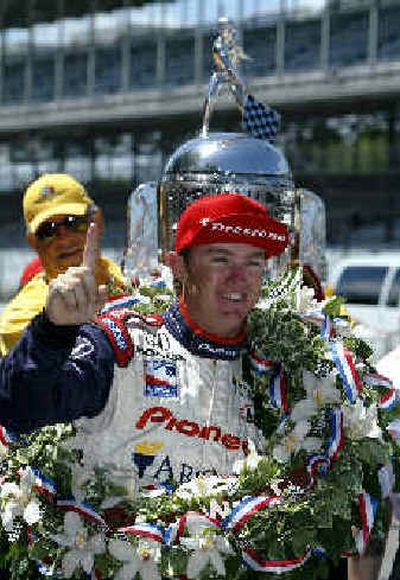 INDIANAPOLIS — Raise the Stars & Stripes. Sing the "The Star-Spangled Banner." There's an American champion at the Indianapolis 500.
Unlikely victor Buddy Rice, at Indy for only the second time, raced to the win Sunday in a race shortened 50 miles by rain.
But don't think the driver from Phoenix didn't deserve his first Indy Racing League victory. He and his Rahal Letterman Racing team dominated at the speedway all month, winning the pole and the pit crew contest before taking the checkered flag — the first to do that since Bobby Unser and Team Penske accomplished the same trifecta in 1981.
Seeing a driver from the United States in Victory Circle at the Indianapolis Motor Speedway has become almost a rarity — especially with all the recent defections by American open-wheel drivers like Jeff Gordon, Tony Stewart, Ryan Newman and Kasey Kahne to NASCAR.
No U.S.-born driver had won here since Eddie Cheever in 1998, and the only other Americans to drink the victory milk at Indy since 1989 are Rick Mears (1991), Al Unser Jr. (1992 and 1994) and Buddy Lazier (1996).
"Hopefully, it gives people a shot in the arm right now," the 28-year-old Rice said. "There's a ton of talent in this country."
Indy held its first 500-mile race in 1911 and has always had a foreign flavor, drawing many stars from around the world. But American drivers like Foyt, Mears, Unser, Rutherford and Tom Sneva also established their reputations at the Brickyard.
Bobby Rahal, co-owner of the winning team with TV talk-show host David Letterman, has hired foreign drivers like Sweden's Kenny Brack, whose serious injuries from an accident last fall opened the door for Rice, and Brazilian Vitor Meira, who finished sixth Sunday.
But the 1986 Indy 500 and three-time national champion is also a believer in American talent.
"I think it's good that an American won," Rahal said Monday morning at the now-quiet speedway. "It will certainly stifle some of the criticism you always hear and it should give a boost of confidence to everybody that's trying to make it to know that if you work hard and get your chance, you can win.
"Buddy delivered the goods."
That Indy is now having trouble selling all its tickets and has seen steadily declining TV ratings in recent years could certainly be connected to the paucity of American winners.
There were 18 Americans among the 33 starters Sunday, but only two others finished among the top 10 — Bryan Herta in fourth and Rahal Letterman driver Roger Yasukawa in 10th.
The two team owners are doing their bit to help turn that around — and not just by giving Rice and Yasukawa opportunities this year.
The team is fielding cars for U.S. prospects Danica Patrick, one of the few women in open-wheel racing, and teenager Chris Festa in the developmental Toyota Atlantic series — where Rice won the championship in 2000 and first attracted Rahal's attention. And Rahal's 15-year-old son, Graham, has shown promise in go-carting and will race this year in the new Formula BMW series.
"There's no question that the European training ground has traditionally been more intense," Rahal said. "That's why I really am supportive of stars in carting in this country."
Local journalism is essential.
Give directly to The Spokesman-Review's Northwest Passages community forums series -- which helps to offset the costs of several reporter and editor positions at the newspaper -- by using the easy options below. Gifts processed in this system are not tax deductible, but are predominately used to help meet the local financial requirements needed to receive national matching-grant funds.
Subscribe to the sports newsletter
Get the day's top sports headlines and breaking news delivered to your inbox by subscribing here.
---