News > Idaho
Buddies catch the big ones on fishing trip to Alaska
Sat., June 26, 2004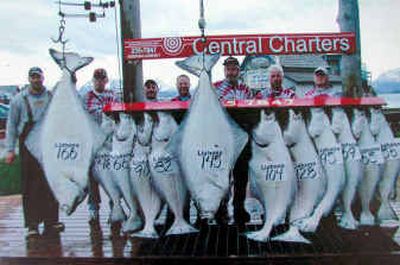 Homer, Alaska, is a slice of heaven for tourists looking for excellent sport fishing, wildlife viewing, clam-digging and a spirited local art scene.
Nestled on pristine Kachemak Bay, one of the most prominent features of this burg, population 4,000, is a long narrow finger of land, four-and-a-half-miles long, jutting into the bay, called the Homer Spit. The spit is home to numerous fishing charters.
Tom Sharbono, a 17-year resident of Coeur d'Alene, had Alaska as one of his territories for eight years as an employee of Reader's Digest magazine. His love of the 49th state has kept him going up there each summer for a fishing trip, for 13 of the last 14 years.
Earlier this month, he and five of his buddies headed up to Homer for a halibut charter on the 30-foot Liahona, owned by Central Charters, and coincidentally, skippered by Captain Todd Jackson, a former wrestling coach in Kellogg. Jackson, who now lives in Detroit Lakes, Minn., has spent his summers in Homer as a skipper for the past 14 years.
Four of the fishing gang, Kevin Knoll, Doug Trimpe, Carl Schrader and Dan Lyon were first-time halibut fisherman. Bob Schrader traveled to Homer with Sharbono last summer. Schrader set up the group this year, with their children's soccer being a common link between Sharbono, Lyon and Trimpe. The six fellows "hang out" in Coeur d'Alene and have formed a good camaraderie. They all wore matching T-shirts that said "NIC Cage Club" for good luck. It seems that matching shirts have been a good luck charm for Sharbono and company before.
On June 9, they cruised away from the Homer Spit for a highly unusual day on Kachemak Bay. It all started with Lyon hauling in a 104-pounder after three minutes of fishing. The Schraders formed a joint effort to pull in a 128-pounder, and Trimpe reeled in a 145-pound halibut after quite a battle. Knoll caught two fish, one at 65 pounds and another at 82 pounds, then Sharbono caught the last halibut of the day, a whopping 166 pounds.
Captain Jackson reminded them, "This is not normal."
Hey, whatever, but this is indeed a true fish story.
"I love being out on the ocean," Sharbono said. "If you get a 100-pounder, it's a bonus."
Local journalism is essential.
Give directly to The Spokesman-Review's Northwest Passages community forums series -- which helps to offset the costs of several reporter and editor positions at the newspaper -- by using the easy options below. Gifts processed in this system are not tax deductible, but are predominately used to help meet the local financial requirements needed to receive national matching-grant funds.
Subscribe now to get breaking news alerts in your email inbox
Get breaking news delivered to your inbox as it happens.
---