News > Nation/World
Newlyweds star in gay-pride parade
Mon., June 28, 2004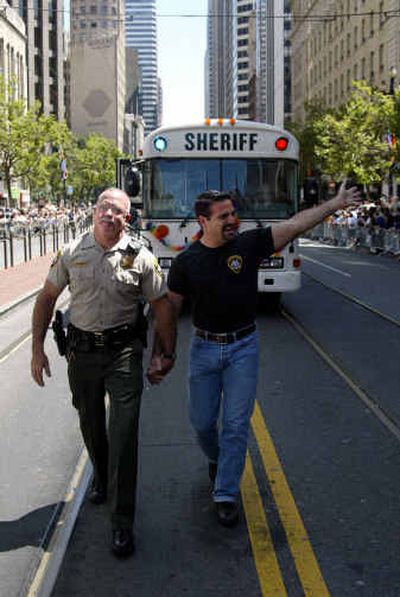 SAN FRANCISCO – The party still had its traditional leather-clad legions and dramatic drag queens, but Sunday's gay-pride parade featured marchers even more radical – married same-sex couples.
Gay and lesbian newlyweds hoisting poster-size reproductions of their marriage licenses had a starring role in San Francisco's 34th-annual parade. They were joined by Mayor Gavin Newsom and others who helped promote same-sex unions in the history-making wedding march at City Hall earlier this year.
Other cities holding crowd-drawing gay-pride parades Sunday included Atlanta, Seattle and New York, where gay-pride parade-goers danced down Fifth Avenue and waved rainbow flags in celebration.
Newsom, who helped push the marriage debate onto the nation's agenda shortly after taking office, received the kind of reception usually reserved for rock stars and matinee idols, with shouts of "We love you, Gavin" and "Ga-vin, Ga-vin, Ga-vin" rising from the crowd as he passed by.
When Newsom left his vintage convertible and met the crowd, peo-ple pushed over one another to take his picture, get his autograph or give him a kiss.
"It took courage to be in office such a short time and take the stance he did," said Tony Sosha, who marched with his new husband, Ens Layante.
An official crowd estimate was unavailable, but tens of thousands of people typically attend what organizers dub "California's largest public event."
"Today we're celebrating what makes San Francisco right, which is the diversity. It's a very empowering experience," said Newsom, a 36-year-old Democrat.
San Francisco issued more than 4,000 marriage licenses earlier this year before the state Supreme Court intervened. The court is expected to rule on the validity of those licenses this summer.
"Equality has always been a part of (the parade). This is just the next evolution," said Teddy Witherington, executive director of the San Francisco Lesbian, Gay, Bisexual, Transgender Pride Parade Committee. "Ultimately, the parade is about who we are and who we love, so the message is central to our community."
Floats featuring couples in wedding finery followed Newsom and San Francisco Assessor Mabel Teng. The parade got rolling behind a contingent of Dykes on Bikes, with some of the motorcycle-riding lesbians wearing veils.
Richard Clinton, 60, and his spouse of four months, Larry Bruderer, 57, paraded under a placard proclaiming their 23-year relationship.
"Most gays in the United States look to San Francisco as our homeland," Clinton said. "That is what brought me here 32 years ago – freedom."
While Massachusetts became the only U.S. state to legally recognize gay marriages last month following a ruling by its Supreme Judicial Court, gay-pride revelers said they expect New York and other states to follow suit.
With Congress set to vote within weeks on a proposed constitutional amendment that would ban gay marriage, the issue received prominent treatment at gay-pride parades nationwide.
"Even 10 years ago, I would have said that's the wrong issue," said Ed Glorius, at New York's parade with his arms entwined around his partner, Dwight Pollard, whom he married in an unofficial ceremony at a Manhattan restaurant last week. "And now I feel very differently."
The Manhattan parade featured marching bands, politicians including Mayor Michael Bloomberg and, as always, plenty of men wearing G-strings and towering heels.
Officially called the Lesbian, Gay, Bisexual and Transgender Pride March, the parade commemorates the Stonewall uprising of 1969, when gay-bar patrons resisted a police raid.
In Atlanta, where the Georgia Legislature is considering a measure to outlaw not only same-sex marriage but also any spousal rights for gays and lesbians, the mood was defiant.
"Every year, we see T-shirts, banners and myriad other implements touting the political messages and wants of a richly diverse community," said Donna Narducci, executive director of Atlanta Pride. "I have a feeling we will outdo ourselves this year in the message department."
Local journalism is essential.
Give directly to The Spokesman-Review's Northwest Passages community forums series -- which helps to offset the costs of several reporter and editor positions at the newspaper -- by using the easy options below. Gifts processed in this system are not tax deductible, but are predominately used to help meet the local financial requirements needed to receive national matching-grant funds.
Subscribe now to get breaking news alerts in your email inbox
Get breaking news delivered to your inbox as it happens.
---