Sports
Parker, Spurs turn away Lakers
Thu., May 6, 2004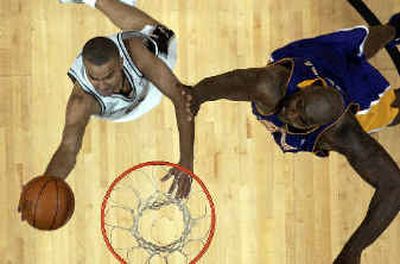 Tony Parker gave the San Antonio Spurs a big cushion early, and when the Los Angeles Lakers made a move it was Parker who snuffed it out.
Parker scored eight of his 30 points in the fourth quarter, including a stunning crossover move against Devean George that ended the Lakers' final rally in San Antonio's 95-85 victory Wednesday night at San Antonio.
"I was in attack mode and just tried to get shots for me and my teammates," said Parker, who also had five assists. "I just want to keep winning. I just want to focus on beating the Lakers."
San Antonio holds a 2-0 lead in the best-of-7 series, which resumes in Los Angeles on Sunday.
"Now we have to go home and get it done in our comfort zone," said Karl Malone, who scored 15 points for Los Angeles. "We have to fight our way back into this series."
The Lakers, led by Shaquille O'Neal's inside scoring, slashed a 16-point halftime deficit to 80-78 with more than 6 minutes left, and the momentum was clearly in their favor.
But Parker made a pair of free throws and a short floater over O'Neal after his crossover move on George to rebuild the lead to 88-80, and the Spurs' defense then made some timely stops.
"It looked to me like we ran out of gas again tonight," said Lakers coach Phil Jackson. "We didn't have enough left for the last four minutes."
Parker, who had 16 points in the first quarter when San Antonio took the lead for good, shot 13 for 23. Tim Duncan finished with 24, but he didn't score in the fourth quarter despite the Spurs dumping the ball into him on most of their early possessions.
Manu Ginobili added 15 points for San Antonio, which has won 17 straight games since late March.
O'Neal led all scorers with 32 points, while Kobe Bryant had 15 points on 7-for-17 shooting.
Around the league
The New Orleans Hornets' general manager Bob Bass retired after being eliminated from the playoffs. "I coached two years in high school, 17 years in college, then spent 36 years in the ABA and NBA — that is a hell of a long time any way you look at it," the Texas native said. "It's time to take a permanent leave and go back to Texas and enjoy whatever I have left." … Indiana Pacer forward Jermaine O'Neal won the Magic Johnson Award or his cooperation with the media. Voted on by the Professional Basketball Writers Association, the award is given annually to a player who is both successful on the court and professional with the media… . The Philadelphia 76ers hired former Charlotte coach Dick Harter as an assistant.
Local journalism is essential.
Give directly to The Spokesman-Review's Northwest Passages community forums series -- which helps to offset the costs of several reporter and editor positions at the newspaper -- by using the easy options below. Gifts processed in this system are not tax deductible, but are predominately used to help meet the local financial requirements needed to receive national matching-grant funds.
Subscribe to the sports newsletter
Get the day's top sports headlines and breaking news delivered to your inbox by subscribing here.
---