News > Business
Ex-Enron exec's wife gets 1 year in prison
Fri., May 7, 2004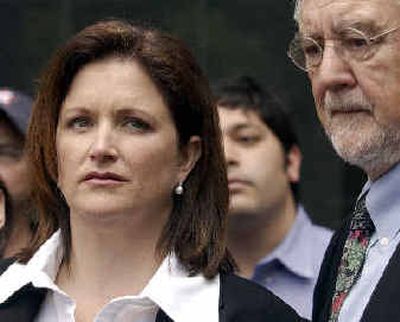 HOUSTON — The wife of former Enron finance chief Andrew Fastow pleaded guilty Thursday to helping her husband hide some of his ill-gotten gains and was sentenced to the maximum of one year in prison.
The plea came after months of legal wrangling in which the Fastows' lawyers sought to minimize Lea Fastow's time away from their two young children.
U.S. District Judge David Hittner turned aside pleas to give Lea Fastow only a few months in prison on the misdemeanor charge of filing a false tax form.
Several of Lea Fastow's supporters wept in the courtroom as she was sentenced. She cried after the judge left the room.
"I've made errors in judgment I will always regret for the rest of my life," she told the judge. "But I can't undo the past. I am only able to do what is right now."
Lea Fastow, 42, was a former assistant treasurer at Enron, but the case solely involved her role in her and her husband's tax filings. She has admitted hiding his ill-gotten income from the government by disguising it as gifts.
Her case was part of a deal that included a plea agreement for her husband. He pleaded guilty in January to two counts of conspiracy, admitting to running a complex web of schemes and partnerships designed to make Enron appear financially healthy while enriching himself at the company's expense.
He agreed to relinquish nearly $24 million in cash and property, serve the maximum 10-year prison sentence and help prosecutors pursue other cases. His help led to subsequent indictments of former Enron CEO Jeffrey Skilling and former Enron top accountant Richard Causey.
Enron imploded into bankruptcy in late 2001 amid a series of questionable financial transactions. The collapse cost thousands their jobs and erased the investments of thousands more who owned its stock.
Lea Fastow had originally pleaded guilty to a felony tax crime in January, in exchange for a sentence of five months in prison and five months of home confinement.
Hittner rejected the plea agreement, saying he refused to be bound by the sentence her lawyers had worked out with prosecutors. Hittner said he wanted to consider the 10 to 16 months called for by federal sentencing guidelines.
Hittner's decision left Lea Fastow with the choice of accepting a longer sentence or withdrawing her guilty plea. She withdrew her plea and Hittner scheduled a June 2 trial on six felony charges.
Then, last week, prosecutors wiped out those counts and filed the single misdemeanor charge in exchange for her guilty plea. The misdemeanor charge meant the most she could serve is one year.
Prosecutors supported a 10-month sentence split between prison and home confinement. "The judge disagreed. He had absolute discretion to impose 12 months," said Andrew Weissmann, chief of the Justice Department's Enron Task Force.
"I think that because there's been so much time in getting to the sentencing, the judge had an idea in his mind what he was going to do before we made our statements," defense lawyer Mike DeGeurin said outside the courthouse.
The judge gave her no fine but placed her on a year of supervised release once the sentence is completed. She remains free until she is given a date to report to a federal prison.
Lea Fastow's attorneys asked Hittner to recommend she serve her time at a minimum-security women's federal prison in Bryan, which houses 940 inmates about 90 miles northwest of Houston.
She would be the second former Enron official to go to prison. Former treasurer Ben Glisan pleaded guilty last September to one count of conspiracy to commit securities and wire fraud and was immediately sentenced to five years in prison. Unlike Fastow and her husband, he has not cooperated with prosecutors.
Local journalism is essential.
Give directly to The Spokesman-Review's Northwest Passages community forums series -- which helps to offset the costs of several reporter and editor positions at the newspaper -- by using the easy options below. Gifts processed in this system are not tax deductible, but are predominately used to help meet the local financial requirements needed to receive national matching-grant funds.
Subscribe to the Coronavirus newsletter
Get the day's latest Coronavirus news delivered to your inbox by subscribing to our newsletter.
---