News > Features
Shrek the sheep offers lesson for the self-indulgent
Sat., May 8, 2004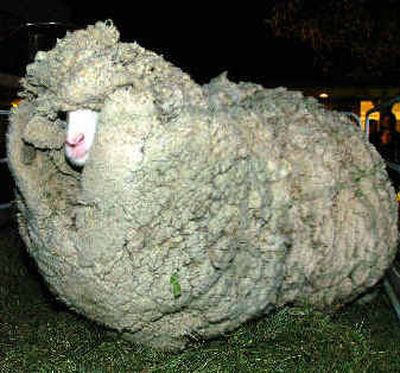 We can learn from Shrek's trek.
This wayward sheep ran away from his owner in New Zealand six years ago and wandered the high country, living in caves. While away from the fold, Shrek grew an amazing 60 pounds of wool.
The now famous animal recently was found on a hilltop looking like a mangy cotton bale with legs.
Self-indulgence was no blessing. Shrek nearly starved when winter snows buried his mountain meadows.
His picture in newspapers worldwide showed a ratty ram with a snarl of wool obscuring his vision. After getting sheared and cleaned up — in front of a live TV audience — he looked like a sheep again.
One of the most enduring metaphors in Scripture depicts God as the shepherd of his people. As the Israelites traveled in their exodus from Egypt, Psalm 78:52 says God "made His own people go forth like sheep, and guided them in the wilderness like a flock." Jesus called himself the good shepherd who gives his life for the sheep (John 10:11).
Like sheep, we Christians tend to stray a bit. We want to do things our way, forgetting or ignoring that God's way always is best for his people.
The writer of Psalm 119 discovered this and cried out to God, "I have gone astray like a lost sheep… ."
Shrek likely strayed when it seemed like his best option. In the New Zealand spring and summer, what could be more appealing for a sheep than wandering wherever his desire took him?
We're no different at times. Doing things our way often seems best at first glance. It seems sensible.
Our culture concurs: When marriage gets tough, bail out; when people insult you, get even; get what you want in life, because you live only once; if it feels right, it must be right, no matter what the Bible says.
The brief bliss of straying obscures the consequences.
Imagine Shrek's delight as he gazed down at comrades constantly being herded and sheared by their shepherds. But look where he ended up: desperately alone, half-starved, and straining to see through the wool over his eyes.
In Psalm 23, David recalls his days as a shepherd and sings the virtues of God, our shepherd.
First, David reminds us of God's provision: "The Lord is my shepherd; I shall not want" (Psalm 23:1). What a wonderful image of the provision we experience as we walk with God. Why worry that the creator and sustainer of the world itself will leave us lacking what we truly need? It's unthinkable.
David also reminds us of God's protection. "Yea, though I walk through the valley of the shadow of death, I will fear no evil; for You are with me; Your rod and staff, they comfort me" (Psalm 23:4).
Sheep must walk through dangerous terrain and past the jaws of hungry predators — even as they are being led by their shepherd. Our God never promises that we won't experience hardship, that we won't be led through times of trial and uncertainty. He does promise to lead us through difficulty and never leave us.
In Old Testament times, a shepherd's rod sometimes was used to break the leg of a wayward lamb. Sound cruel? Perhaps. But the shepherd then carried the lamb on his back until it healed and could walk on its own again.
Sometimes our good shepherd allows pain so we eventually can learn the joy of depending upon him and stop straying.
Finally, David sings of God's promise. "Surely goodness and mercy shall follow me all the days of my life; and I will dwell in the house of the Lord forever" (Psalm 23:6).
God promises to supply everything needful to us as long as we live. Try as we might, Christians cannot escape God's goodness. Following him — obeying his word — will never lead to an outcome that is not ultimately his best for us.
We are all sinners in need of cleansing and forgiveness. But no matter how far we stray, we are never outside the reach of God's mercy.
The Apostle John, who records Jesus' depiction of himself as our good shepherd, also writes: "If we confess our sins, he is faithful and just to forgive us our sins and cleanse us from all unrighteousness" (1 John 1:9).
Shrek's owner never stopped looking for his sheep and welcomed him back with fanfare. He's now safe, enjoying the provision and protection of his shepherd — a far better life than the one experienced on his own.
All of us stray spiritually. But if we return to our shepherd, God is faithful to clean us up and put us right back into the safety and comfort of his fold.
There's nothing better than living under the provision, protection and promise of the shepherd. Just ask Shrek.
Local journalism is essential.
Give directly to The Spokesman-Review's Northwest Passages community forums series -- which helps to offset the costs of several reporter and editor positions at the newspaper -- by using the easy options below. Gifts processed in this system are not tax deductible, but are predominately used to help meet the local financial requirements needed to receive national matching-grant funds.
Subscribe to the Coronavirus newsletter
Get the day's latest Coronavirus news delivered to your inbox by subscribing to our newsletter.
---