This column reflects the opinion of the writer. To learn about the differences between a news story and an opinion column, click here.
Opinion > Column
The Slice: A very happy unbirthday
Sat., May 8, 2004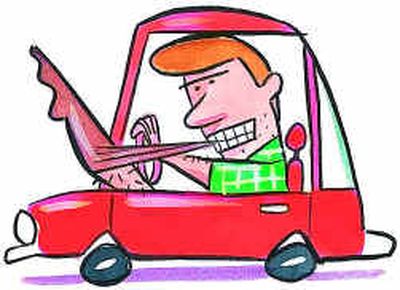 Outbound passenger Mark Edgar had cleared security at Spokane International Airport and was waiting for his wife to be allowed through. Because of her artificial hip, that can take some time. So the 85-year-old Edgar found a place nearby where he could sit down.
After a moment, a woman walked up to him. She had dark hair and looked to be about 50.
She told Edgar that it was her late father's birthday. And in her dad's honor, she wanted to give him — a complete stranger — a present.
With that, she stuck something into Edgar's shirt pocket and walked away.
Edgar checked his pocket and discovered a $20 bill that had not been there before.
He looked up, but the woman had disappeared in the crowd.
In the days since, he has wondered if he might resemble her father. In any case, he might be about the age that man would be if still alive.
"It's all supposition," said Edgar.
He has no plans to spend the twenty: "I put it in a frame."
"Classified ads from Brand X publications: Davenport's Karen Cole clipped a notice that recently appeared in a small, local newspaper:
"LOST: FALSE teeth at a Harrington café, November, 2002."
Cole correctly noted that this ad raises more questions than it answers.
And Jo Russell of Post Falls said an ad in another newspaper caught her eye:
"Rescued adult rats. Can be used for food."
Russell wrote, "I assume they are looking for someone who has a pet snake."
Boy, some rescue.
"Spokane's Judi Bennett wasn't the first to learn this and she won't be the last: In Seattle, "Eastside" means Bellevue.
"Diane Hanks has a question for other Slice readers: "What do you do while waiting for the red light to change?"
Something she saw prompted her to ask.
"The other day I stopped for a red light and looked over into the car next to me and the lady driver was crocheting."
That's pretty unusual. I mean, wouldn't crocheting make it hard to hold your cell phone?
"Five ways a guy can react upon seeing that someone at work has a shirt exactly like one of his own:
1. "Oh, well. No big deal."
2. "Yikes. I don't want people thinking I have the same tastes as him."
3. "Hey, maybe we can start a club."
4. "I'll bet he got his at Costco."
5. "Bob, I had that shirt first. Either go home and change or please spend the rest of the day stripped to the waist."
"This date in Slice column history (2001): A reader notes that a certain Spokane TV station's promo line sounds like "Cusick local news."
"Today's Slice question: How many backyard barbecuers routinely grill enough food each weekend to last throughout the upcoming week?
---
---