News > Features
When it's all over, Trump will be saying, "I'm fried!"
Sat., May 8, 2004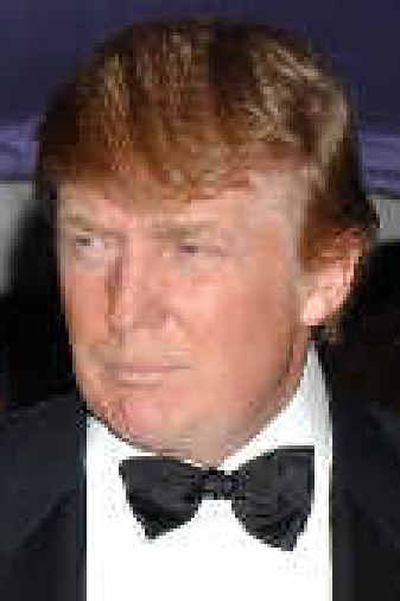 Donald Trump — you're roasted. Or at least he will be when the Friars Club gets hold of him. Trump will be the subject of the annual New York Friars Club roast, where comedians sling their best zingers, scheduled for Oct. 15.
The billionaire real-estate mogul has been everywhere lately, from his hit reality show "The Apprentice" — with its catch phrase, "You're fired" — to his announcement that he's engaged to his longtime girlfriend, model Melania Knauss.
"I am so proud that during our centennial year the name of Donald Trump gets added to the Friars' illustrious list of roastees," Friars Club dean Freddie Roman said in a recent statement. "Considering how hot Donald is, in every aspect of the word, this promises to be one of the largest, if not the largest roast in our hundred-year history."
Previous roastees have included Jerry Lewis, Billy Crystal, Rob Reiner, Johnny Carson and Hugh Hefner.
So is that really late, or really early?
David Letterman will be staying up extra late for his "Late Show" next Friday.
The talk show will be taped at 4 a.m. that morning. Typically, Letterman tapes his Friday show on Thursday evening.
The show will probably set up remote cameras in Times Square and other Big Apple locations. "The city is always interesting, but particularly interesting at 4 a.m.," said executive producer Rob Burnett.
Just another one of your odd jobs
It didn't require much derring-do, but former James Bond actor Roger Moore came to Queen Elizabeth II's rescue Friday, helping out when technical trouble prevented the monarch from unveiling a plaque.
The queen pressed a button that was supposed to open a set of red curtains in front of a Heathrow airport plaque honoring a UNICEF fund-raising program, but nothing happened. Moore walked up and crouched down to tug at the drapes, which opened on the second try.
"I wasn't meant to be up there but James Bond has got to do something," Moore, 76, said later.
He'll soon be the artist formerly known as Charles
Prince Charles, meanwhile, was meeting with rapper Jay-Z on Friday at a rehearsal for an urban music festival sponsored by Charles' youth charity, the Prince's Trust.
"I'm not very familiar with the urban scene, but I do like some of the music," said Charles, who gave the performers an enthusiastic ovation.
Jay-Z, dressed in a navy-blue suit and striped tie, said Charles was "cool, very cool. … For someone so high up to help kids and give them a second chance in life is a beautiful thing."
Must be the collar Yoko led him around by
A collection of John Lennon memorabilia was auctioned by Christie's in London for a total of $400,500 this week.
The items included a colored felt-pen drawing by Lennon ($17,800), a letter with his signature ($9,800) and "Happy Fish," a pen-and-ink drawing ($17,000).
But the two items that drew the highest bids — $178,000 each — were a leather collar that Lennon once wore, and a custom-made Vox Kensington guitar used by him and fellow Beatle George Harrison.
Quoteworthy
Prince, on his first major-label album in years, "Musicology": "I would ask people who want to call this a comeback where they think I'm coming back from. They want to see me as having failed."
The birthday bunch
Comedian Don Rickles is 78. Singer Toni Tennille is 61. Drummer Alex Van Halen is 51. Actor Stephen Furst ("St. Elsewhere") is 50. Actor David Keith is 50. Actress Melissa Gilbert is 40. Singer Enrique Iglesias is 29. Actress Julia Whelan ("Once and Again") is 19.
Local journalism is essential.
Give directly to The Spokesman-Review's Northwest Passages community forums series -- which helps to offset the costs of several reporter and editor positions at the newspaper -- by using the easy options below. Gifts processed in this system are not tax deductible, but are predominately used to help meet the local financial requirements needed to receive national matching-grant funds.
Subscribe to the Coronavirus newsletter
Get the day's latest Coronavirus news delivered to your inbox by subscribing to our newsletter.
---