News > Business
While others suffer, Southwest not feeling pain of high fuel costs
Sat., May 8, 2004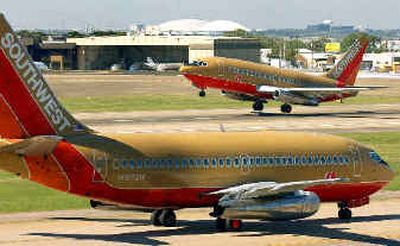 NEW YORK— As oil prices head over $40 a barrel, squeezing transportation company profits, one petroleum user is sitting pretty: Southwest Airlines Co.
The Dallas-based airline has hedged more than 80 percent of its fuel needs for the next two years at a price of $24 a barrel. And Southwest is the only U.S. carrier to have hedged most of its fuel.
How important are those fuel hedges for Southwest? "It's huge," said Chief Executive Jim Parker in an interview with Dow Jones Newswires earlier this week.
That foresight was the reason Southwest turned a profit in the first quarter, while other airlines bled due to high fuel costs and depressed air fares. Without the hedges, Southwest's profit of $26 million would have been a loss of $8 million.
The hedges have allowed Southwest to keep its air fares low, thus putting the squeeze on competitors as they attempt to add fuel surcharges. Various airlines have made about a dozen attempts in the last few months to impose blanket fare increases, but stiff competition makes it difficult to pass fuel cost rises along to passengers.
So why aren't other airlines so well hedged? The best-hedged have only locked in prices for around 30 percent of their fuel needs, while others waited so long that their hedged prices are nearly twice that of Southwest. Others have no hedges at all.
The problem is that buying hedges requires credit lines or cash, two things in short supply for many airlines last year when Southwest was planning its fuel needs. Plus, the airline business has traditionally attracted executives who like to take risks, and are sometimes willing forego hedges in a bet that fuel prices will drop.
Hedging fuel prices involves buying futures contracts or other instruments to offset a possible rise in oil prices. Extensive hedging programs keep airlines' fuel costs stable and predictable, while small hedge programs at least ensure that fuel prices won't cause an airline to go under.
Frank Shea, chief financial officer of World Fuel Services Corp., said airline executives are beginning to wise up about the importance of fuel hedges, but most are still exposed to a lot of risk.
"If you look at their financial statements it looks like the grin of an old-school hockey goalie — there are big black gaps in it," Shea said. "How many teeth got swallowed by hockey goalies before they started to wear a mask? What does it take to get people to protect themselves?"
AMR Corp.'s American Airlines said in the past that every 1-cent increase in the price of a gallon of jet fuel translates into an additional $33 million annual cost for AMR. Continental Airlines Inc. has said every $1 rise in the price of a barrel of oil boosts the airline's total fuel costs for the year by $38 million.
Both turned a loss in the first quarter.
AMR, which was on the brink of bankruptcy last year, liquidated its fuel hedges because it needed cash. Since then, the airline has made progress cutting costs, narrowing losses and beefing up liquidity. The high oil prices are slowing that progress, Chief Executive Gerard Arpey said in an interview on Monday.
"I do think I'm pleased with the progress we've made this year, and if not for fuel prices … you would see more momentum being built into our plan," he said.
American has now hedged 16 percent of its second-quarter fuel and 6 percent of its second-half fuel at $32 a barrel and on Thursday announced a $2 fare increase to make up for the rising cost of fuel.
Local journalism is essential.
Give directly to The Spokesman-Review's Northwest Passages community forums series -- which helps to offset the costs of several reporter and editor positions at the newspaper -- by using the easy options below. Gifts processed in this system are not tax deductible, but are predominately used to help meet the local financial requirements needed to receive national matching-grant funds.
Subscribe to the Coronavirus newsletter
Get the day's latest Coronavirus news delivered to your inbox by subscribing to our newsletter.
---