Sports
Woods takes Wachovia lead
Sat., May 8, 2004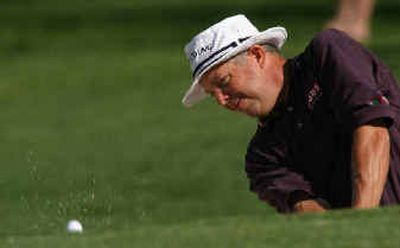 Tiger Woods says his game is starting to come around, and not many doubted him Friday in the Wachovia Championship in Charlotte, N.C.
Woods made every putt inside 20 feet and one from nearly 50 feet. It led to his best round since February, a 6-under 66 at sun-baked Quail Hollow that gave him a two-shot lead going into the weekend.
"More than anything, I gave myself some looks at the putts and I made them — just about every one of them," Woods said. "It's a nice combination."
Woods was at 9-under 135, two shots ahead of former Pullman resident Kirk Triplett (73) and Notah Begay (70).
Vijay Singh, who is challenging Woods for No. 1 ranking in the world, missed a half-dozen putts inside 18 feet on his back nine and had to settle for a 70, leaving him in the group that is only three shots behind and setting up the prospects for a major showdown on Sunday.
Singh is hitting the ball so well that Woods three shots ahead of him and Masters champion Phil Mickelson (70) two shots behind him was of little concern.
"We've got the weekend ahead of us," Singh said. "I'm playing well. I think I'm going to be there Sunday."
There's a long list of players ready to join him. Stuart Appleby (72), Brett Quigley (72) and Joey Sindelar (69) joined Singh at 6-under 138.
Davis Love III birdied four of his last five holes for a 66, matching Woods for the best round of the day, and was at 5-under 139 with former Masters champion Mike Weir (72), Kevin Sutherland (68) and Chris DiMarco (70).
• Jesper Parnevik ruled himself out of playing in the Ryder Cup, saying he was not willing to play at least 11 events on the European tour as a requirement to make the team.
"There's no way," Parnevik said after missing the cut by one shot at the Wachovia Championship. "Even if I went after the U.S. Open and played three months straight, it's still too tough of a schedule to get that in. I don't want to beat myself up for 'maybe' getting on the Ryder Cup team."
Penalty costs Romero
Argentina's Eduardo Romero was penalized two strokes at the end of his round, giving Sweden's Patrik Sjoland a one-shot lead halfway through the British Masters in Meriden, England.
Sjoland shot a 7-under-par 65 and was at 10-under 134 after two bogey-free rounds, with Romero one behind after being dropped to a 68. Brian Davis of England (67) also was at 135, with countryman Lee Westwood (65) at 136.
Romero birdied the last two holes and appeared to be one ahead after a 66 until he was penalized for a violation on the 14th green.
It was ruled his ball moved on the green as he was about to tap in. He was penalized one stroke for causing it to move, then another because he did not replace the ball on its spot before his next putt.
Romero was sure at the time he had not broken a rule. He was called by the referee to view tape after his round.
"A rule is a rule. I made a mistake," he said. "It is my fault. I'm a little sad."
Williams takes lead at Kingsmill
Kim Williams has been around long enough to know that a sparkling second round in a golf tournament guarantees little.
"I am just happy I made the cut," she said.
But Williams sparkled more than anyone has in the two-year history of the Michelob Ultra Open at Kingsmill Golf Club in Williamsburg, Va., shooting an event record 8-under-par 63 and taking a four-shot lead into the weekend.
Williams posted one of the few bogey-free rounds of the first two days, and made six birdies and an eagle. It was the best round of her 16-year career. She's still seeking her first victory, but said it's too early to start thinking about celebrating.
"Can you tell me who was leading halfway through the Super Bowl? No. Can you tell me who was leading halfway through the Boston Marathon? No," she said. "You know who won… . I have led the U.S. Open after the first day a couple of times. All it gets you is making the cut."
Pepper, King given exemptions
Two-time champion Betsy King and Dottie Pepper were given special exemptions for the U.S. Women's Open.
King, a Hall of Famer with six major titles, received her second straight exemption for the tournament. She will be making her 29th consecutive appearance in the U.S. Women's Open, which is July 1-4 at the Orchards Golf Club in South Hadley, Mass.
Pepper, who's had various injuries the past few years, withdrew from the last two championships. She was in the middle of the pack last year at Pumpkin Ridge when her left shoulder began hurting.
Local journalism is essential.
Give directly to The Spokesman-Review's Northwest Passages community forums series -- which helps to offset the costs of several reporter and editor positions at the newspaper -- by using the easy options below. Gifts processed in this system are not tax deductible, but are predominately used to help meet the local financial requirements needed to receive national matching-grant funds.
Subscribe to the sports newsletter
Get the day's top sports headlines and breaking news delivered to your inbox by subscribing here.
---