Sports
Yzerman puts an end to talk of retirement
Sat., May 8, 2004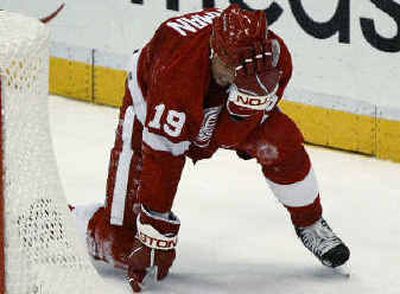 Detroit captain Steve Yzerman wants to keep playing despite recent surgery for a scratched cornea and multiple fractures below his left eye.
"I don't know what the final point is going to be when I say that's it," Yzerman said Friday. "But I'm not there."
It was the first public comment from Yzerman since the surgery last weekend.
Yzerman, who was hurt during a Game 5 loss to Calgary in the conference semifinals, still has bruising, swelling and stitches under his bloodshot left eye.
Toughness not only key to East
The Tampa Bay Lightning scoff at the notion they're not tough enough to beat the Philadelphia Flyers.
"I think when you start talking about physical play people equate that with big hits," coach John Tortorella said. "To me, when it comes to toughness, it's making a big play in traffic… . It's you whacking me in the face and me not hitting you back and sitting in the (penalty) box. That's tough."
Tortorella is more apt to be impressed by one of his players throwing his body in front of a puck to help goaltender Nikolai Khabibulin thwart a scoring opportunity than an enforcer knocking an opponent woozy along the boards.
The coach said while the Lightning's speed and youth vs. the Flyers' size and experience figures to be a crucial element of the Eastern finals, it's not necessarily the key to the series that begins today.
One of the keys to the opener will be how the Lightning respond after an eight-day break between series.
The Flyers have had three days to get ready since wrapping up their second-round win over Toronto in six games. Their challenge is finding a way to get to Khabibulin, who has four shutouts and an 0.99 goals against average in the playoffs.
Kiprusoff faces former team
When the San Jose Sharks traded Miikka Kiprusoff to the Calgary Flames last November, they were fully aware they might be giving away a future star for a mere second-round draft pick.
Nobody thought the trade might haunt the Sharks six months later in the Western Conference finals — not Kiprusoff, and not the goalie he couldn't unseat in San Jose.
"It's pretty strange that it worked out this way," said Evgeni Nabokov, who will lead the San Jose Sharks onto the ice for Game 1 of the series on Sunday. "This series isn't just about me against Kipper. It's 20 guys on both teams … but it's kind of strange."
Local journalism is essential.
Give directly to The Spokesman-Review's Northwest Passages community forums series -- which helps to offset the costs of several reporter and editor positions at the newspaper -- by using the easy options below. Gifts processed in this system are not tax deductible, but are predominately used to help meet the local financial requirements needed to receive national matching-grant funds.
Subscribe to the sports newsletter
Get the day's top sports headlines and breaking news delivered to your inbox by subscribing here.
---